Ecuador is a travel gem. Located right on the equator packed neatly between Colombia and Peru, Ecuador is the smallest Andean nation but it has so much to offer. It's packed with contrasts of scenery. Amazing biodiversity, colonial architecture, thriving markets and diverse mix of people make it a fascinating place to visit. From the frozen volcano of Chimborazo to the tropical forests and palm-fringed beaches; you will never get bored here. The good news is that it can be very economical too.
One of my favourite destinations is Bahía de Caráquez. This tiny little coastal town is very different from most of the coastal towns and resorts in Ecuador. It's an eco-friendly town, you'll find numerous bicycle taxis and the residents adhere to a strict recycling program.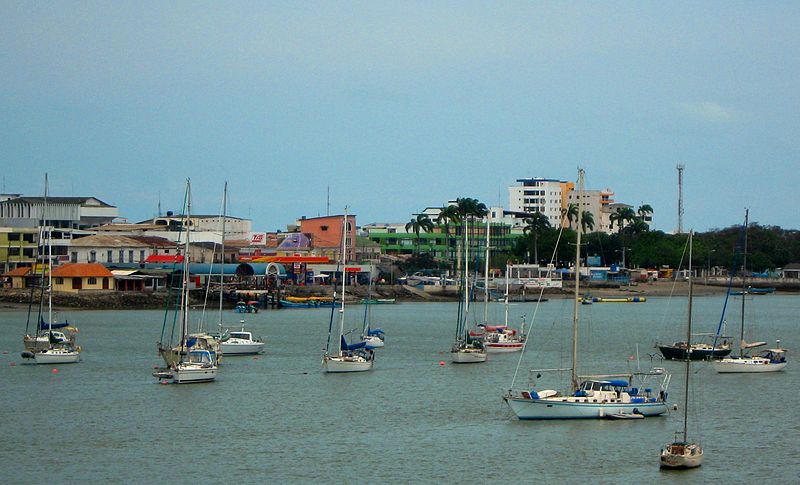 Getting There
From Quito it's about 8 hours to Bahía. Take an "executive service" bus for just a couple of bucks extra. You can do it during the day or night. Buy your ticket at the "18 de Septiembre" station. As always in any major South American city, keep an eye on your belongings in the main bus station. The night bus is great because you can sleep the whole way and wake up in Bahia. Personally I prefer to see the views, they are stunning. If you take the day run make sure you get a seat on the right hand side to see the views.
Getting Around
Jump on one of the bicycle taxis and get anywhere in town for something like 50 cents. There are also local buses that cost even less. But being a small beachside town, you can walk almost anywhere within about 15 minutes.
Eat Lots of Seafood
You are on the beach. Eat lots of seafood. D`Camaron restaurant is easy to find at the end of Avenue Bolivar, and has a fantastic outdoor area. They specialize in shrimp dishes. Ordering a big plate of grilled prawns will set you back about 3 bucks. Vereda is a Spanish run place, with great Ceviche, free wifi and prices that won't kill your budget.
For a bit of a splurge, try Puerto Amistad. While the prices are a bit higher, the often have live music and more of a party atmosphere. Plus, you can't beat the wicked view of the bay.
Sleep
I love Hostal Coco Bongo. It's a converted house overlooking the park, run by a very friendly Aussie lady. The rooms have hot water, private bath, WiFi and cable TV. You'll meet a lot of fellow travellers here. A dorm room is only 6 bucks or so, but I would opt for a private room at around $20.
Look Around
Besides the lure of the amazing beaches, maybe negotiate with one of the local fisherman to go see Isla Corazon (Heart Island). You can also arrange proper tours in town. One thing many people miss is a visit to the Chirije archaeological site. It's about 15 kilometers from town and tours can be easily arranged. Chirije is surrounded by dry tropical forest and miles of unspoiled beaches.
Have you ever been in Ecuador? What is your favourite place?