As part of my Europe trip, I spent a weekend in Munich to catch up with one of my friends who I have met in London. I was very excited to go as I haven't seen her for a while and have only been in Munich once (for a few hours).
I have spent the previous days in Palma, so it was a bit of a shock when I arrived in Germany and the rain was lashing down (I'm glad I packed my umbrella). My friend picked me up at the train station and we made our way to her flat in Schwabing which is a popular quarter among young people for its many bars, restaurants and clubs. On the way we stopped by a very nice Bavarian Brewery where we first had a nice beer and later some food – I was quite flattered when I got asked for a I.D. although I just had a Becks Lemon.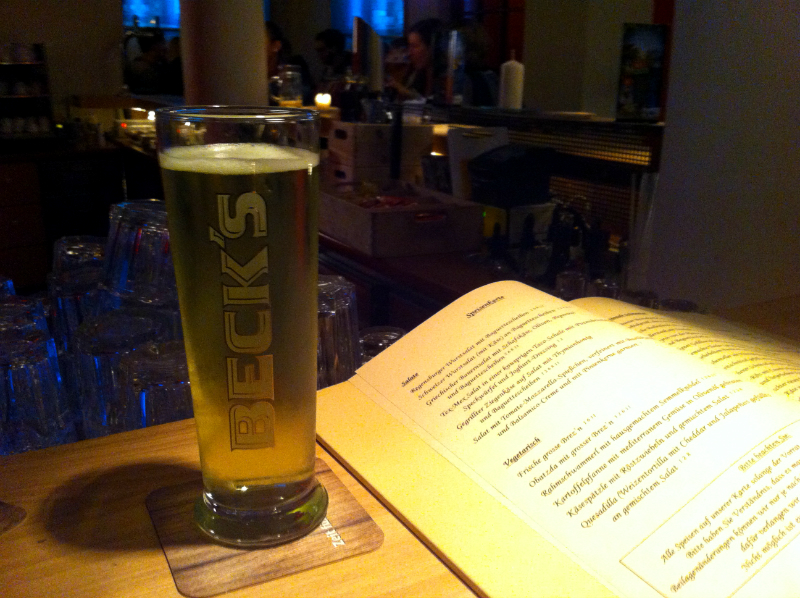 On Saturday we first went to the Frühlingsfest at the Wiesn – on the first glimpe it looks like a smaller version of the Oktoberfest but they actually offer some great events such as a huge flea market. And of course it also has lots of rides, stalls and the tents where you can get your Maß of beer. Although we got there at around 12am it was already very busy with lots of people strolling around in a Dirndl or Lederhosen (the traditional clothing in Bavaria). Afterwards, we went to the BMW Welt at the Olympic Park. It's right next to the underground station and best of all it's free to enter. You'll see all the latest cars and you can even pose in your favourite car like I did in the Mini. If you like to learn more about BMW you can also book a guided tour or visit the Museum (costs start from 7.00 €). Since we're not the biggest car enthusiasts we skipped that part.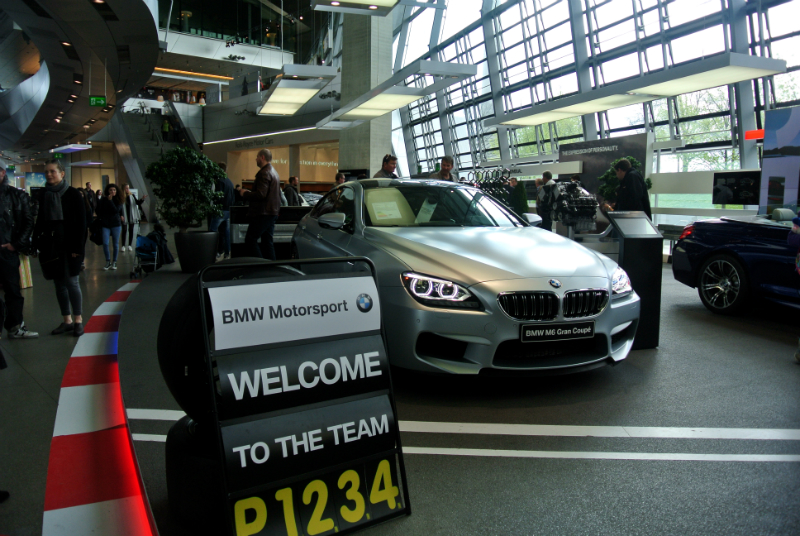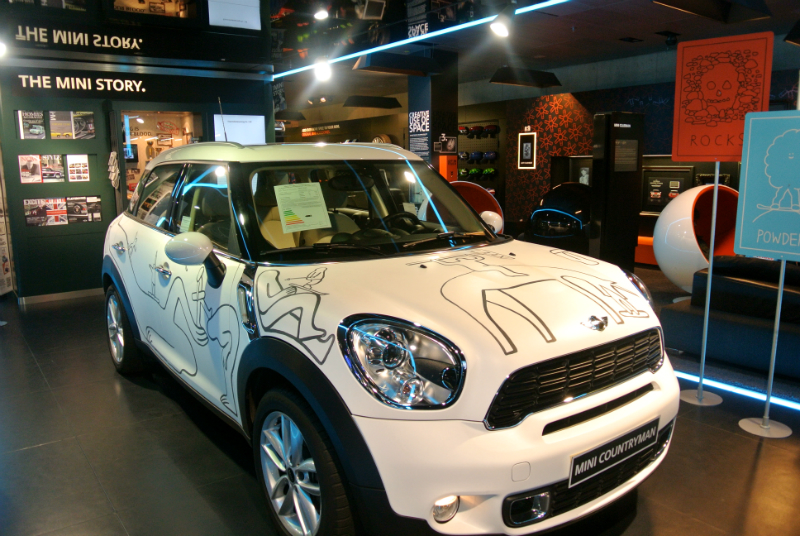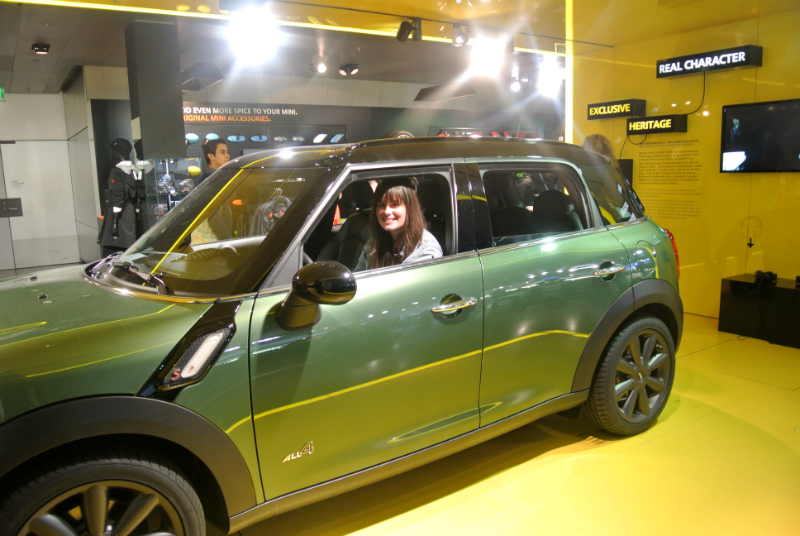 A few minutes away is the Olympic Park. The Park was built for the 1972 Summer Olympics and now serves as a venue for cultural, social and sport events. When we got there we saw lots of people covered in mud. Shortly after we realised that an obstacle race (Spartan Race) was taking place – hmm, looks like fun. I also peeked into the swimming hall which is still been actively used. Overall, a nice place to go and walk around especially when events are taking place.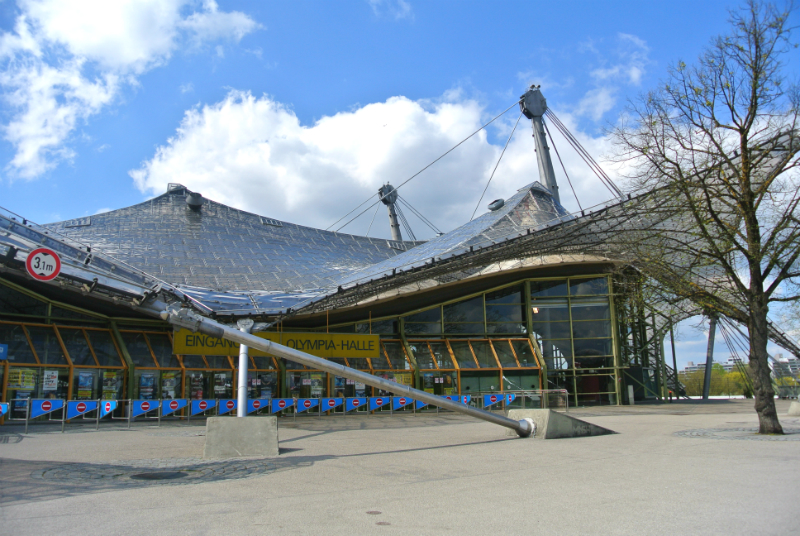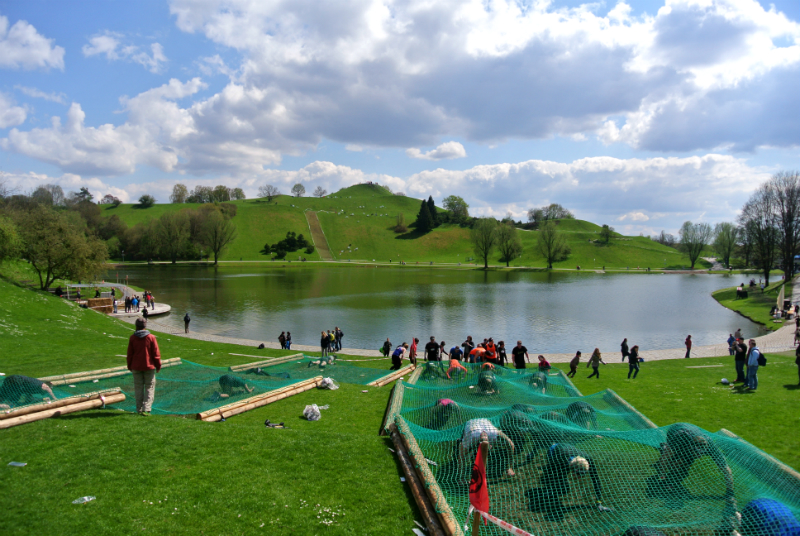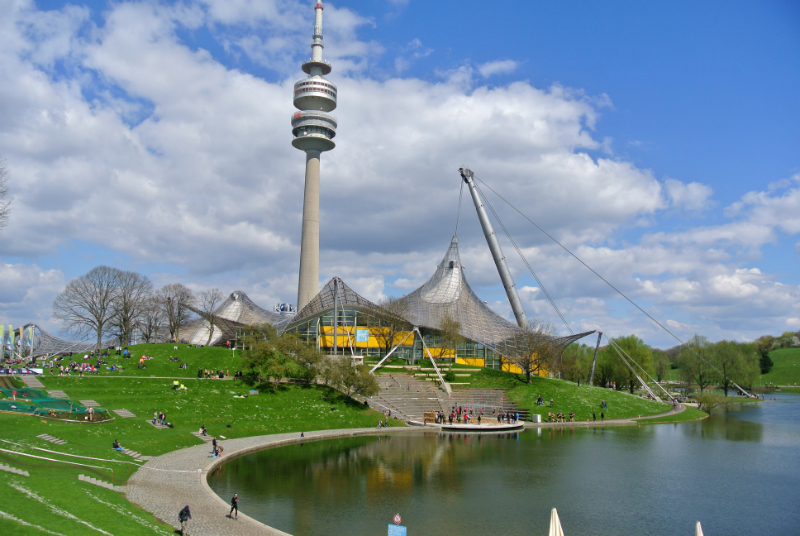 Sunday was a beautiful sunny day, so we decided to go  to the Englischer Garten – one of the largest urban parks in the world (it's actually larger than London's Hyde Park and New York's Central Park). It was very busy with people enjoying the sun, cycling or even surfing in one of the rivers in the park.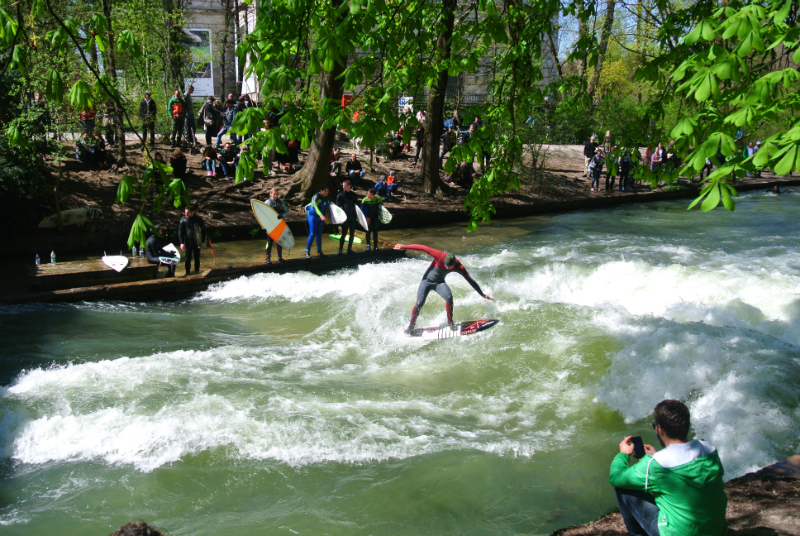 After watching the surfers for a while we walked through the Hofgarten passed the Bayrischer Kanzlei to the centre as I wanted to see the Marienplatz and Hofbräuhaus. The Marienplatz is the main square in Munich with lots of shops and restaurants close by. It's a beautiful busy spot with people taking pictures or just relaxing in the sun. A short stroll away is the Hofbräuhaus – it's one of the oldest beer halls in Munich and a popular place to have a beer and Bavarian food.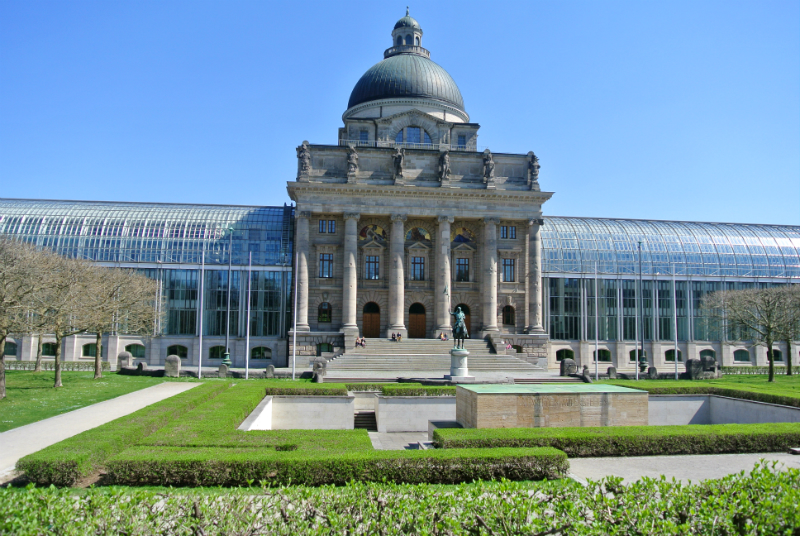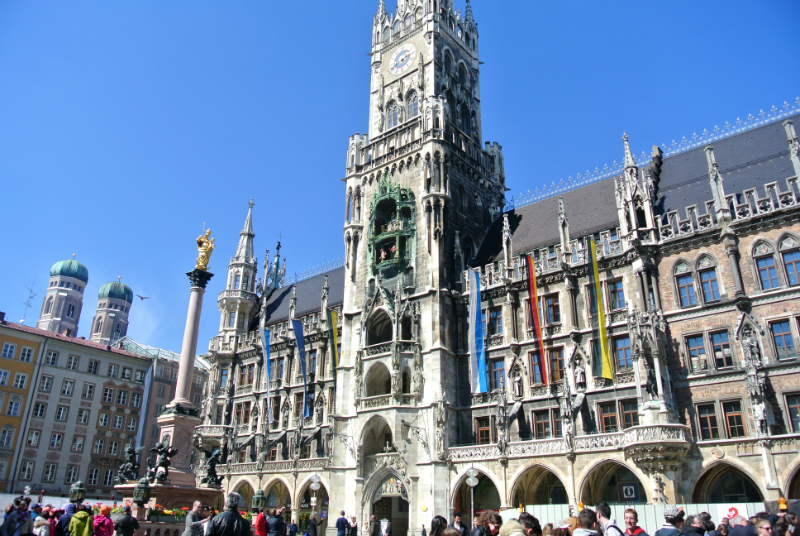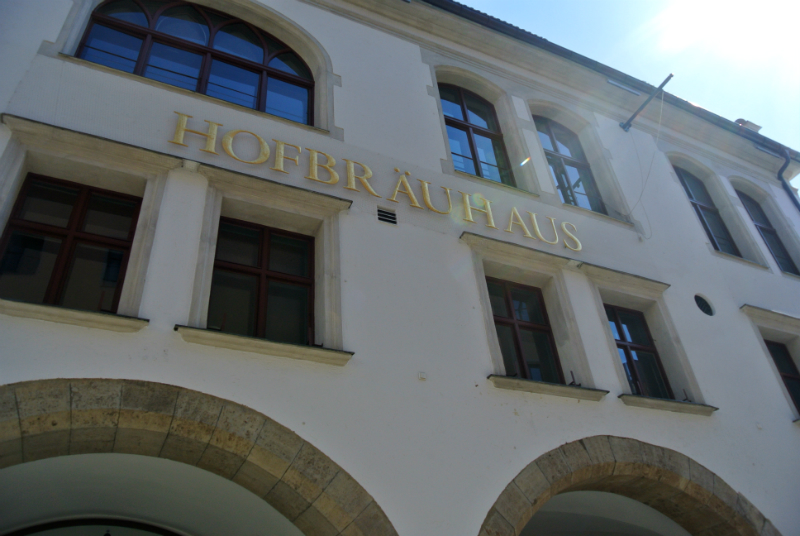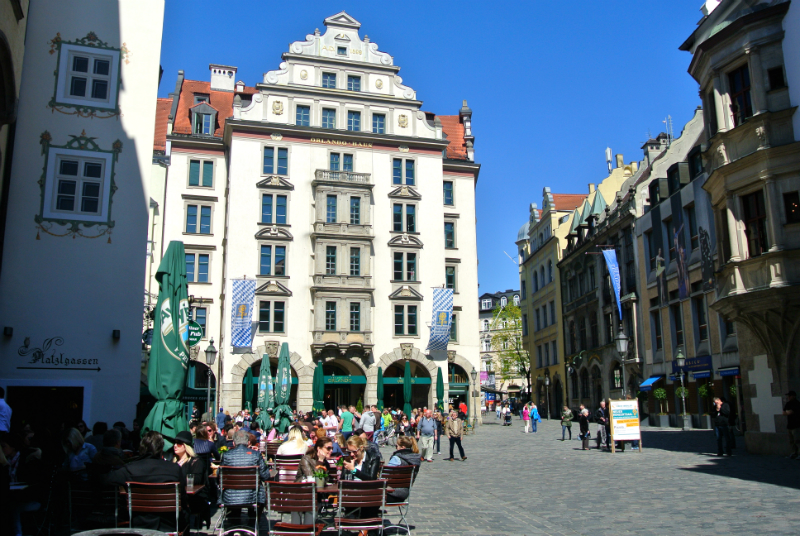 Not to be missed is a walk along Munich's river Isar. It's a great place to hang out, watch ducks enjoying the sun or just have a relaxing walk which eventually leads you to the Englischer Garten again.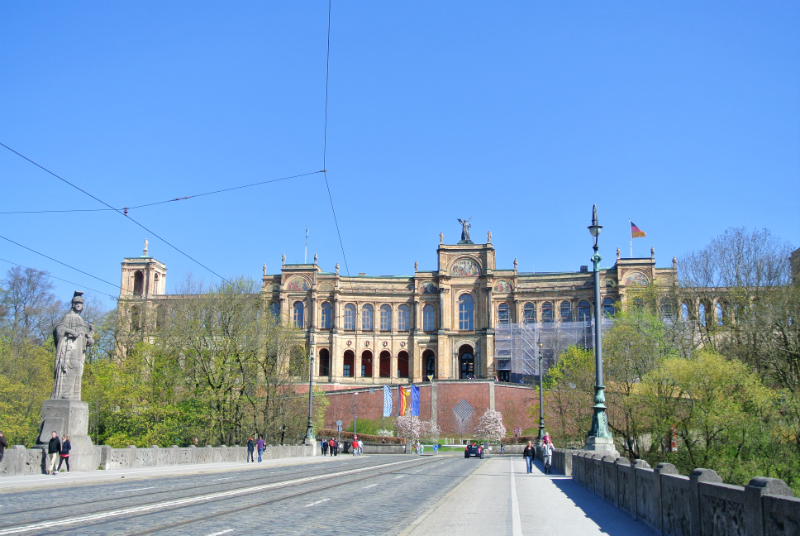 Now to my favourite topic: Food! When you are in Munich, do try Bavarian dishes. Popular traditional food are Schweinebraten (roast pork), Schweinehaxe and Weisswurst (white sausage) or if you rather eat vegetarian food try Käsespätzle (cheese noodles), Knödel (potato/bread dumplings), Reiberdatschi (potato pancakes) or Brezen (Pretzel).
 As mentioned earlier, we went to a Bavarian brewery on Friday night – The Max Emanuel Brauerei in Schwabing. We started with a beer but when I saw the menu I couldn't resist and ordered one of my favourite German dishes… Käsespätzle! It was delicious and I really enjoyed having that dish again. On the other days we tried a place called My Indigo and Hans im Glück. My Indigo mainly serves Indian food and you can choose between different types of rice and sauces. I went with the mixed rice and chicken curry for 5,90 Euro – it was a great lunch snack.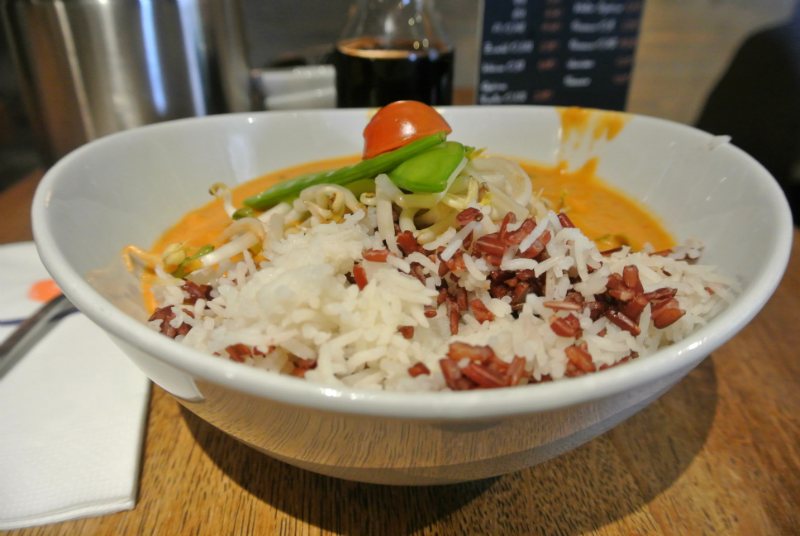 I especially enjoyed trying a new burger on my last day at Hans im Glück.  I liked that I could choose between two types of buns and the selection of burgers was massive. I decided to go with the Birkenwald burger with chips and a cocktail for 15,30 Euro (£11/$17). Not a bad deal 🙂 That picture doesn't really do it justice but this was one of the best burgers I had in a while and I've had quite a few in London.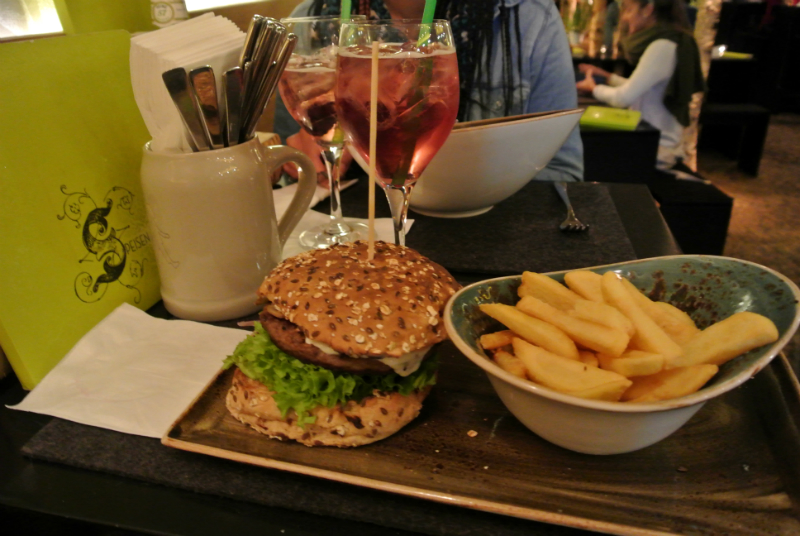 Why you should go to Munich?
Munich is mainly known for the Oktoberfest and their football team Bayern München but it actually has a lot more to offer. The city has beautiful old buildings, history, a great food culture and it's the perfect place to spend a relaxed weekend as the centre isn't overwhelming. On top, it's the perfect base to explore the Alps, the Bodensee lake or travel to Austria and Switzerland.
Have you been to Munich before? What did you enjoy most?