I love travelling and exploring new destinations across the world and getting on a plane is part of the journey. I never really struggled with flight anxiety until I had a bad experience during my last trip through South America. It completely changed my mindset and it made me feel uneasy boarding a plane ever since.
But if you enjoy travelling as much as I do, it's going to be difficult to avoid flying, so I've asked 3 travel bloggers to share their tips and tricks how to deal with flight anxiety.
Struggling with flight anxiety too? Find out how others deal with it below…
Ever since 2010, after a bad take-off experience, I have been afraid of flying. The anxiety has grown with every flight I had to board, getting to the point when I would start crying days before having to fly. I have tried a lot of remedies, I even ended up at the doctor who gave me anti-anxiety pills to overcome my fear of flying. It was a nightmare (it still is, considering I fly about once a month).
I wish to say that I have found a miracle solution to my flight anxiety. During the years I have developed a routine, a series of things that I have to do every time the plane takes off so that I calm down. The first step was to learn about flying, about the plane and about the weather. I can tell what every noise of the plane is and I can read a turbulence map (which I consult before the flight). I found that having a short conversation with the flight attendants about the weather conditions, while waiting in line for the passengers in front of me to move, calms me down. I let them know that I am afraid of flying and I try to be brave. Breathing exercises at take-off are always very important for me and help my heart beats under control.
On long haul flights I like to get myself as tired as possible and then drink 2 or 3 glasses of wine sort of fast, after dinner is served. This helps me fall asleep. I also like to have the map with the path of the flight on the screen, because even if sleeping, I still open my eyes from time to time to check where we are.
~ Joanna from The World In My Pocket
I've written about getting over flight anxiety at some length, and whilst I wouldn't say I have a full-blown phobia of flying, I certainly don't enjoy it very much. (Every time I get off a long-haul flight, I vow "never again". Which obviously doesn't last long). Most of my flight issues essentially stem from travel sickness, but as anyone who suffers from this knows, this is enough in itself to make you feel panicky!
My advice would be to have a little bag of supplies that's small enough for you to keep by your feet or on your lap – things that will take your mind off the flight, or help to dispel any flight-induced nausea. For me, this means always having a bottle of water, chewing gum and salt and vinegar crisps (I can't quite explain the last one – it just helps!). I'll also try and listen to music as a further distraction, and my absolute top tip for anyone who gets a bit queasy is to sit by a window and look at the horizon. It works just as well in a plane as on a boat (provided it's not pitch black!) and can really help with any feeling of sickness. Oh, and don't forget to breathe!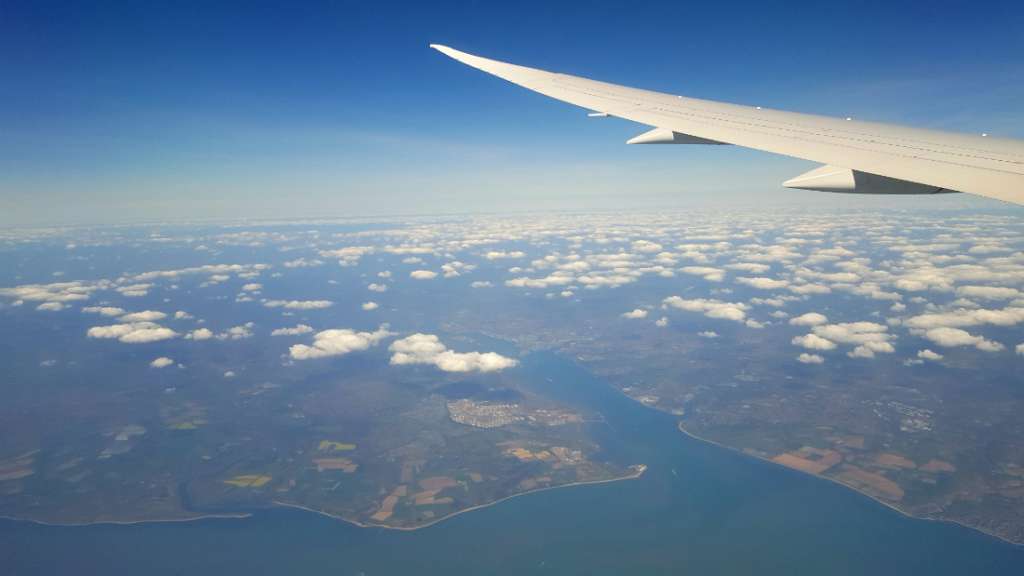 Flying isn't fun for anyone, it's always freaked me out but for me, it's all a mental game. I'm fortunate to have travelled since I was a child and can remember being nervous and anxious since then. It isn't always easy now that I've grown up either. But I've been able to overcome the severe anxiety and relax by controlling my mental viewpoint of travel in general.
I'm a travel addict, I want to see the world and I want to experience as much as I can. This is only possible if I fly. As soon as I convinced myself that without that flight (as miserable as they can be) I couldn't accomplish my travel goals, I began to set my mind right and view it more like a necessary evil that I could overcome.
Before a flight I have to give myself some positive reinforcement and tell myself "I got this". I try not to think about being in the air enclosed in a flying tin can and think about the trip itself. The more excited about the journey ahead the less nervous I become. I also make sure I'm really sleepy before a flight. I usually pack last minute so this works particularly well for my early morning flights. In the airport I'll have some decaf tea right before we board because that helps set me up for sleep as well. It's never easy to sleep on a plane but I've developed a routine. Take off and landing are always the hardest parts though and that's when I'm usually awake unfortunately. So those times are when I close my eyes, hold my husbands hand and visualize all of the amazing things I'm headed for that wouldn't otherwise be possible without that miserable flight.
~ Alison from Travel Tribe Worldwide
Did you ever had a bad experience whilst on a plane? How are you dealing with flight anxiety? Tell us in the comments section below!​
Pin me for later!