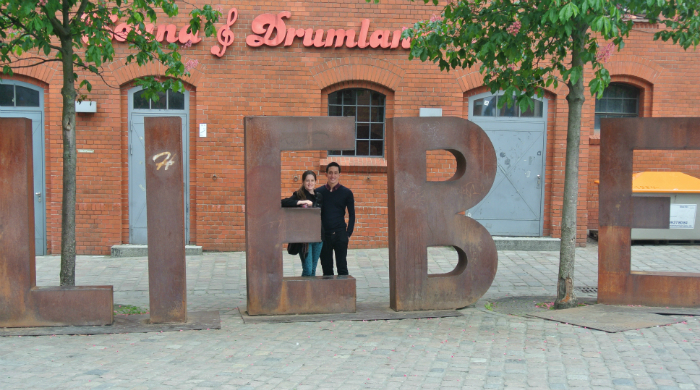 Prenzlauer Berg – once an old working class district in the former East Berlin – is today a popular neighborhood for young people with lots of restaurants, cafés, galleries and little shops. My brother is just living around the corner from Prenzlauer Berg, so when we visited him in May he was eager to show us the area.
First stop was the Farmers Market that runs along the Kollwitzstrasse. The market offers everything from fresh vegetables and deli food to homemade arts and crafts. My brother recommended to get a Currywurst and this was by far the BEST Currywurst I ever had. The sauce was full of flavour and the sausage tasted very fresh. I was very tempted to get another one. Yummy!
Opening times: Thursdays: Noon – 7pm, Saturdays: 9am – 4pm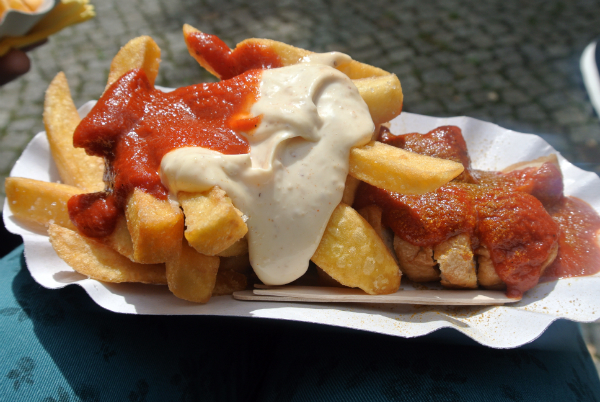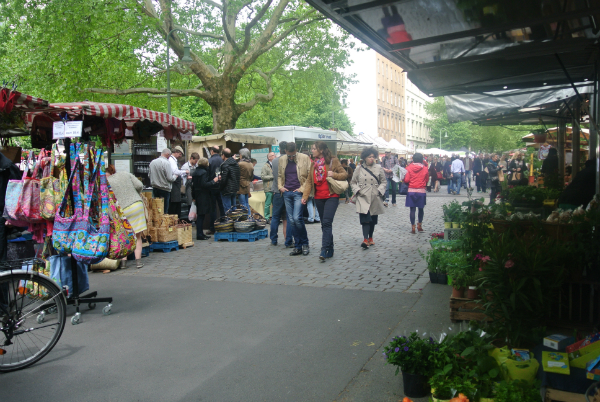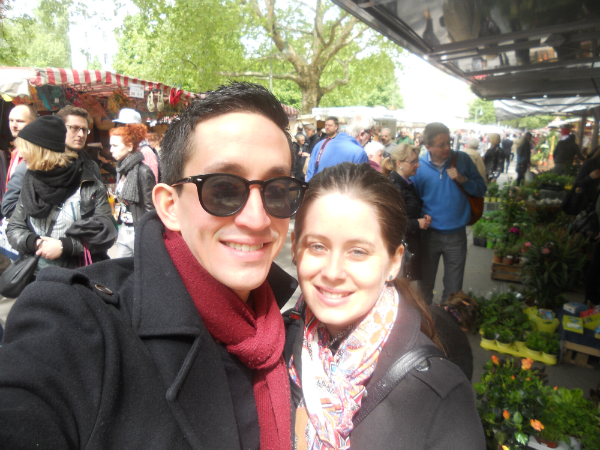 As we strolled around the leafy, cobbled streets, we passed lots of Altbauten which looked beautiful from the outside. And I was quietly saying to myself, 'Hmm, if I live in Berlin one day, it has to be here.' These apartments can't be more expensive than in London for sure!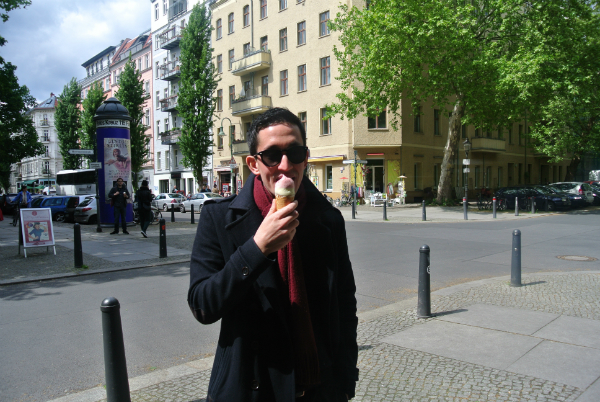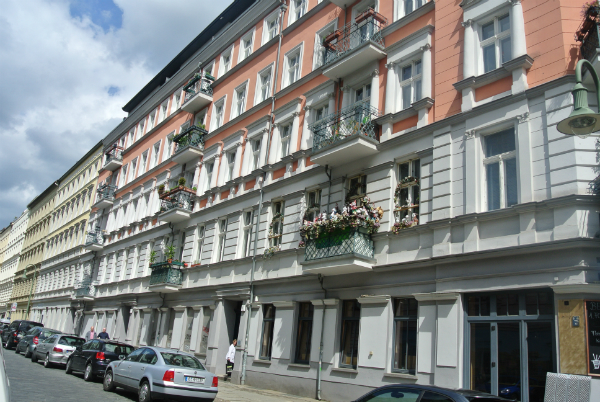 Next on our list was the Kulturbrauerei. It was originally built as a brewery, and is today a cultural central that provides cinemas, theatres and clubs. It also hosts a DDR Museum that has just recently opened. This is a great place to learn more about how it was living in the former DDR. I came across many personal stories, film footage and items that they've been using back then. My personal favourite of the exhibition is the green trabi with a tent on the roof. Costs: FREE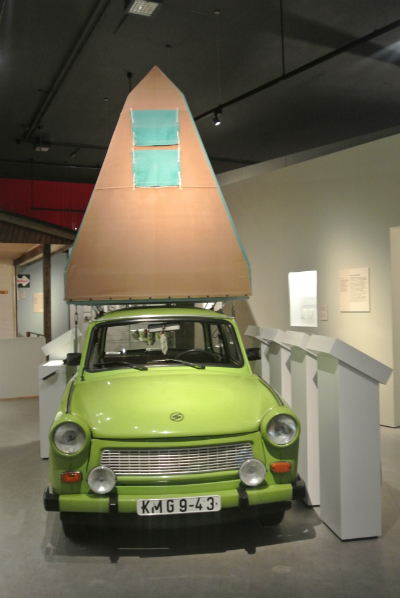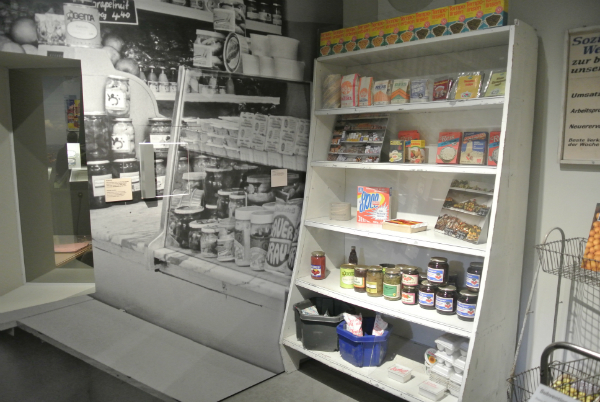 If you're around in the area on a Sunday and like to get a feel for Berlin, Mauerpark is another place you should definitely check out. It's a popular place for musicians, karaoke and sports enthusiasts as well as flea market peddlers. The flea market is huge with lots of stalls that sell  furniture, clothes, souvenirs, handmade crafts and great food. Don't miss out on the karaoke that takes place in the afternoon. It's a lot of fun to watch and listen to!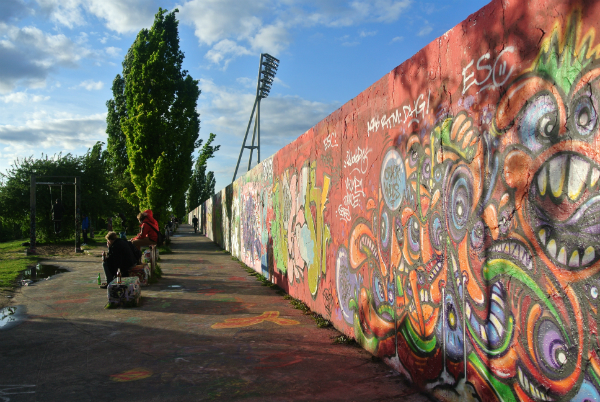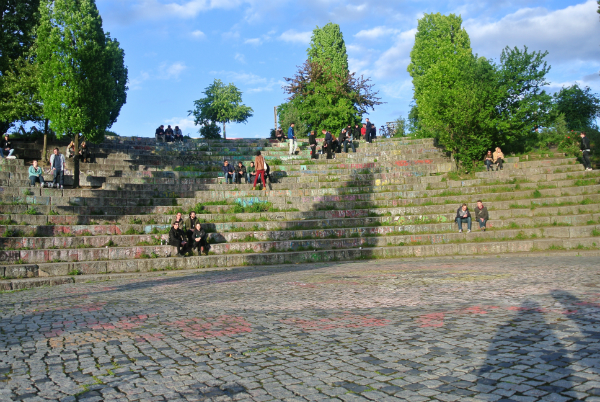 A short walk away from the Mauerpark is the Memorial of the Berlin Wall at Bernauer Straße. You've different information points along the way that tell you more about the history of the walls as well as specific events that took place and you'll also find symbols of where the tunnels were dug. Seeing the walls and knowing that it once separated hundreds of thousands of people was very touching. I find it very difficult to imagine what it must have been like to have Berlin divided and not being able to walk around freely.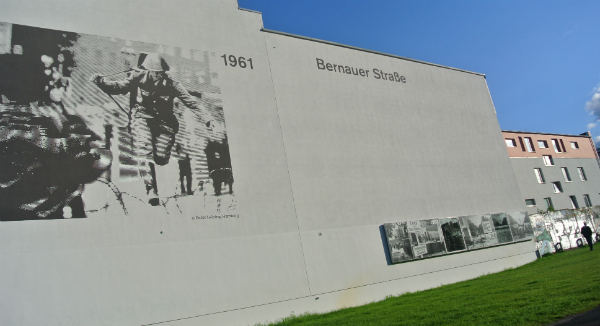 So why should you visit Prenzlauer Berg?
The area has a unique feel with a pretty neighborhood and art scene as well as a lot of history. I love the vibe and it was a real Berlin experience away from the tourist crowds. And of course, only here you can treat yourself to the best Currywurst in town.
Have you been in Berlin before? What is your favourite district?