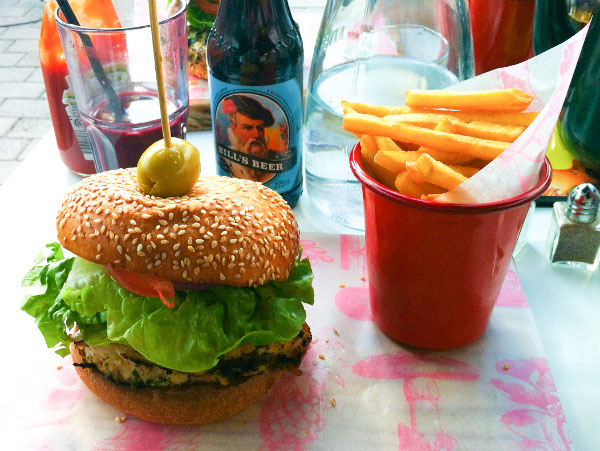 London has a lot to offer especially when it comes to food. One of the big trends are burgers in London (No, I'm not talking about McDonalds or Burger King). New restaurants are popping up everywhere which makes it almost impossible to avoid these restaurants and try one of their rather delicious looking burgers on the menu. And I promise you, once you had one you'll go again… and again…. and again. But the choice is big in London which makes it very difficult to decide where to go first. I've been to quite a couple of burger restaurants in my time in London so I am the expert when it comes to burger related decisions. Here are my current favourite burgers places in London:
1. Honest Burgers
This was one of the first burgers I tried and I totally loved it. The one we went to is located at Brixton Village Market which has a cool bohemian feel. I had the Honest Burger (Ginger Pig beef patty, smoked bacon, mature cheddar, red onion relish) and I was blown away on my first bite and I haven't stopped going back since. This burger also comes with a portion of mouth watering rosemary fries, so big points for them. My personal favourite for drinks is the homemade lemonade – tastes very fresh and comes in a cute glass.
Where? Brixton, Camden, King's Cross, Soho, Portobello, Tooting
Price: Beef Burger & Chips from £8, Homemade Lemonade £2,50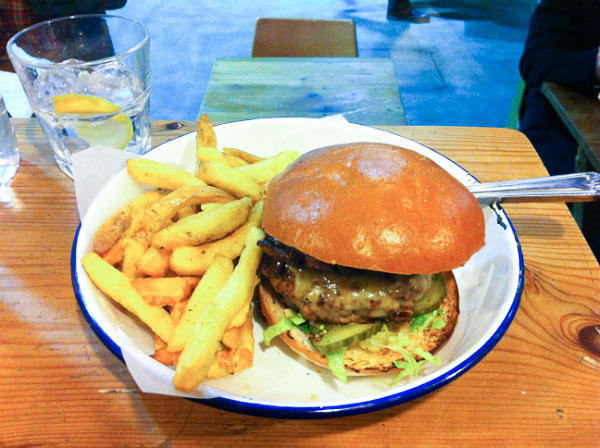 2. Patty & Bun
Patty & Bun is just off Oxford Street and we got there at 6:15pm; just in time to avoid the queues. The restaurant is small and quite cramped, but we got served very quickly even though it was packed. This burger was by far the most greasy but its definitely worth getting your hands dirty as its the most succulent burger going.
Where? James St (close Bond St Station), Liverpool St
Price: Burgers from £7.50 + Rosemary Chips £2.75, Drinks from £1.50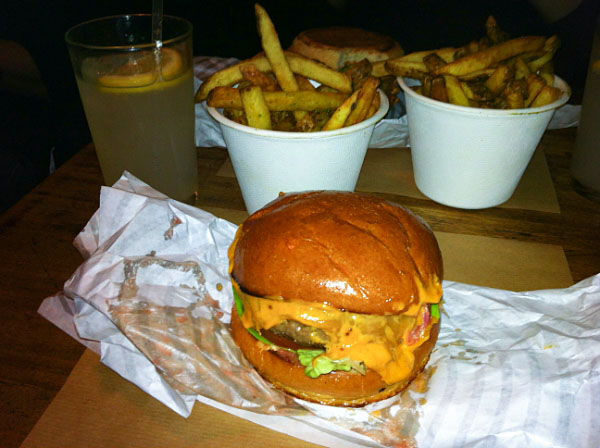 3. Dirty Burger
This is our local in Kentish Town and it's quite different to the other restaurants. This burger place is in a shack (yes, you've heard right) just off Highgate Road behind Pizza East. The menu is rather simple – you can only choose between 3 burgers: Cheeseburger, Dirty Bacon, Dirty Cop-Out. It all gets served on a tray but you're also able to get a takeaway too. Again, a rather greasy burger (it's not called Dirty Burger for nothing) but full of flavour.
Where? Kentish Town, Vauxhall, Whitechapel, Shoreditch
Price: Burgers from £6 + Crinkle Cut Fries or Onion Rings £3.25, Drinks from £2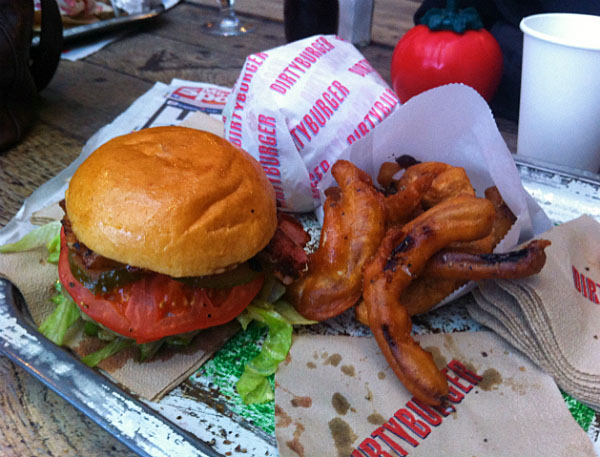 4. Five Guys
Five Guys originally comes from the US and has opened its first store in London in 2013.  Five Guys is more of a takeaway theme so feel free to grab your burger and run. A large choice of topping allows you to build your burger so that burger of your dreams can finally become a reality. In traditional American style, all their soft drinks are refillable with over 100 options to quench your thirst. Warning, all their chips are made with peanut oil! So watch out if you have an allergy.
Where? Covent Garden, Angel, Kingston, Westfield Shepards Bush
Price: Burgers from £6.75 + Fries £2.75, Drinks from £2.50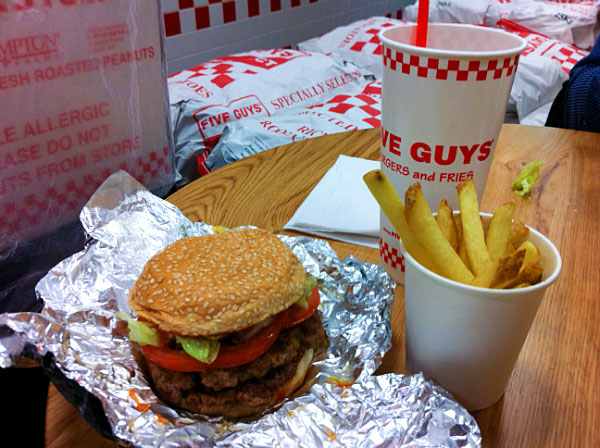 5. Byron Burger
This popular restaurant chain and can be found all across London. I've been here a couple of times and  always enjoyed the relaxed atmosphere and tasty food.  The hamburgers are very flavoursome and juicy and I also highly recommend the Veggie burger that comes with a grilled Portobello mushroom, goat's cheese and roasted red pepper. On top, you MUST try the Oreo milkshake.
Where? All across London
Price: Burgers from £6.75 + Fries £2.95, Drinks from £2.35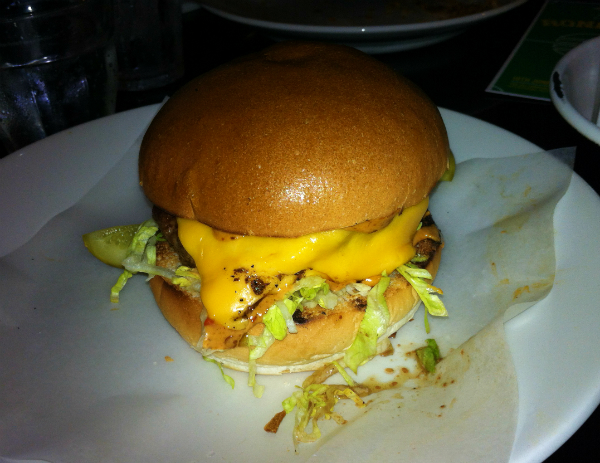 Have you had a Gourmet Burger in London yet? What is your favourite Gourmet Burger restaurant?