When I first planned my Europe trip, I wasn't too sure where to go. I knew that I wanted to see a friend in Munich so it made sense to visit places that are in easy reach and that's how Vienna came to my mind. I've never been to that city and after having a quick look on the map I noticed that Bratislava is only a short drive away too. Easy decision then: I'm not only going to Vienna but will also visit Bratislava!
I arrived on a sunny Wednesday afternoon at the Novy Most bus station which was only a short walk away from my hotel in the Old Town. I checked-in, quickly unpacked and got ready to explore yet another city on my Europe trip. As soon as I stepped out the hotel, I could hear music playing. I walked down to the main square where I suddenly saw a stage with people standing around enjoying live music. It wasn't anybody I recognized but I instantly enjoyed the atmosphere and was surprised how lively the Old Town is.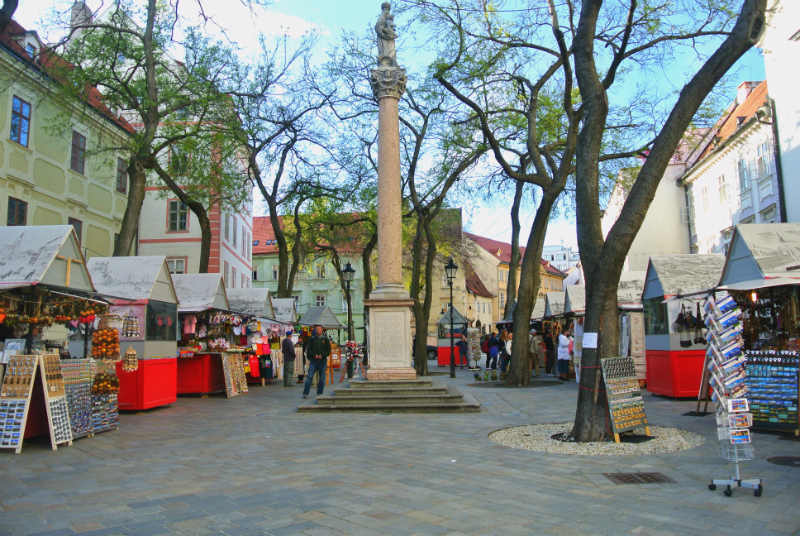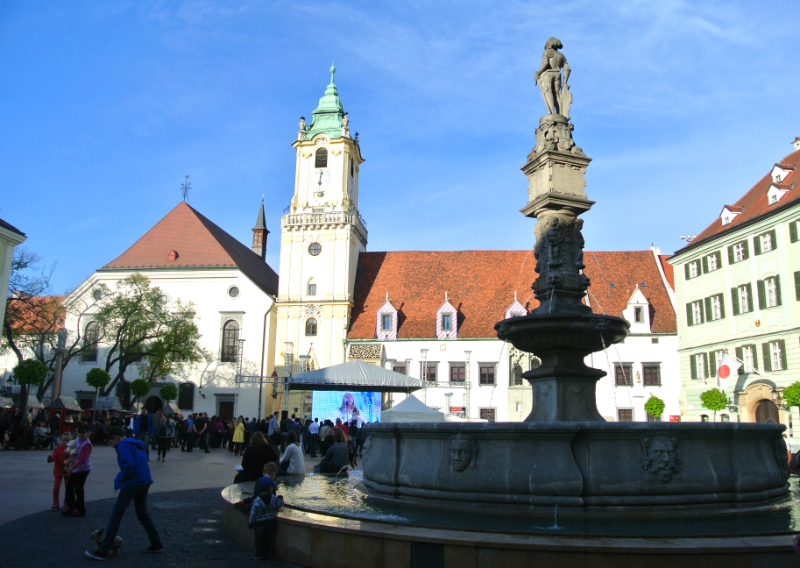 After a look around in the Old Town I went back to the hotel and was super excited to see more the following day. I've prepared a list with the top 5 things I wanted to see and considering that I had 1,5 days left I was pretty confident that this was manageable:
1. The Blue Church
Thursday was a beautiful sunny day, so I left bright and early at 9am. My first stop was the Church of St. Elizabeth also known as the Blue Church in the eastern part of the Old Town. It's referred to as the "Blue Church" because of the colour of the facade and the blue-glazed roof. It's the cutest church I've ever seen and it looks beautiful especially in the sunlight.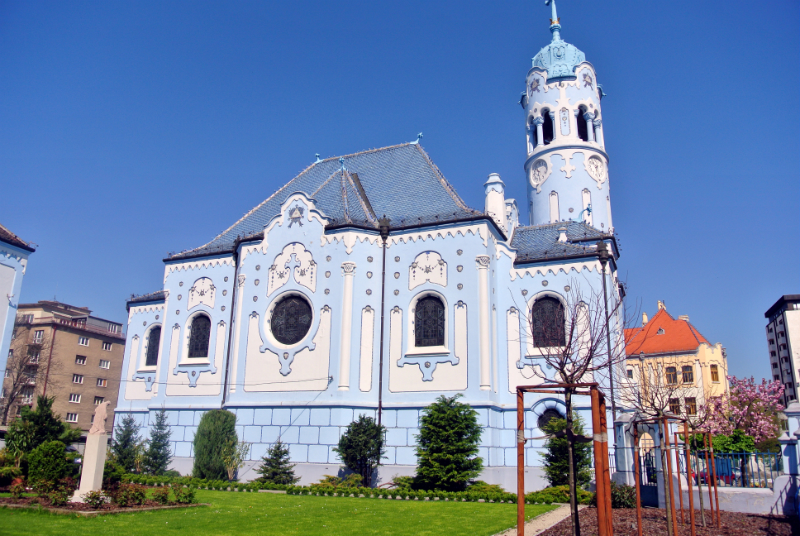 2. Devin Castle
On top of my list was also Devin Castle. It's a 20 minute ride away from Bratislava but easy to reach from Novy Most station by bus 27 (check timetable because there's only one bus per hour). The bus drops you off just below the castle so it's impossible to miss. I got there at 11:30 and I almost had the whole place for myself. I found this one of the most peaceful places and I got some stunning views over the river and Devin town. The castle itself has so much history. It was built in the first century AD and you can imagine yourself how it was back in these days. I stayed two hours which is enough time to explore the castle and surroundings.
Bus ticket (one-way): 0,90 Euro (to be purchased at ticket machine at bus station), Entry (adults): 4 Euros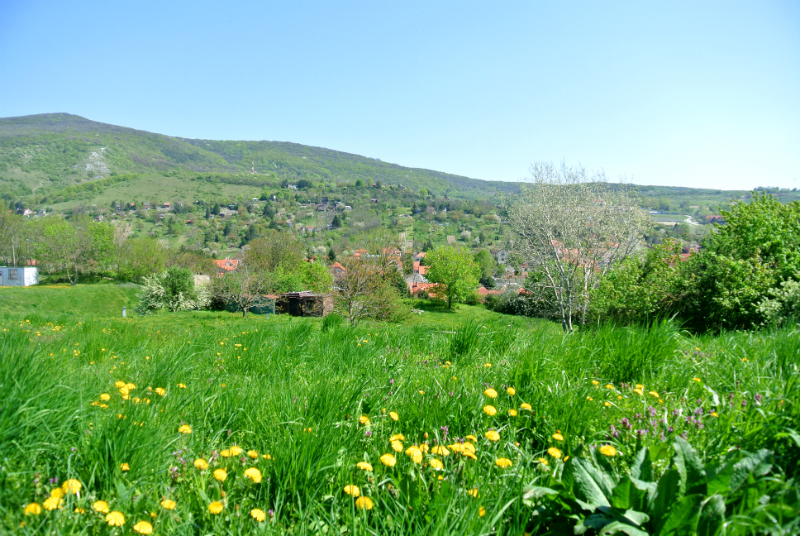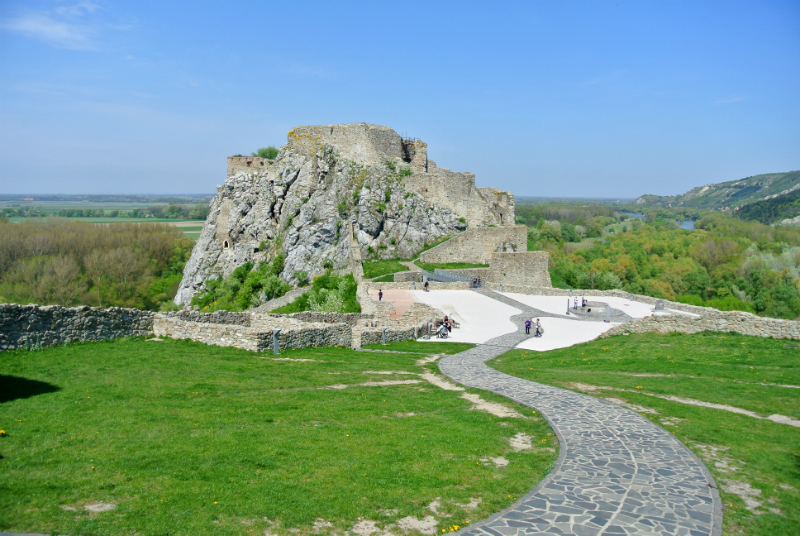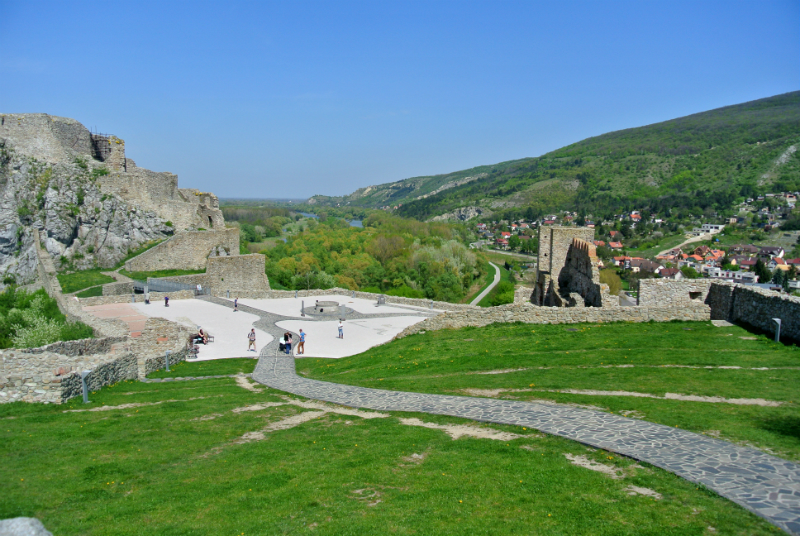 3. Bratislava Castle
Back in Bratislava, I climbed up the steps to Bratislava Castle (Hrad) and the hard work paid off: I got an amazing view over the city! I didn't enter the castle but it looks like a beautiful building to visit with the museum of history and the music museum inside. I've had a look around outside and there are plenty of opportunities to sit down and see the city from above.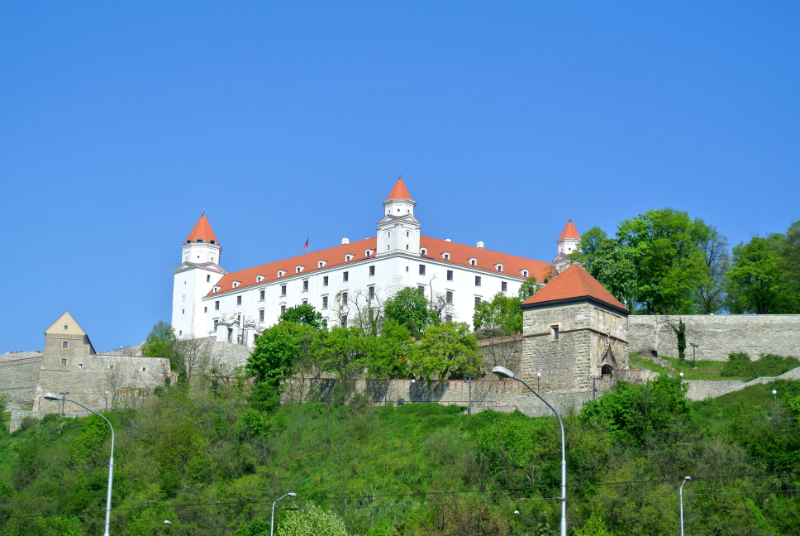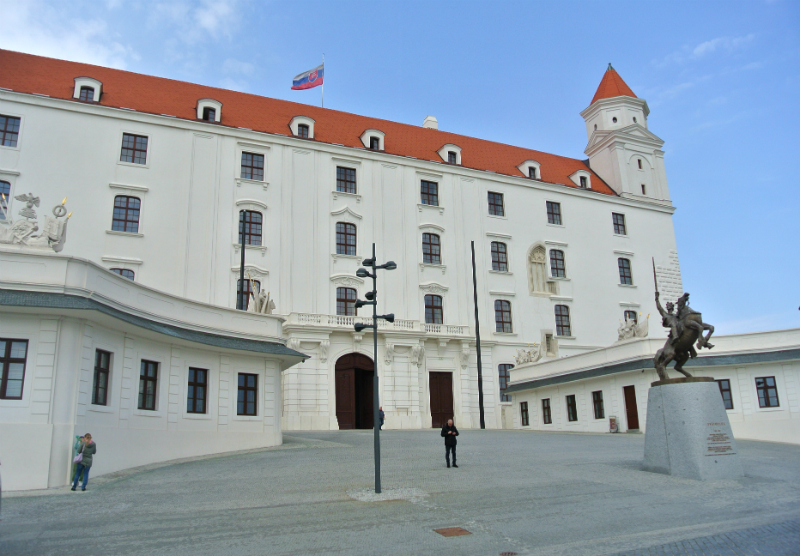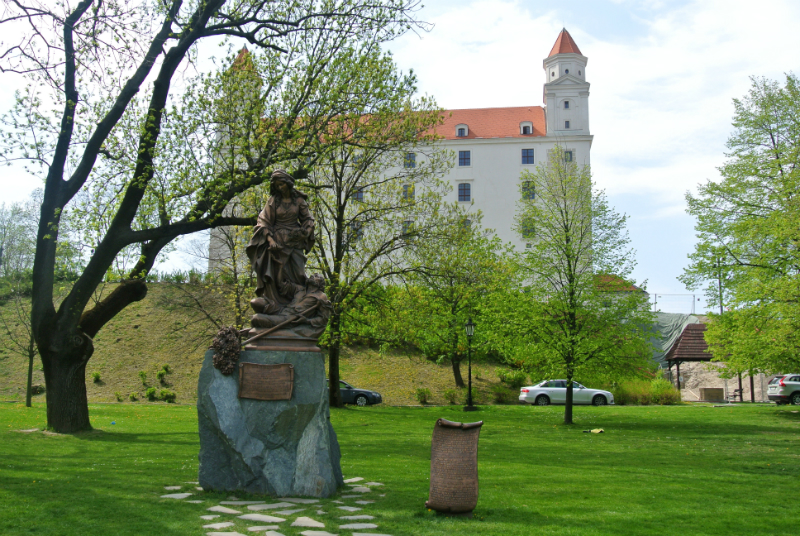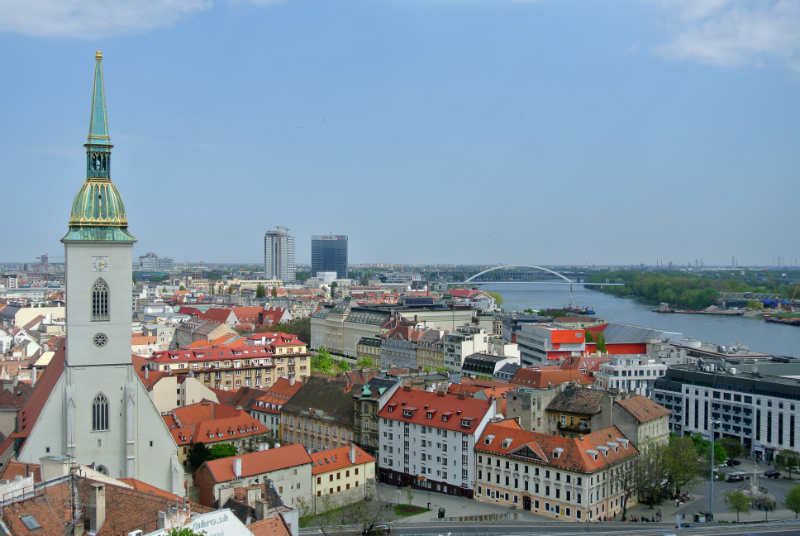 4. Old Town
After a quick stop at the hotel, I was ready to see more of the Old Town. It's a fun area to explore with narrow lanes, historic buildings and lots of bars and restaurants. I also came across some funny statues – the most popular one is Cumil; a man peeking out from under a manhole cover. Other beautiful buildings in the Old Town are the National Theatre, Michael's Gate  and the Bratislava City Museum.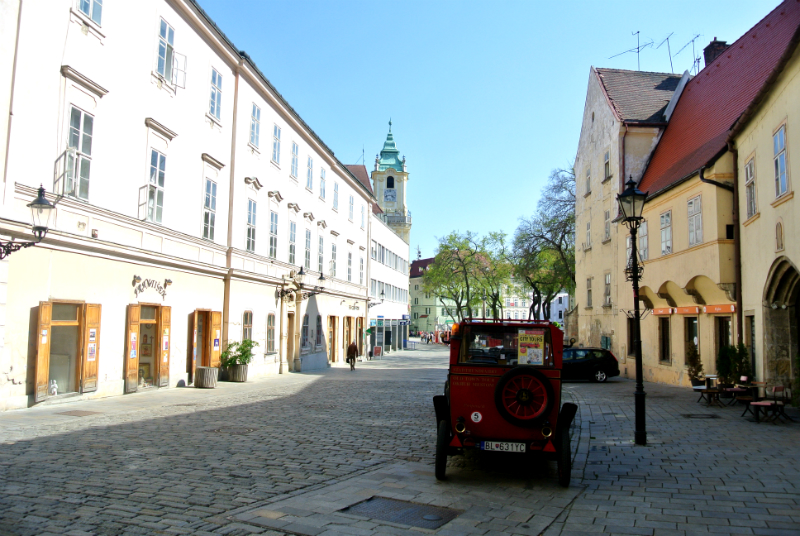 5. Walk along the river
Last on my list was a walk along the river. As it was such a beautiful day I decided to walk towards Eurovea Shopping Centre. I got there via a nice path which brought me to a green area where lots of people were already relaxing on the grass – the perfect spot to unwind and have a bite to eat. Just above the greeny area is a promenade with restaurants and the shopping centre. It all seemed fairly modern and chic compared to the Old Town – I wondered if the majority of Slovakian can actually afford to shop and dine out there?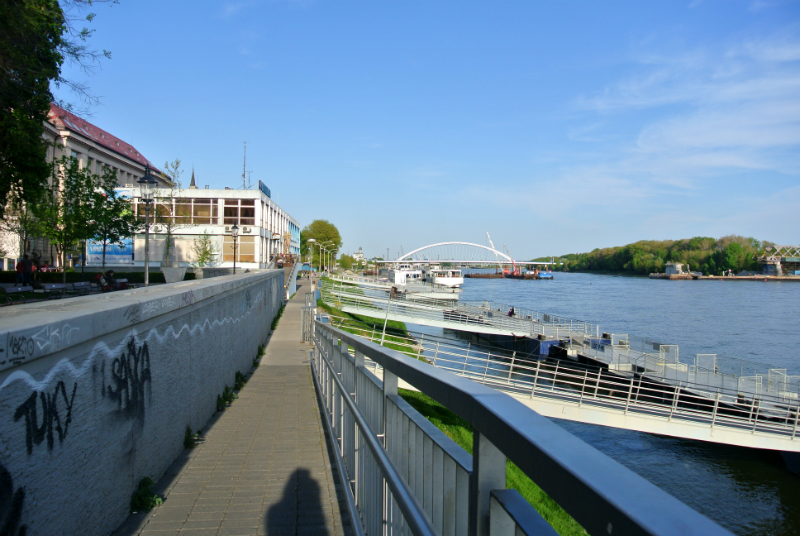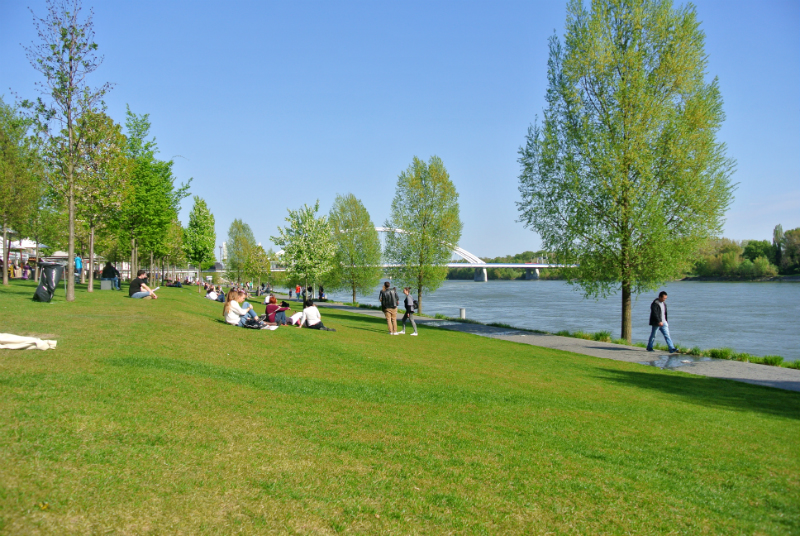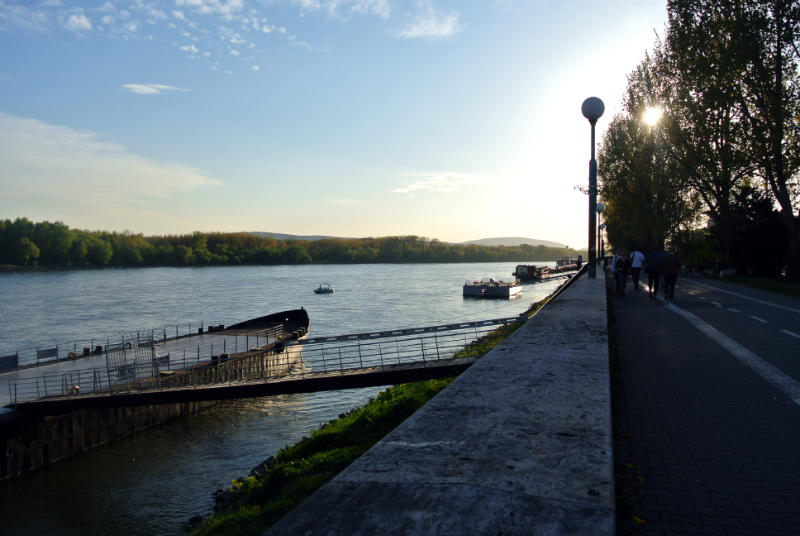 On my last day I had a few hours left in Bratislava, so I decided to cross the Danube river to explore the Petržalka borough of Bratislava. After a short walk across the bridge I got some great views over the Old Town and the castle. On top of the UFO bridge is a observation deck from where you can get another panorama view over Bratislava. I didn't go up but I bet you get some stunning views. A short walk away from the river is Sad Janka Kráľa – one of the oldest parks in Europe. The only people I saw were either families or drunk people but considering the time that's probably pretty standard in any city and I can imagine that it's busier on a sunny weekend.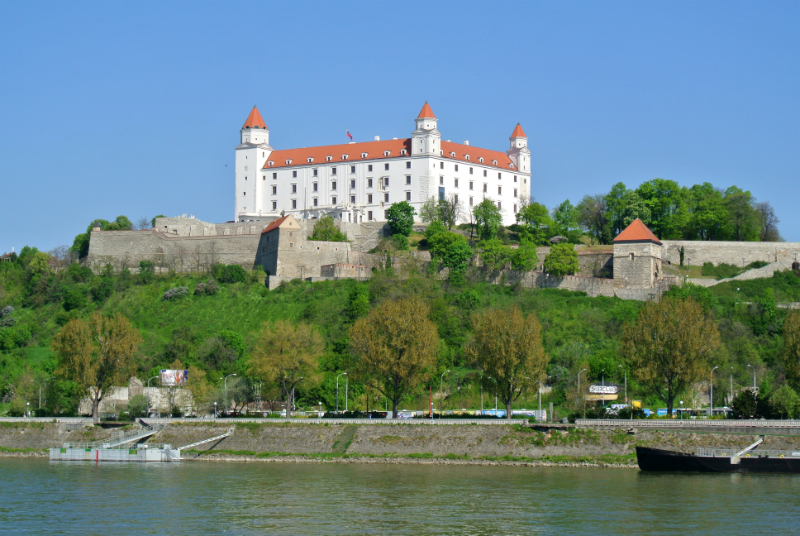 Now it was time to go back to the Old Town… one last time I passed the main square where they prepared for another event, picked up my luggage at the hotel and made my way to the airport. Bye Bratislava, it's been a blast!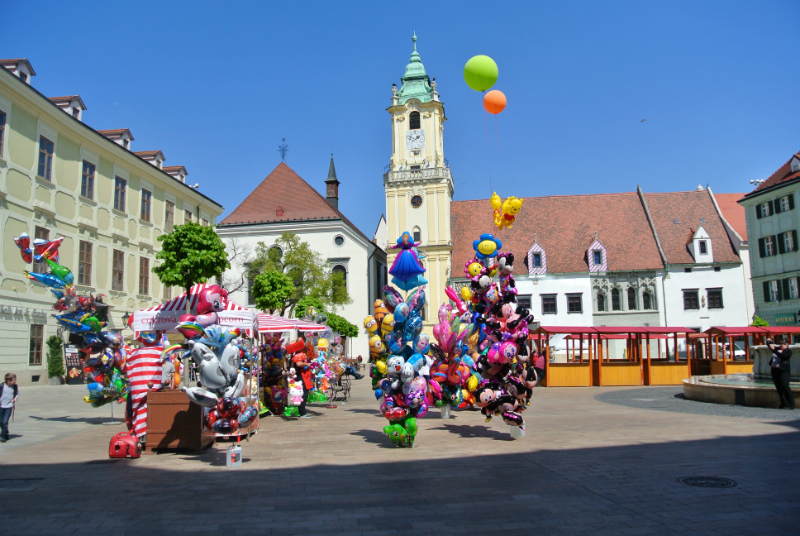 Still wonder why you should visit Bratislava?
Bratislava is a lively city with a cute Old Town, pretty buildings and a relaxed atmosphere. Everything is in walking distance, you get beautiful views from almost everywhere in the city and Devin Castle is one of the most peaceful places I've been to in Europe. I also enjoyed that there were no cars to watch out for in the Old Town and tourists having ice-cream for breakfast put me right into the holiday mood.
I've stayed for 2 days which is a good amount of time to explore the city in a slow pace but if you're in Bratislava for only a day you will be able to do all the above too. I went in April which is an amazing time to go but I can imagine anytime between spring and autumn will be great to make most of the city.
Are you planning to go to Bratislava? What is on your to do-list?