I wanted to go to Norway for a long time. In 2019, I finally packed my bags to head to Oslo for 2 days. Oslo has a very chilled out vibe and at the same time so much to offer. Whether it's culture, green parks & nature or history, the city offers a great mix. Like on every trip, we love to try local food specialities and hunt down cool food markets and restaurants. Here are my top 3 favourite street food places in Oslo:
1. Head to Oslo's last Hot Dog stand
Syverkiosken is the only local hot dog stand left in Oslo. We have seen this place on a travel programme, so we had to check it out. The stand is not right in the centre but still in walking distance from the main sights. The owner was very welcoming and chatty. While preparing the hot dogs he told us that he prepares the sauces himself from homegrown vegetables. The original Norwegian hot dog actually comes in a "lompe", which is a flat tortilla-like bread instead of the hot dog bun we are used to. We went for both obvs. The hot dog was super yummy and I especially liked the homemade sauces. Indeed, it was so good that Charlie got another one.
Where? Maridalsveien 45 b, 0175 Oslo, Norway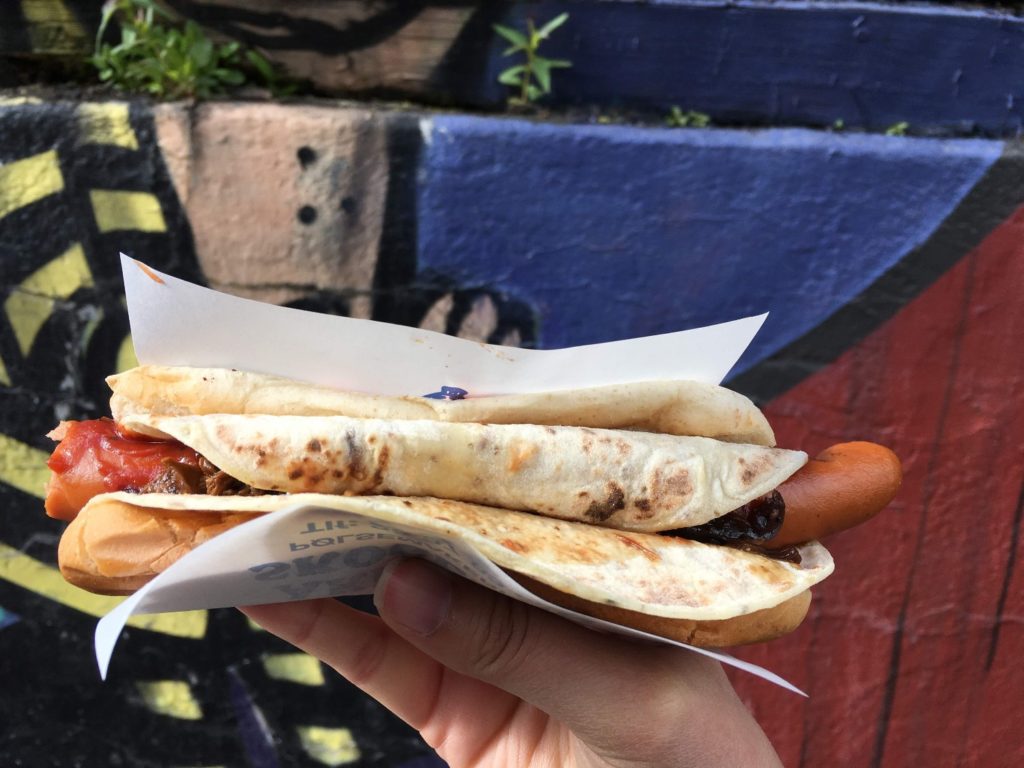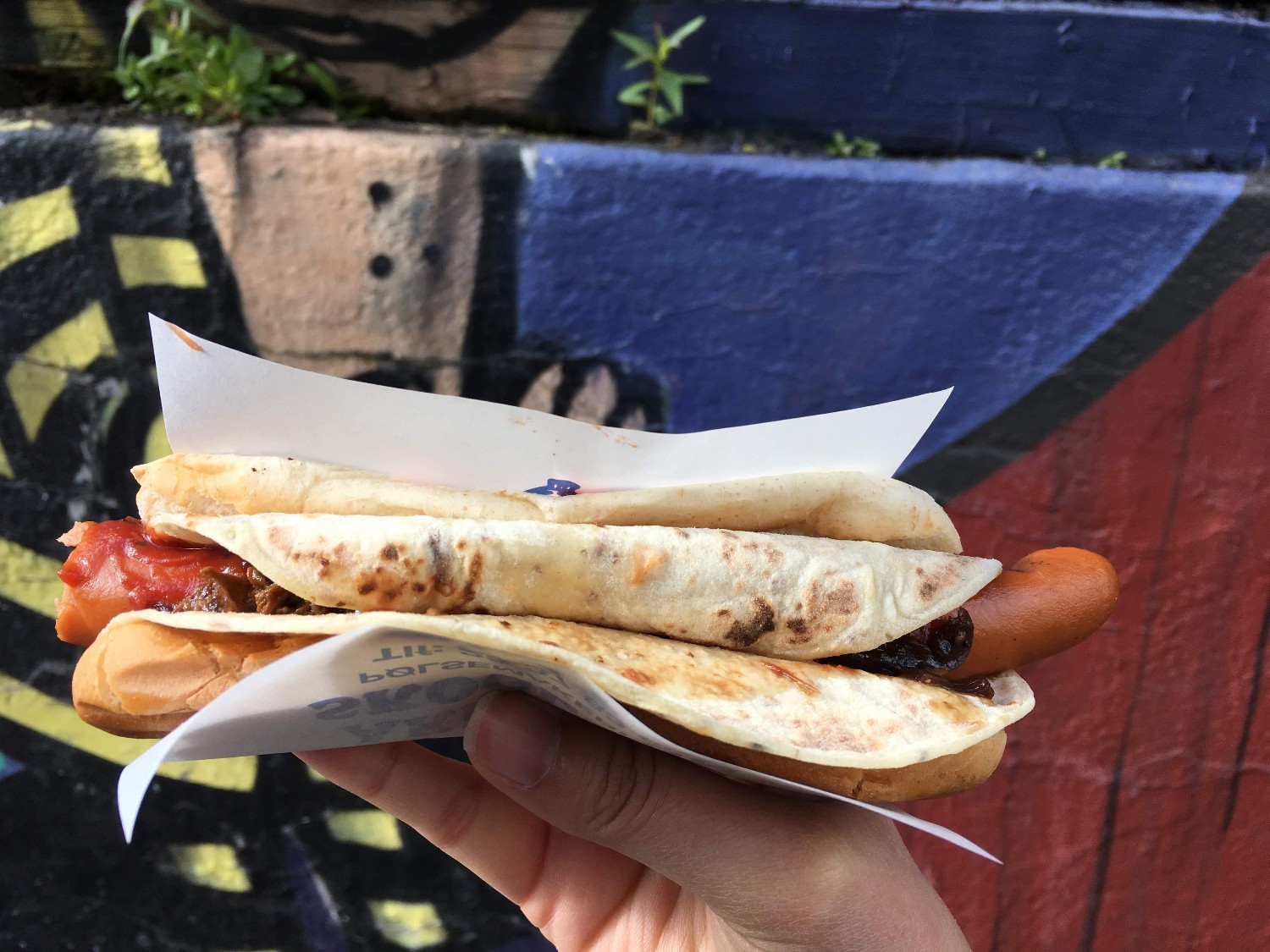 2. Experience a culinary joy at Mathallen
Mathallen is an indoor food market located along Akerselva river and was our first stop when we arrived in Oslo. It's home to over 30 speciality shops, cafés and eateries. You can choose from a seafood bar, Spanish tapas and Norwegian specialities to cup cakes and Italian ice cream. In the middle of Mathallen is an area where everyone is welcome to eat their food. We wandered around the food hall struggling to choose but finally decided to go with Smelt. They offer freshly grilled cheese sandwiches in different varieties. I LOVE cheese and they didn't disappoint – it was absolutely delicious. On the way out, we went past The Cupcake & Pie Co. and I couldn't resist getting one of their homemade donuts.
Where? Vulkan 5, 0178 Oslo, Norway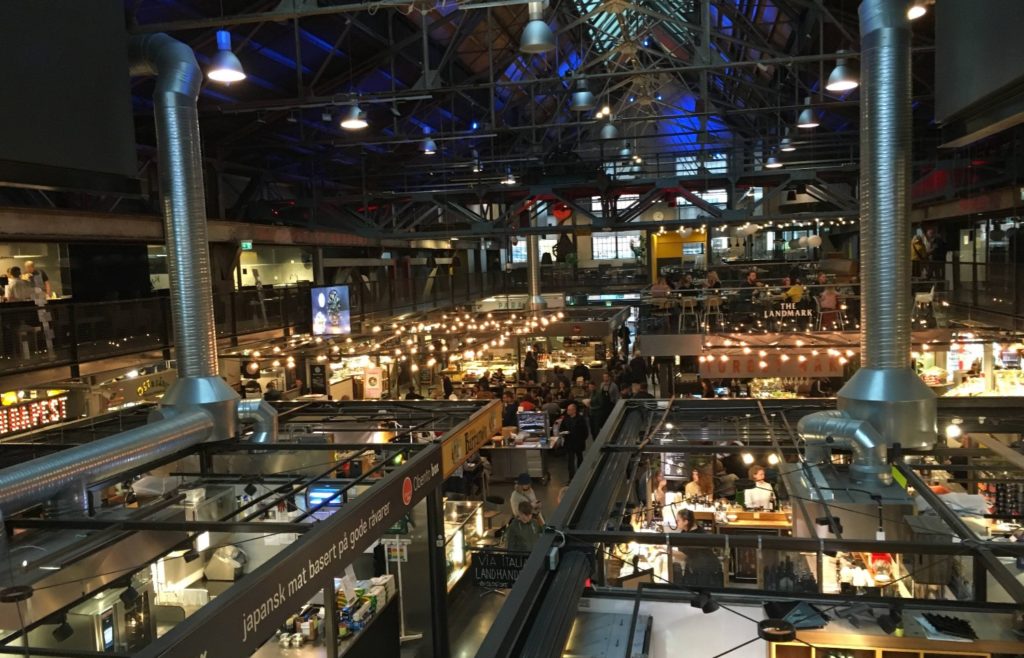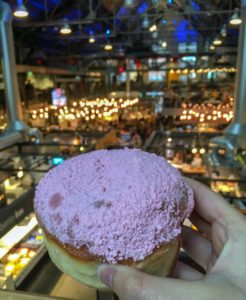 3. Experience different kitchens at Oslo Street Food
We bumped into Oslo Street Food by accident on Saturday night and it turned out to be a great find. This place offers a variety of food stalls and bars with shared inside and outside seating. We really enjoyed the relaxed vibe, grabbed some food at Duck It and drinks at the bar and ended up staying there for a few hours. If you're into Asian food Gohan, Tunco and Kain Rice Bar are also a great choice but honestly can't imagine that you can go wrong with any of the stalls. Oslo Street food is right in the centre, so we obviously had to return on our last day to grab lunch. You can never have enough of a good thing, right?!
Where? Torggata 16, 0181 Oslo, Norway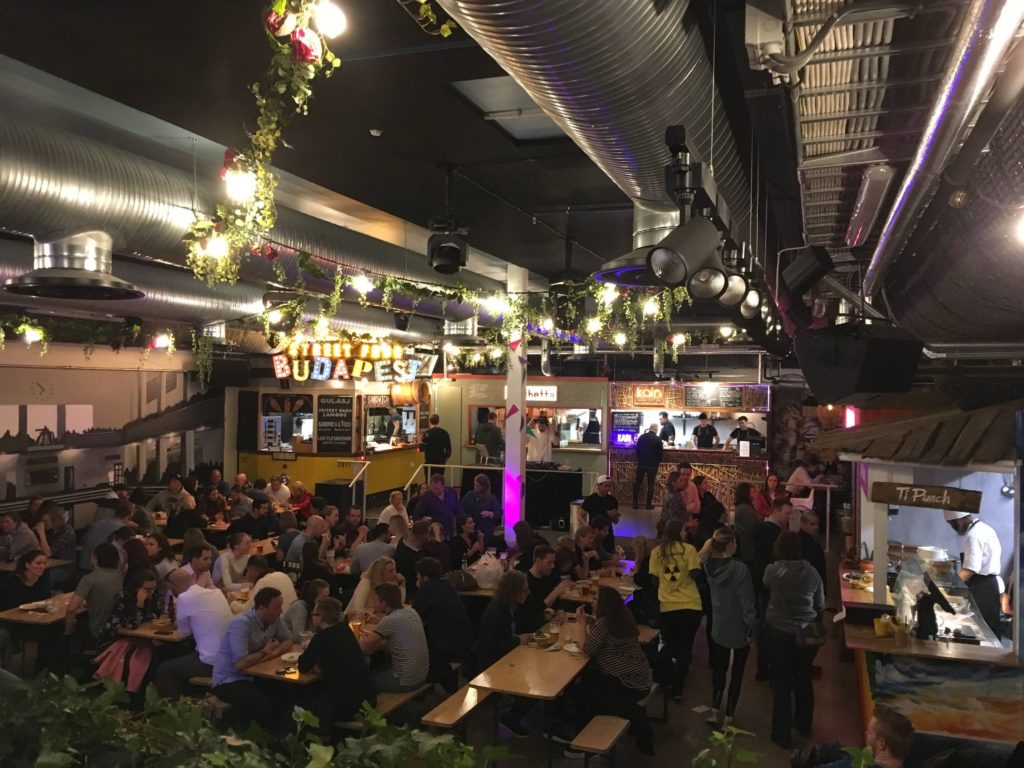 Do you like trying street food when travelling? Let me know in the comments below.