London is a very multi-cultural city, and therefore a great place to learn more about different cultures and food as well as to meet people from across the world. As much as I love Sushi, Chicken Korma and Pizza, I do enjoy having German food in London. Luckily this city has quite a few German restaurants and beer gardens and with the German Champions League final coming up in London, I can't wait to have an all-German weekend. Fancy a Currywurst or a pint of Krombacher? Then check out the following pubs, restaurants and bakeries.
Pubs/Restaurants
Zeitgeist  is a very popular German bar South of the river Thames. It caters all kind of German beer such as Bitburger, Krombacher, Franziskaner and Jever. If you feel hungry pick one of the many German specialities on the menu and enjoy a Bundesliga game in the meanwhile. Transport: Vauxhall Station 
Bavarian Beerhouse is a traditional Bavarian pub and restaurant in Tower Hill and Old Street. They offer a great German beer selection and the menu has everything from Schnitzel, sausages, Beaf Goulash to Pretzels. My favourite food dish are the Spätzle. Transport: Tower Hill and Old Street Station, Tottenham Road Station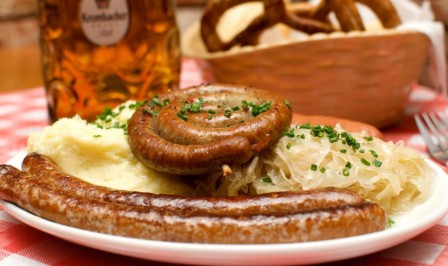 Bierschenke is a very lively basement bar and restaurant that offers a wide range of beer (and two types of cider in the rare case you don't like beer), as well as a basic selection of food. It's right in the centre and definetely worth a visit. Transport: Temple Station
Herman-Ze-German is a German shop that opened 2010 on Villiers Street (side street that connects Embankment and Charing Cross Station). You can find everything from Currywurst, Bratwurst, Bockwurst, Leberkäse, Sauerkraut to fries on the menu. There is also a shop in Soho which I have visited a few times now. My favourite is the Bratwurst menu which includes chips and a delicious Fritz Cola. Tip: If you live in West London head to Bakehaus in Hammersmith where you're also able to grap a Herman Ze German Currywurst. Transport: Charing Cross and Embankment Station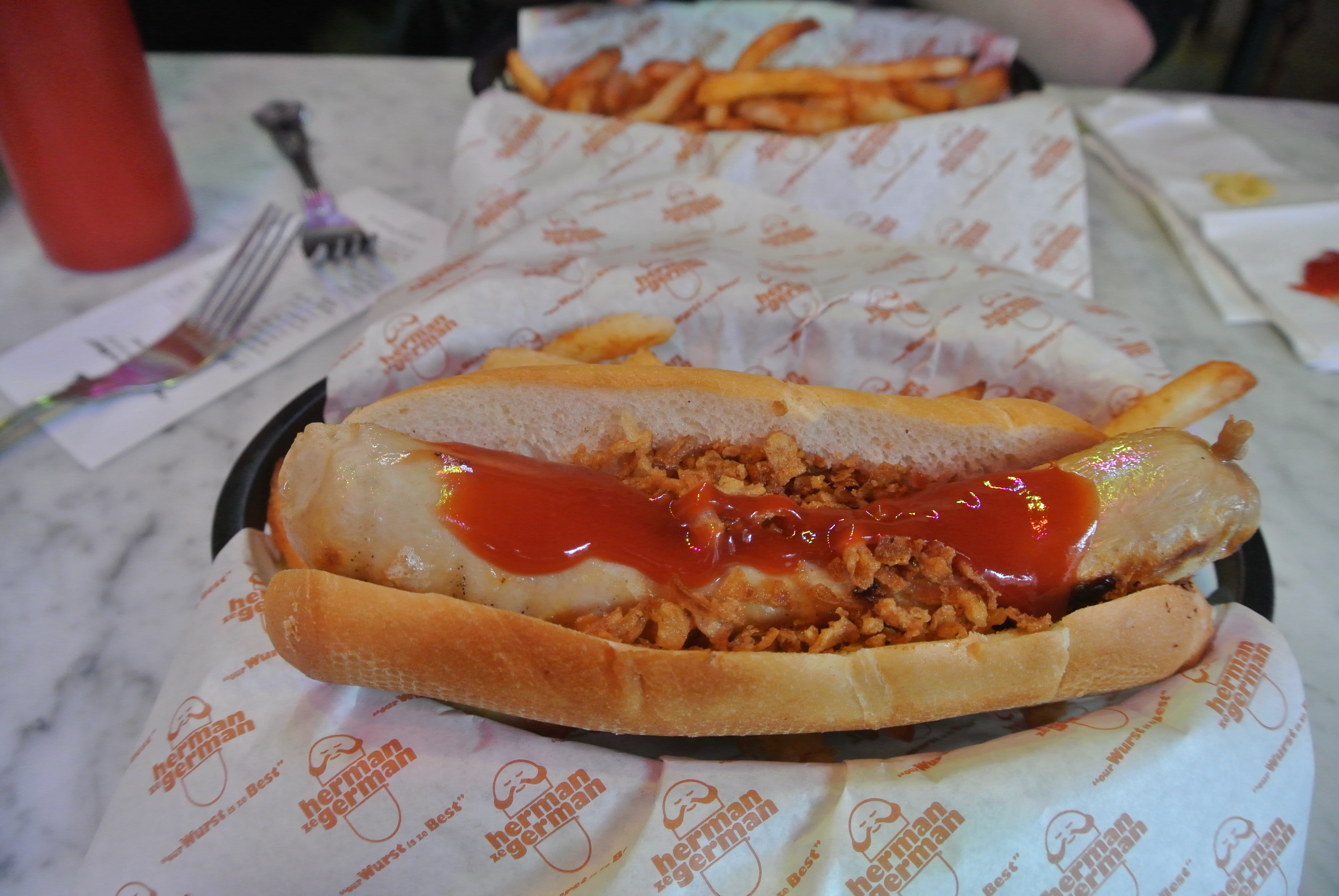 Stein's is in Richmond, and it's worth the 40 minute ride from the centre. The beer garden is located idyllically next to the Thames, and is the perfect escape on a hot summer day. Tip: Stroll along the river and beautiful Richmond Park. Transport: Richmond Station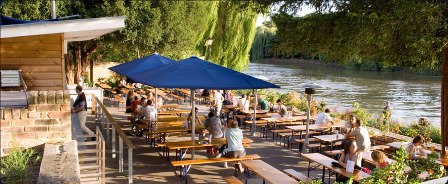 Bakeries
I will never get used to british bread (= toast) and I'm glad that I don't have to thanks to a few German bakeries in London.  I great place to buy fresh bread is Borough Market at London Bridge which is open every day. Close by you can find the German Deli – a little store that specializes in groceries. Whether you run out of Maggi products, Dr Oetker vanilla sugar or Rittersport chocolate; that's the place to go. Last but not least Ditsch; my favourite Pretzel and Pizza slice supplier. Both stores are in West London (Victoria station and Hammersmith), therefore I rarely get the chance to go to Ditsch, but if I pass by I make sure to fill up my bag. UPDATE: Recently, Kamps has opened its first 2 bakeries in London. One is located at Tottenham street close to Warren Street station and the other one at High Street Kensington station.
Did I miss any German places? What is your favourite in London?
photo credits: Bavarian Beerhouse and Stein's