Italy, the least well known of the Alpine skiing destinations is somewhere that should be on every skier's radar. Offering fantastic value, delicious food, and some of the best slopes in the world, Italy is the perfect place to ski. The ski slopes of Italy might not be the most famous, but they are definitely, worth a visit.  
While less well known than France, Switzerland and Austria, the 300 skiing resorts in Italy are charming. The most popular Italian resorts, include Champoluc, Sestriere, and Livigno. However, these aren't the only place that are worth a visit, many of the smaller resorts are amazing.
Still not convinced that skiing in Italy should be on your travel bucket list? Then make sure to keep reading below, for all the reasons you have to plan a skiing trip to Italy.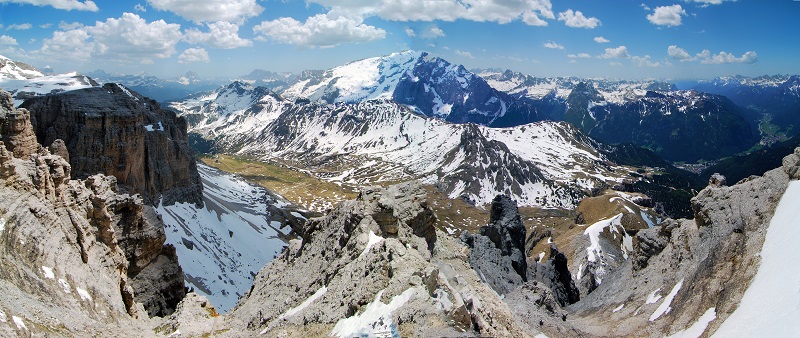 1. Good value for money
Compared to visiting resorts in France and Switzerland, Italy is good value. It's not just the cost of the accommodation, flights and ski hire that is cheaper; it's also the price of lift passes. In Italy, even the cost of lift passes is much lower than anywhere else.
Often, skiing can be incredibly expensive, which can put many people off booking a ski trip. However, by choosing to visit an Italian resort, you won't have to worry about the cost of the trip. As in Italian resorts, everything is much more affordable.
2. Hidden gem locations
Most of Italy's ski resorts are unknown, which means that even during peak season, they don't get too busy. This is ideal if you are a new skier, as when you are still learning, open slopes make the process much easier.
One of Italy's best resorts is Madesimo, a good sized resort that is suitable for all abilities. Because it's a fairly unheard, there won't be any queues for the lifts and the slopes won't be overcrowded. To find out more about skiing at Madesimo, take a look at http://momentumski.com. Here you should find everything that you need to know about the resort.
3. You can become an international skier
Italy is one of the best places in the world to become an international skier. Becoming an international or cross-country skier is simple, all you have to do is ski across the border into another country.
Once you've arrived in your beautiful Italian skiing resort, you won't want to leave for long. However, you will no doubt, want to be able to brag that you are an international skier. The best thing about going cross-country is that it's not hard to do. You need to have some experience, as the runs tend to be steep, but almost any skier can go international.
The one of the best resorts in Italy to visit to become an international skier is Claviere. Claviere is a low-key skiing resort that is located next door to the French border. It's location makes it the perfect resort for cross-country skiers. (The French border sign is right next to the most popular hotel.) This resort has many high altitude slopes and is perfect for skiers of all abilities.
4. The delicious food
If you have ever visited Italy before, you will know just how fantastic the food is. From the yummy pizza and pasta dishes to the most amazing gelato, Italian food is to die for. After a tiring morning of skiing, there is nothing better to sit down to than a warming Italian lunch. Think pizza, pasta, and all sorts of other delicious delicacies.
As well as basic dishes, many of Italy's ski resorts also serve a range of elegant meals. While they might not be suitable for a casual lunch, if you fancy an evening out, eating in one of these restaurants is perfect. You'll find that the food is delicious, the drink is fabulous, and the atmosphere is amazing.
5. The most amazing views
No matter where in Italy you choose to ski, you will find that the views are awesome. The views at most Italian ski resorts are out of this world. However, some of the best views can be found at resorts close to the Dolomite mountains.
Cortina d'Ampezo, a skiing resort located a couple of hours from Venice, has the most fantastic views of the Dolomites. The resort's unique charm comes from the fact that it overlooks mountains that are 3000 metres high. While the views from anywhere in the resort are beautiful, the ones from the ski lifts are stunning.
6. Short transfers
When you go on a trip, you don't want to be stuck on a bus for hours. Often, when you go skiing, the transfers to the ski resort from the airport can take over three hours. However, if you choose to ski in Italy, you will be treated to some of the quickest transfers.
With most transfers to Italian skiing resorts taking between one and two hours, you won't be stuck on a bus for long. Most transfers include a tour bus driving fast along icy road, making for an comfortable trip. However, the transfers to Italian skiing resorts are much less stressful as most of the journey is on the motorway.
7. Lots of towns and villages to explore
As well as being able to ski, opting to travel to a resort in Italy will give you the opportunity to explore various villages and cities. Most skiing resorts are located close to villages and towns, so they are ideal for exploring.
One of the best ways to get an authentic feel of a county is by visiting its towns and villages. As well as having a chance to ski, if you opt to stay at an Italian resort, you will also have the opportunity to learn more about the country itself.
There are hundreds of skiing resorts to choose from, many of which are more famous than those in Italy. Regardless of not being the most popular skiing location, Italy is home to some of the most fantastic ski slopes in the world. If you have the chance, Italy is one destination that you really should go to skiing.
Have you been skiing in Italy before? What is your favourite destination for skiing?