Earlier this year, I got the opportunity to travel in Europe for 2 weeks. My last stop was Bratislava where I stayed 2 days. Eastern countries are generally cheaper, so I didn't expect to spent a massive amount of my budget but I was surprised how much I actually did. Are you planning to visit Bratislava? Then continue to read to find out how much money you have to bring.
My travel budget for 2 days in Bratislava…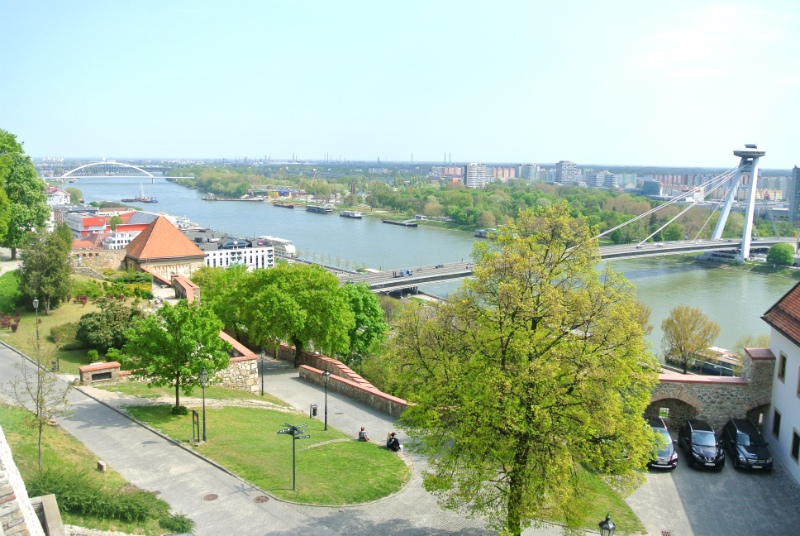 1. Accommodation
I usually book my accommodation with Airbnb (if you haven't tried it yet check it out and get a $25 discount) – same this time but 3 weeks prior to my stay, it got cancelled without any reason. Great, this was the only place I really liked on Airbnb, so I had to look for another option. Luckily, hotels were affordable too, so I decided to stay at the City Hotel in the Old Town. The location was just perfect right in the center of the Old Town. The room was okay although I saw the occasional ant crawling through the carpet but at least I didn't find any in my bed.
Total costs: 80 EUR
2. Transportation
I only needed to take public buses twice: On my first day I jumped on the bus to Devin Castle and on my last day I took the bus to the airport. It's extremely cheap and I only paid 0.90 EUR for a single ticket.
Total costs: 2.70 EUR
3. Food & Drinks
I've got all my food from the supermarket and bakeries, so could save quite a lot of money here. There are plenty of restaurants in the Old Town though with many offering a 3 course meal for 15 EUR – doesn't sound bad, right? I can imagine that's even cheaper once you leave the touristy Old Town.
Total costs: 9.70 EUR
4. Sightseeing
Bratislava is perfect to explore by foot and you don't have to splash out money if you don't want to. The weather was amazing when I was there in April, so mainly stayed outside and explored the city's attractions such as the Blue Church, Bratislava castle and Cumil (a statue peeking from under a manhole cover in the Old Town). The only time I had to pay for the entrance is Devin Castle but this was only 4 EUR. Bratislava also has a couple of museums and galleries which might be worth visiting on a rainy day such as the Nedbalka Gallery (free) and the Bratislava City Museum (6 EUR).
Total costs: 4 EUR
How much did I spent in total?
This was the cheapest city during my Europe trip: I only spent 16,40 EUR + 80 EUR on accommodation for two days. Slovakia is still a very budget-friendly country and I really enjoyed my time there. Obviously, you can spend a lot more on food, drinks and attractions but if you're on a tight budget you can still have a great time in Bratislava.
Is Bratislava on your bucket list?