At the end of May, Charlie and I travelled to Iceland for the first time. We only had 4 days to visit this awesome country and considering how much there is to explore, we had to plan our time wisely. I knew we had to see the Golden Circle as this is one of Iceland's most famous sights. As we only had a limited time left, we decided to go with the Golden Circle afternoon tour from Bustravel Iceland.
So let's go… we got picked up at our apartment just after 12 noon. After collecting a few more people, we drove just outside Reykjavik downtown where we boarded the actual tour bus with 20 other people.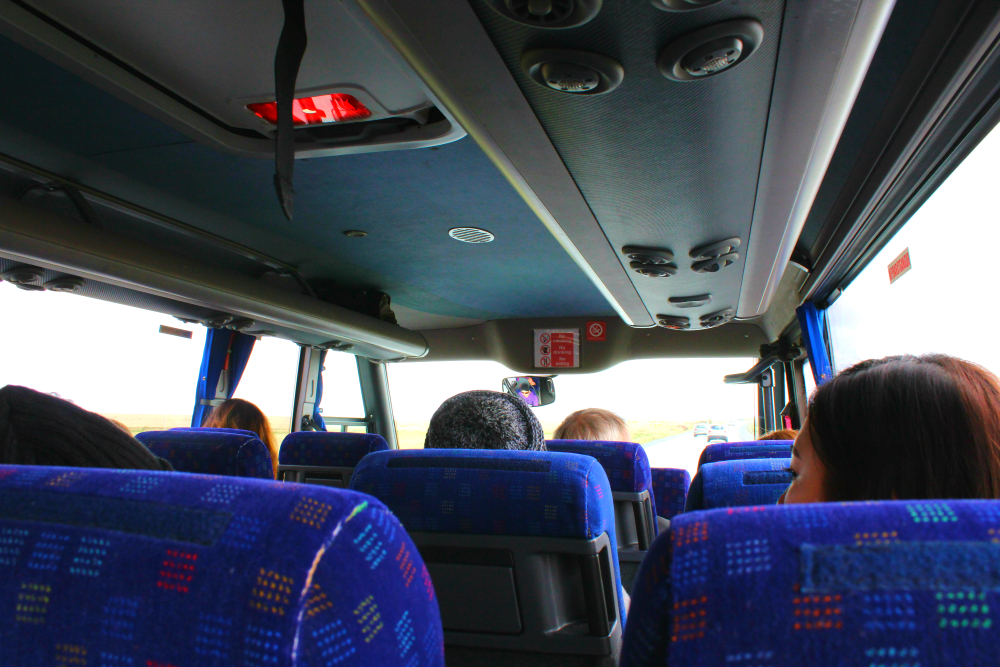 For the first 90 minutes we're driving through the beautiful landscape passing volcano's and lava fields before arriving at our first stop Kerið – a crater that was formed around 6,500 years ago. Today, it's popular with tourists and locals alike – it's even being used as a cool music venue.  It takes around 15 minutes to walk around the crater and we got some stunning views from the top. You can also walk down to the lake if you like to get a close up of the turquoise-colored water.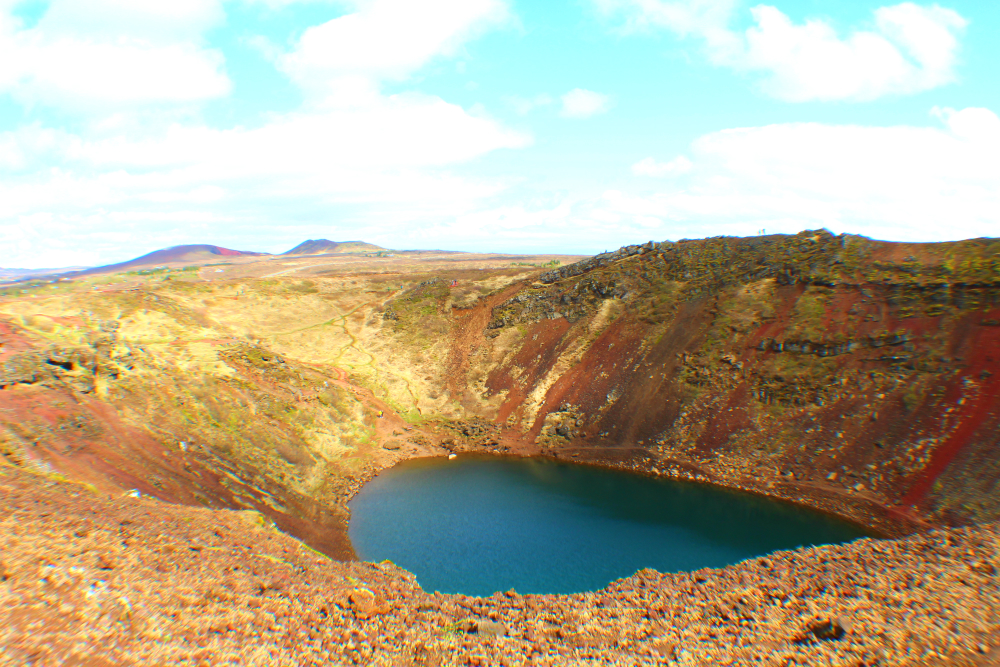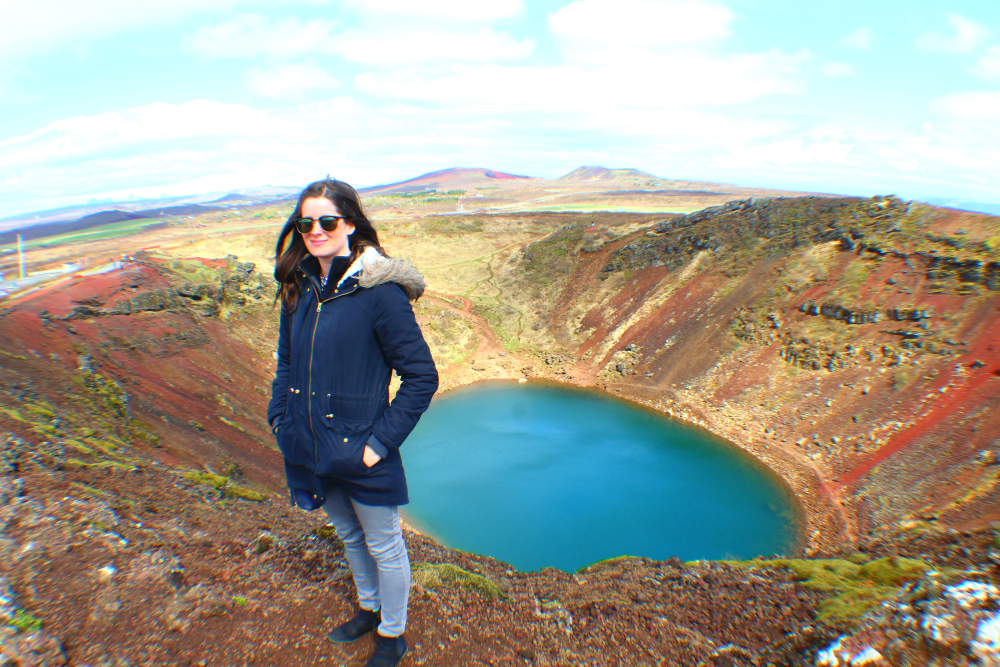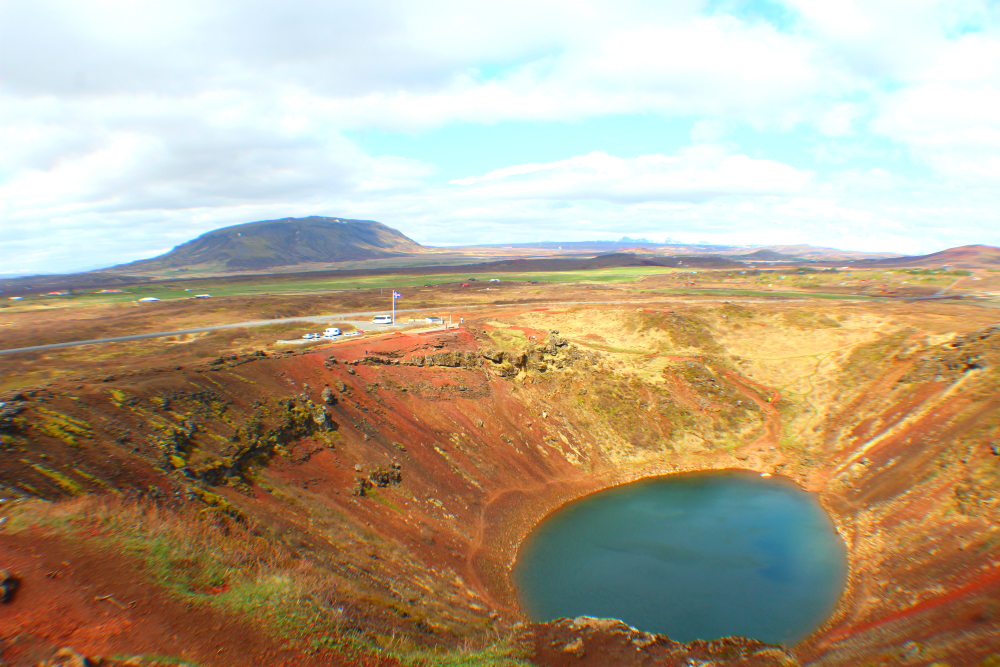 After 20 minutes, we had to get back on the bus to head to our next stop: Gullfoss – the famous and beautiful waterfall also known as the Golden Falls. We had around 30 minutes here and were able to view Gullfoss from two different platforms. It was impressive to see the water plunging down into a canyon from such a close perspective. It wasn't busy either, so we had plenty of space to move around and take nice pics.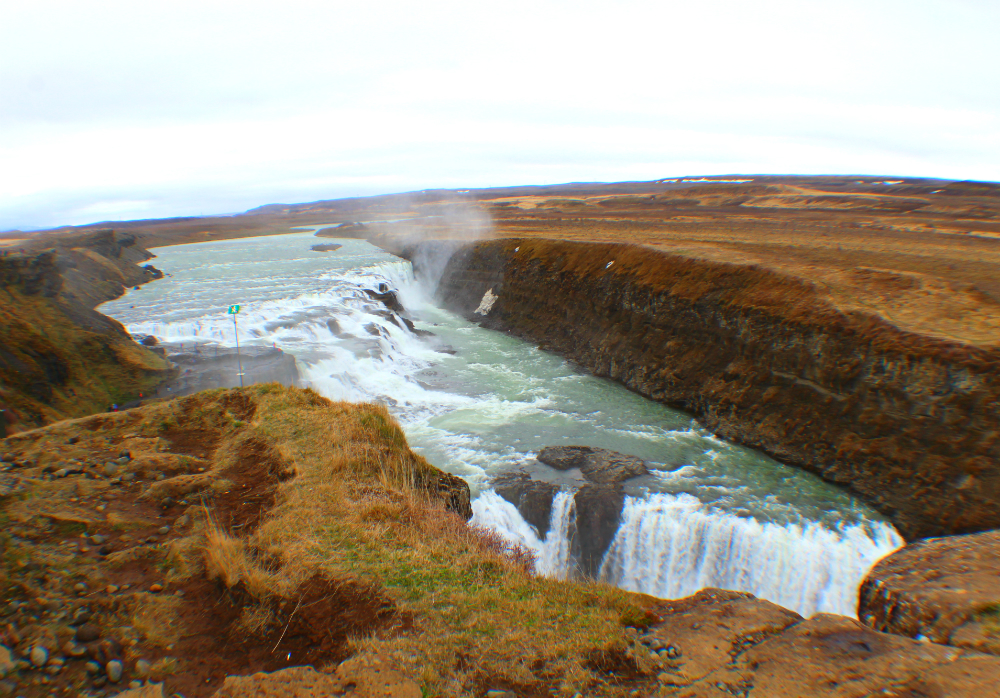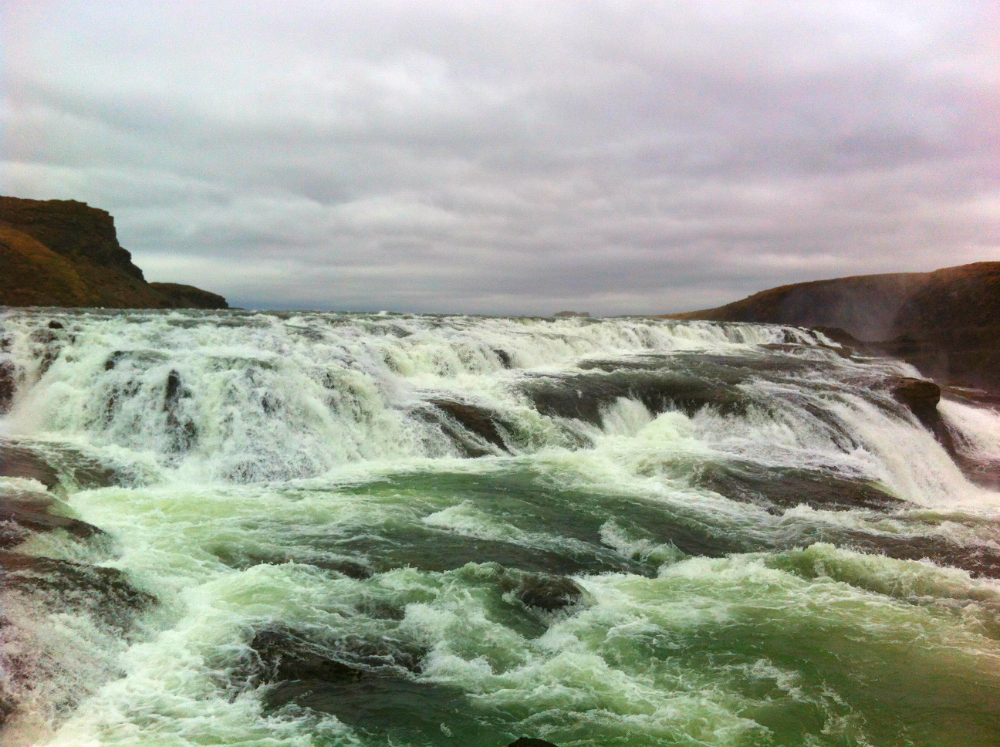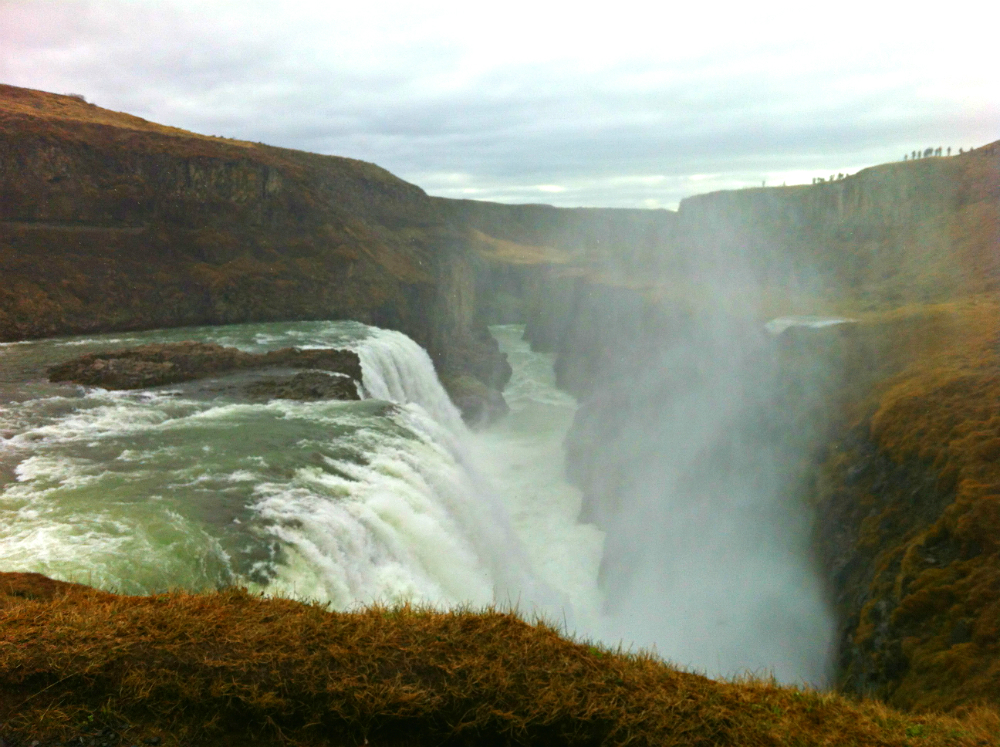 The third stop was Geysir which we've already passed on the way to Gullfoss. This was my favourite stop and luckily we had 45 minutes to explore. Strokkur is currently the only active geyser that erupts every 5-10 minutes. The explosions were very impressive and it was fascinating to watch the water bubble until it actually spouts to a height of around 10-20 metres. When I stood close to Strokkur to take pictures, it constantly made me jump hence why it took me a while to take some decent pictures. Btw: The smell of rotten eggs (from the sulphur) is very intense but that's something you kinda get used to in Iceland.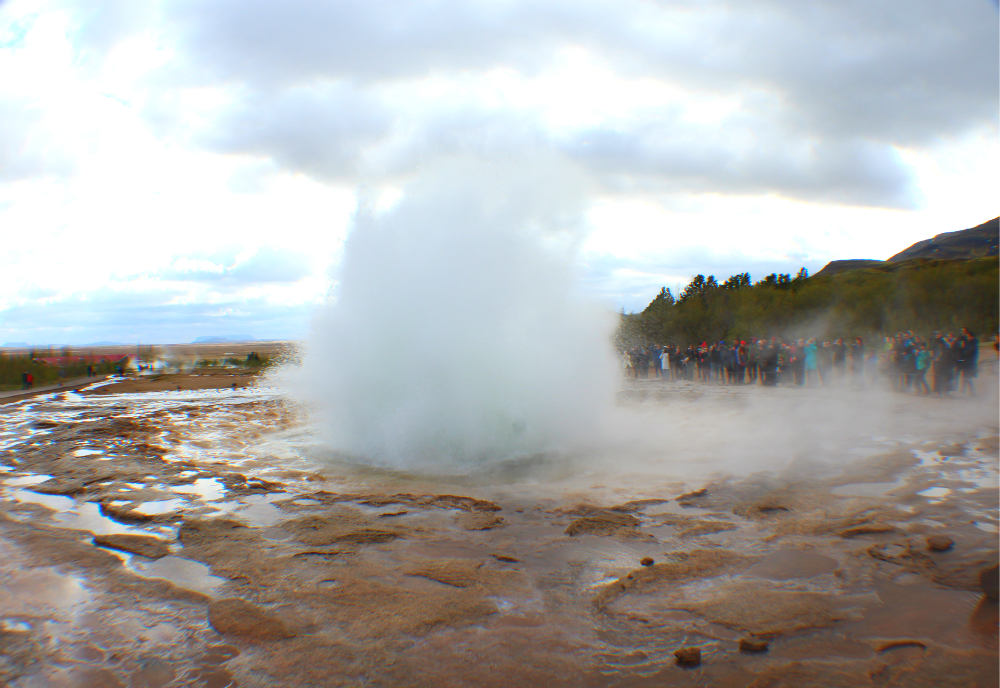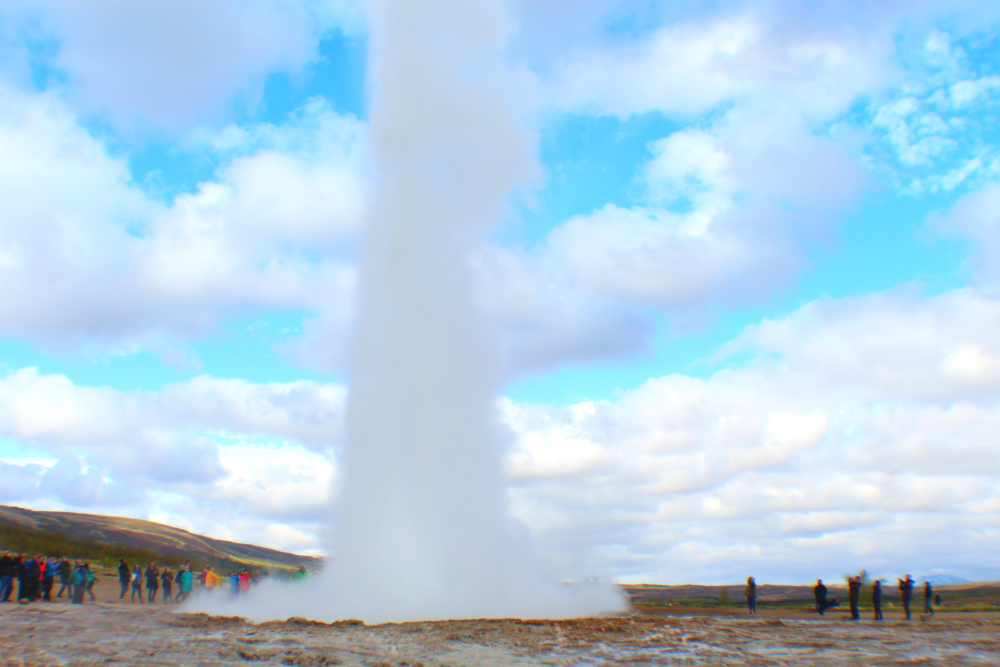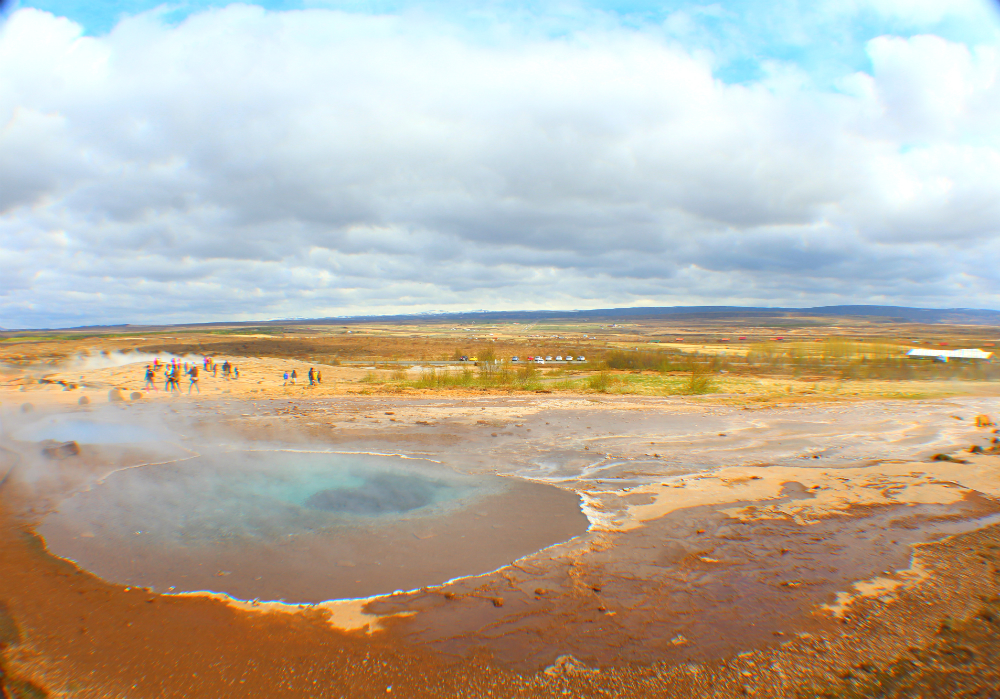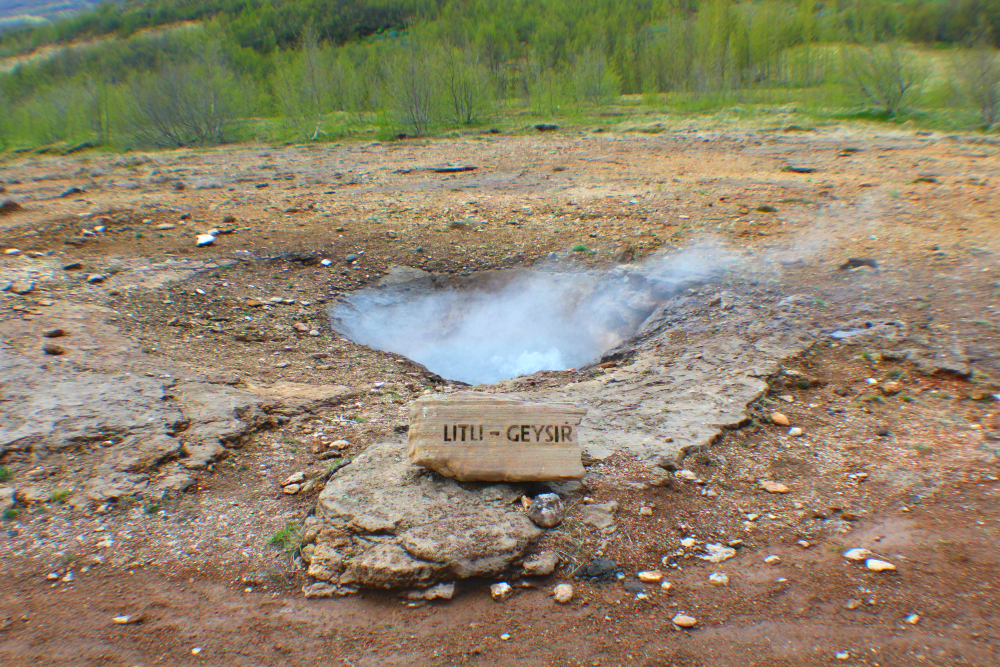 Behind the geysers is a hill you can walk up. From the top, you can get some nice views over this area and watch Strokkur erupt without getting a huge fright 😉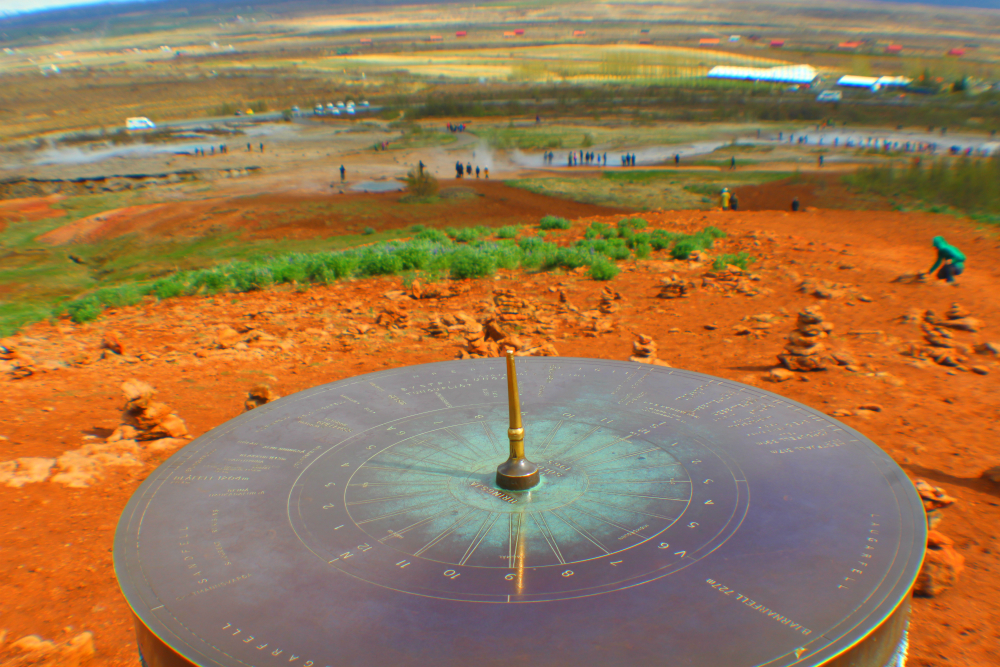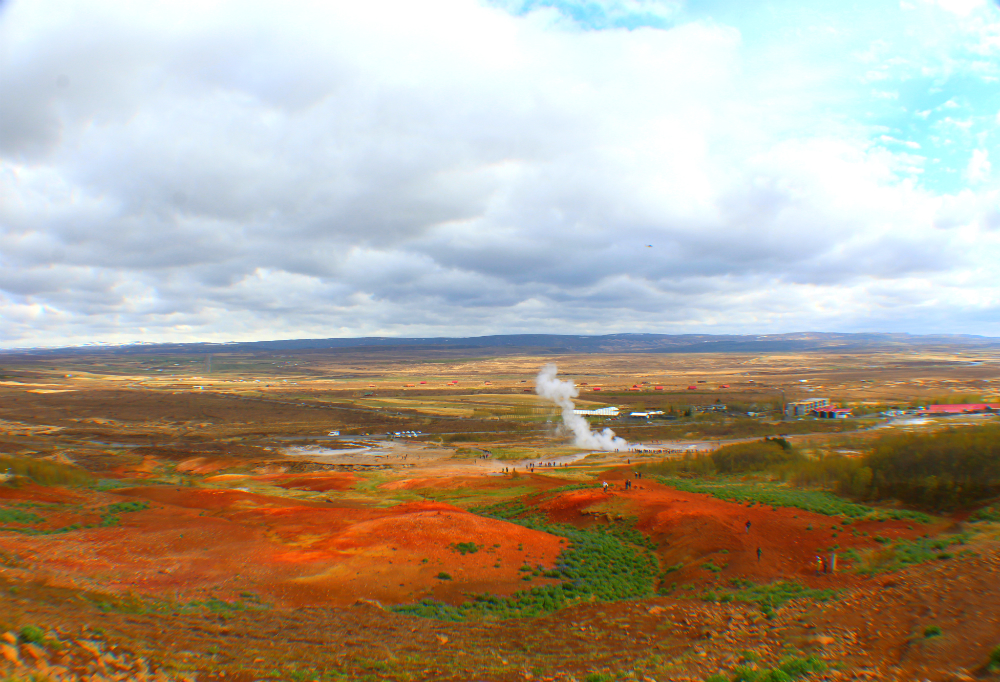 At 17:00 we arrived at our final stop being Thingvellir National Park. This has become a historic location as it's where the oldest existing parliament in the world was first assembled. Today, it's a UNESCO World Heritage Site where the Eurasian and North American tectonic plates meet as well.
From the viewing platform, we got a beautiful view over Þingvallavatn (the largest lake in Iceland) and Iceland's landscape. The lake has crystal-clear, blue water that makes it ideal for fishing and diving. Our tour guide told us that the water is that clear you can still see the sky and  people waving from the ground of the lake – how cool is that?!
Also, Games of Thrones was filmed here – do you recognize the landscape?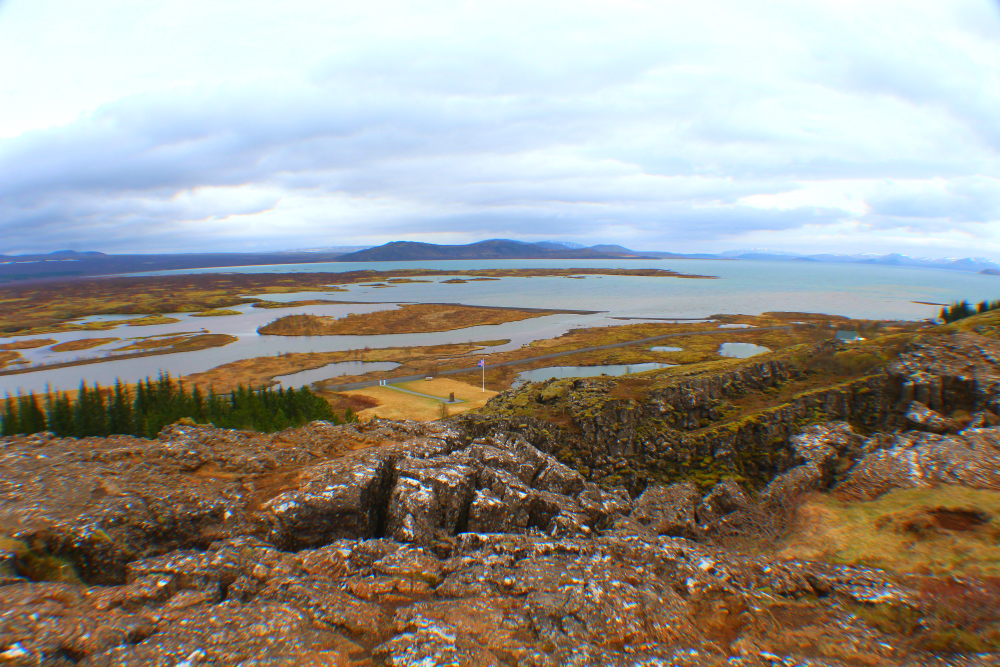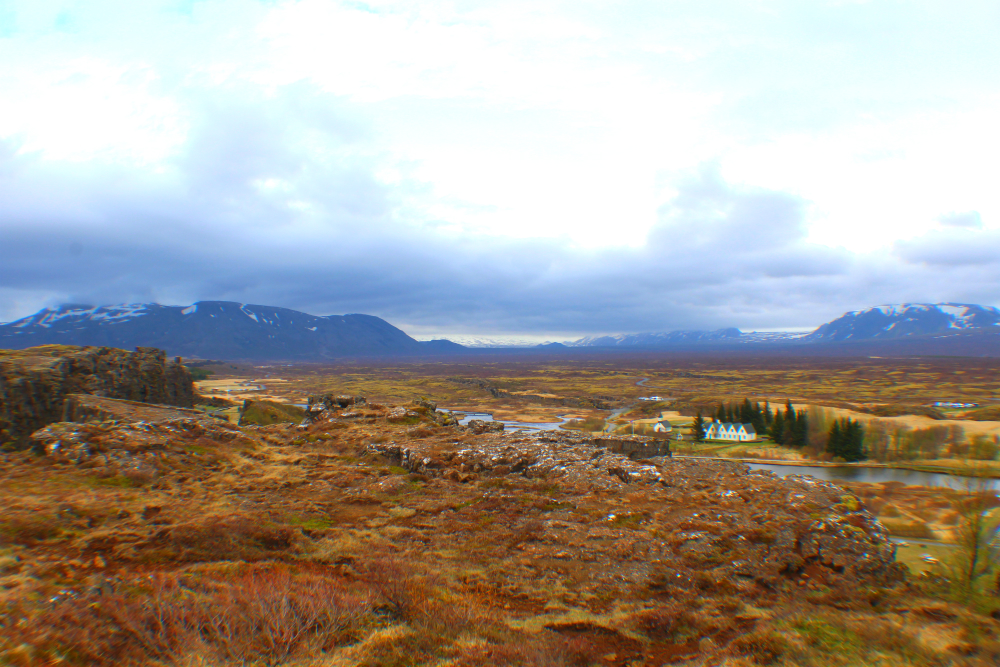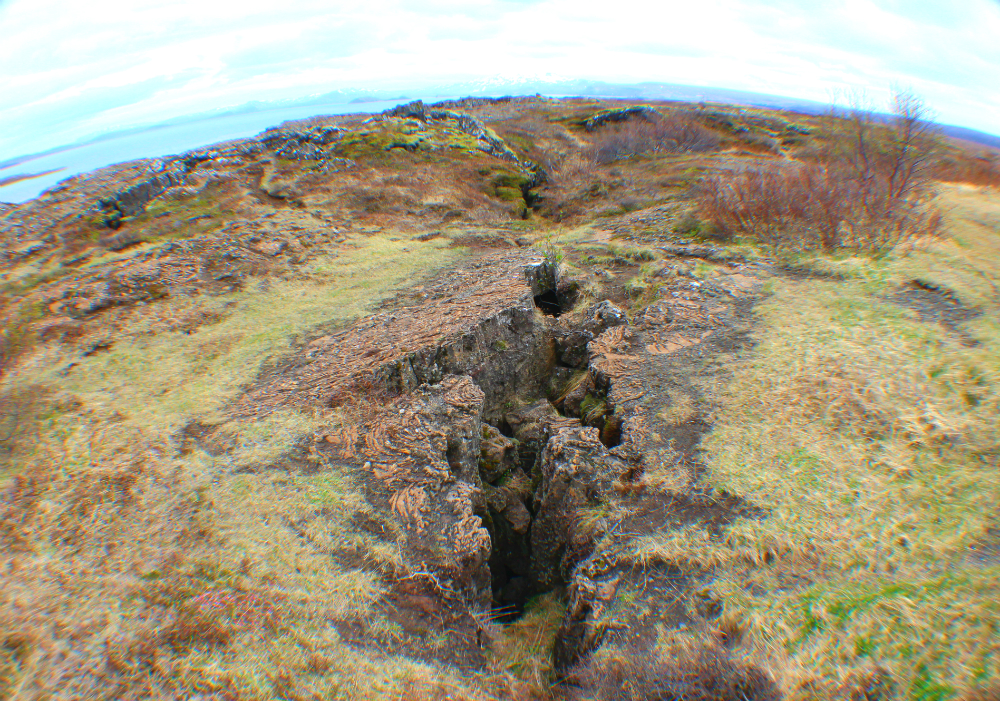 We had a few minutes left, so we walked through the Rift Valley and got even more beautiful views.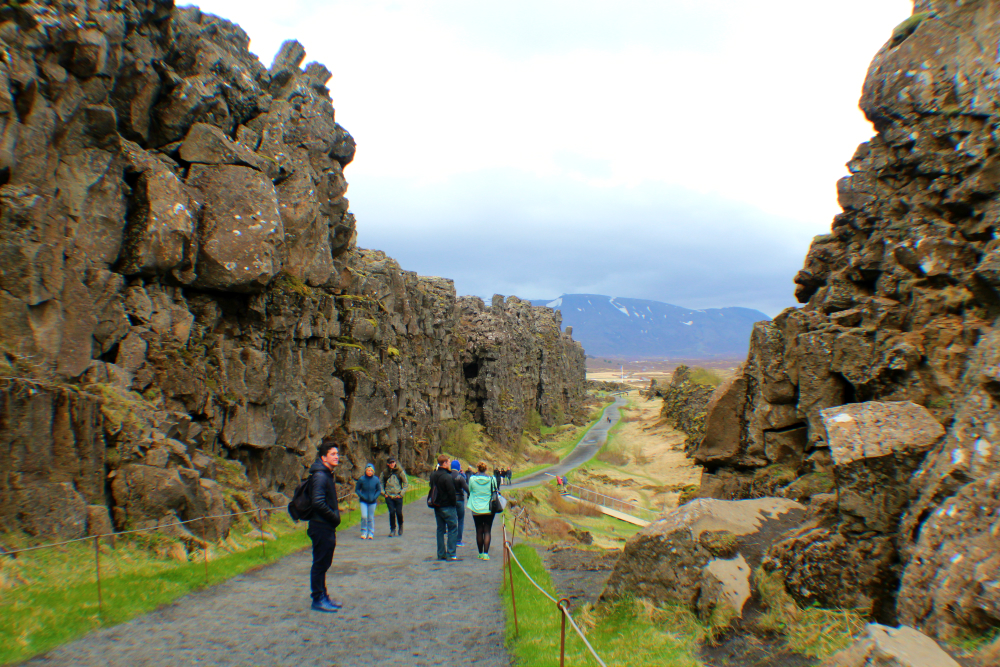 That's it… we got back to Reykjavik at 6pm, so it was a very action-packed afternoon. If you're here for only a short time, this is the perfect trip as you see the beauty of the Golden Circle in just half a day. If you have more time, consider doing the day tour as we sometimes had to rush and wished we had more time at each stop.
Nevertheless, I really enjoyed this tour and it's definitely a must when visiting Iceland for the first time. Plus, the coach journey was a nice drive through Iceland's beautiful landscape and our tour guide kept us entertained with interesting and funny facts about Iceland.
Are you heading to Reykjavik soon? Then make sure to check out Bustravel Iceland – they'll be able to help you with a great day or afternoon trip.
Is Iceland on your bucket list? Or if you have already been: What did you enjoy the most?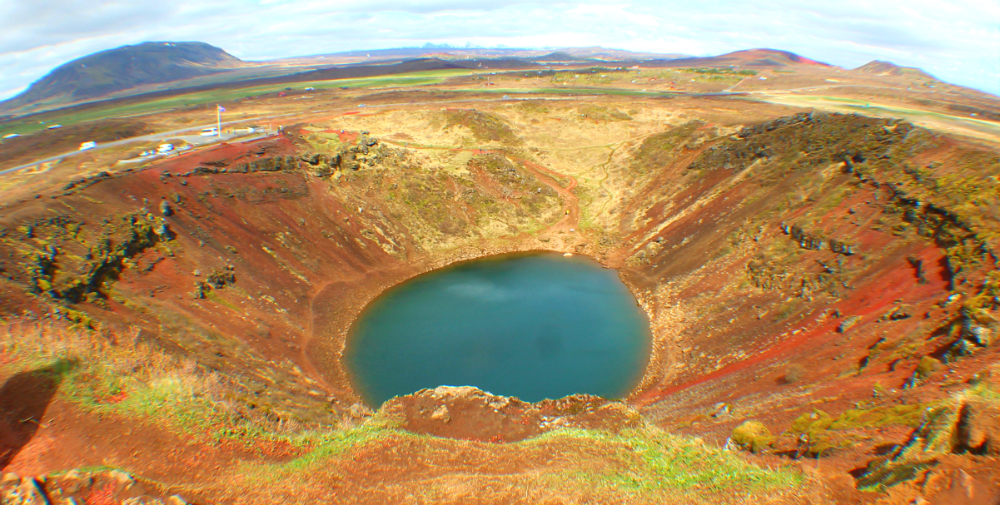 Total blogger transparency: I accepted this tour free of charge from Bustravel Iceland but don't worry, all thoughts and opinions expressed are my own.