Iceland is known to be a great location for whale watching especially during the summer months. I've always found whales fascinating, so this tour was right at the top of my list during our Iceland visit in May. There are tons of tour operators to choose from and we decided to go with Reykjavik Sailors. Their boat is located in the old harbour and they offer 4 tours a day during the summer: One at 9am, 1pm, 5pm and the last tour being at 9pm.
We got on board for the 1pm tour and were greeted by very nice crew members. The boat is split in 3 levels: the top deck for the best views; the indoor saloon to warm up and relax and the lower deck to get changed into the floatation overalls. They got free wireless-internet on board too and if you feel peckish, they offer some delicious snacks.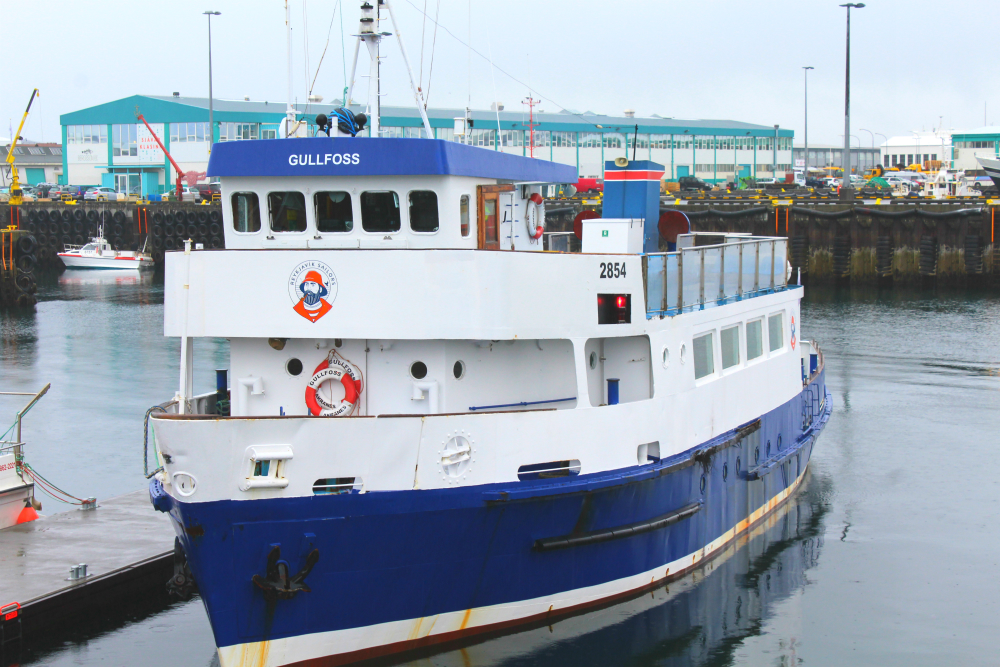 At 1pm sharp, we departed the harbour with 15 other people. After a quick safety introduction, a crew member told us all about the different types of whales and what to expect out at the sea. Now we were good to go! The bright red floatation overalls that protect you from the unsettled, chilly weather, were located at the lower deck. First I wasn't sure if it's really necessary but once we were outside at the top deck it made total sense. We felt super warm and we're ready to spot some whales.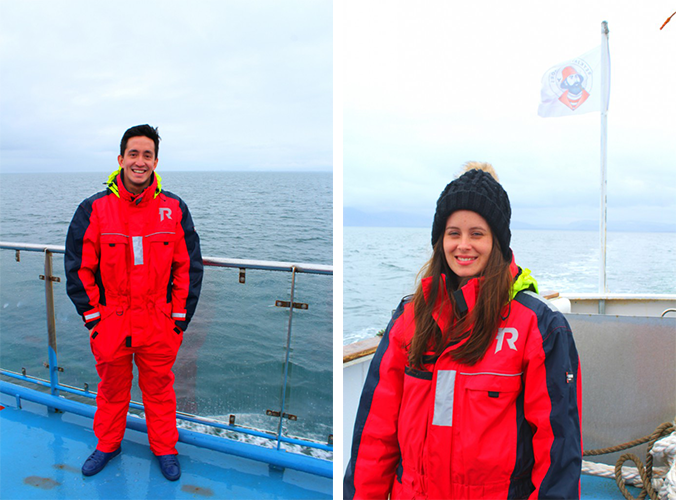 Most of the 3 hour trip, we spent outside at the top deck. There was plenty of space to move around, so we weren't just stuck at one spot. It was chilly but I really enjoyed feeling the fresh air on my face. I just love being at sea and looking at the neverending ocean.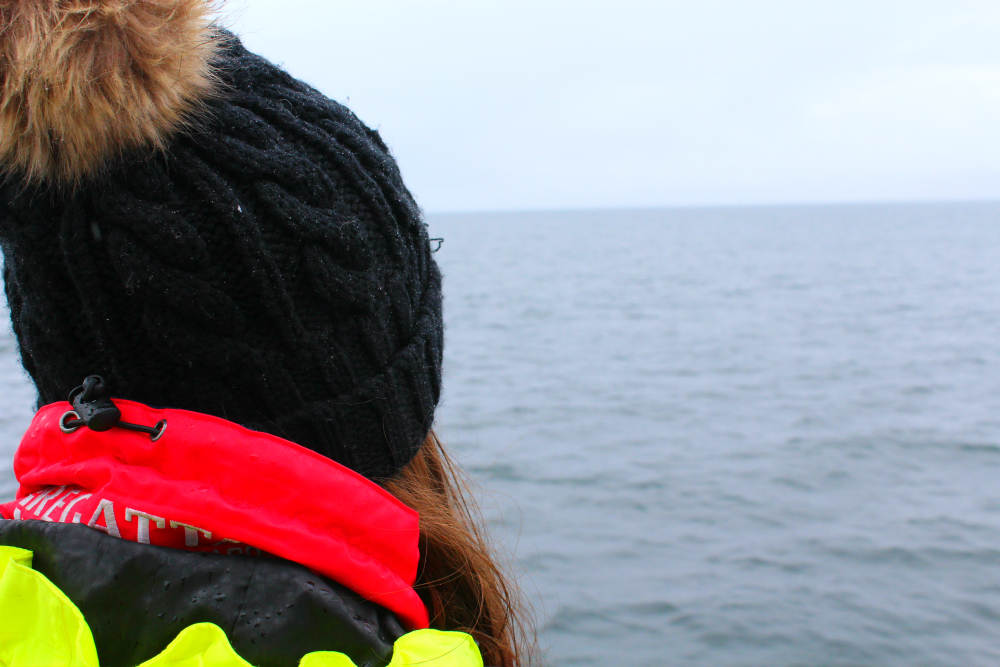 Finally, about 1 hour off the coast, we saw our first whale: a minke. All the other tour operators were already there and we started following the whales together. A few minutes later, we saw the tale of a humpback whale. Although they were quite far away, it was amazing to see those incredible animals. It was very exciting to follow them especially because we didn't know exactly where they will come up again (it could literally be next to the boat). Make sure to set your camera to a "burst mode" so you can take many pictures over a few seconds and do not miss anything. Also try and bring some binoculars so  you can see everything the tour has to offer in greater detail.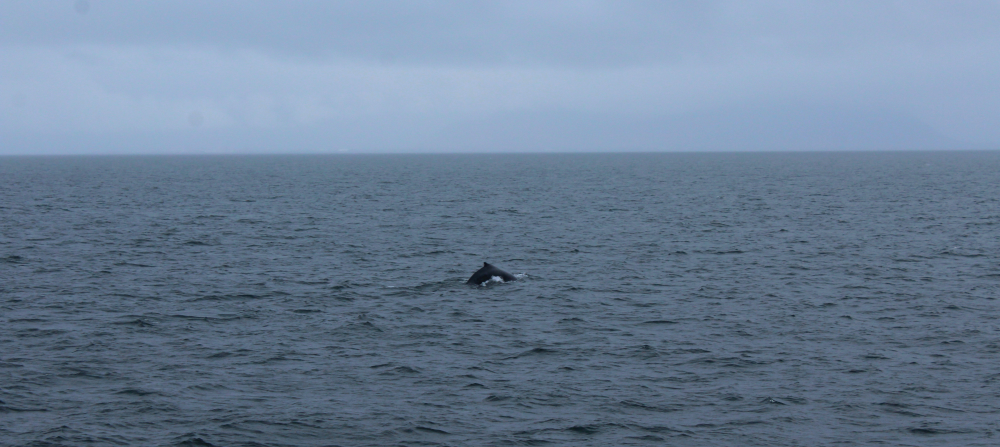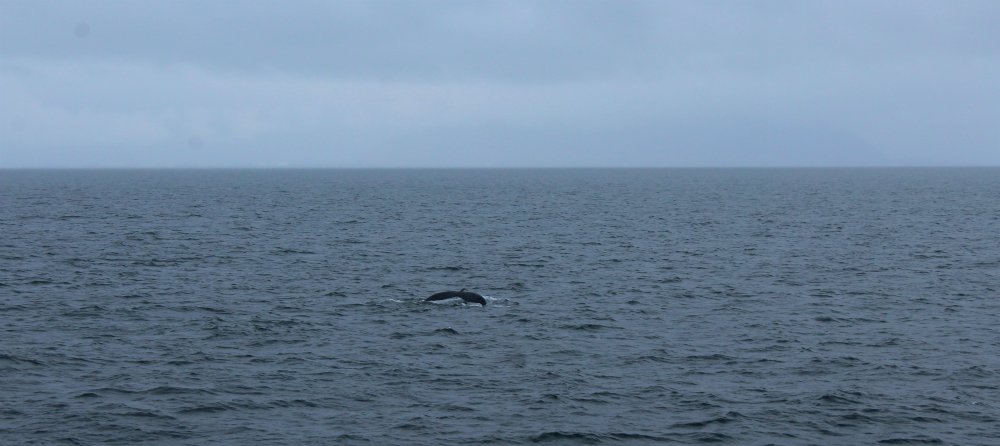 After an hour following those majestic animals, it was time to head back to Reykjavík. We went inside to warm up and share that incredible experience. The time was flying and we couldn't believe that we really spent 3 hours out at the sea.
Would I do the tour again?
Definitely! It's an amazing experience and very exciting to watch these majestic creatures. Of course, it's not guaranteed to see any whales, but being out at sea and watching the ocean is worth it alone. Plus, if there are no sightings on the tour you will get another ticket to join on the next available day. The best time to see whales is from April to October, but there's so much more to discover for example beaked dolphins, harbour porpoises and puffins. Plus, you get an amazing view of Iceland's coast. Make sure to bring gloves and a wolly head, as it can get very chilly.
I've booked the tour through Guide to Iceland – Iceland's largest online plattform that offers a wide range of tours for the best price guaranteed (otherwise they will refund you the difference). You're also able to rent a car, book accommodation and get travel information about Iceland, so a great source for your Iceland visit.
Would you do a whale watching tour in Iceland? What would be on top of your list? Let me know in the comments section below.

Total blogger transparency: I accepted an discount from Guide to Iceland but don't worry, all thoughts and opinions expressed are my own.