Porto Alegre is located in southern Brazil and is the largest city of the Brazilian state of Rio Grande do Sul with almost 1.5 million inhabitants. It is known as one of the richest metropolis with the highest life quality in the country. We've also heard that the city is more European than any other city in Brazil with many different traditions from Portugal, Spain, Italy, and Germany.  
After a few days in Florianópolis, we continued our trip and spent 48 hours in Porto Alegre to find out what the city has to offer and to answer the question: Should we have come?
How to get to Porto Alegre?
There are many options to get to Porto Alegre including domestic flights from cities such as São Paulo and Rio de Janeiro. Since we've been in Florianópolis (470 kilometers north of Porto Alegre) prior to our visit, we decided to take the bus. The ride was very uneventful and we only stopped once for a lunch break. 6 hours later, we arrived at the bus terminal in Porto Alegre.
Where did we stay?
I do use Airbnb a lot whilst travelling because I like the homely feel of the apartments. But when I was looking for a place in Porto Alegre, I came across the Brick Hostel. I really liked the cool, trendy look, so I decided to take a leap and book a double room for just over £30 per night directly through the hostel. The place is located in the Rio Branco neighbourhood, a short walk away from Parque Farroupilha and 30 minutes from the historic centre. The check-in was fast, the staff was super friendly and they first showed us the common spaces before we started to unpack in our room.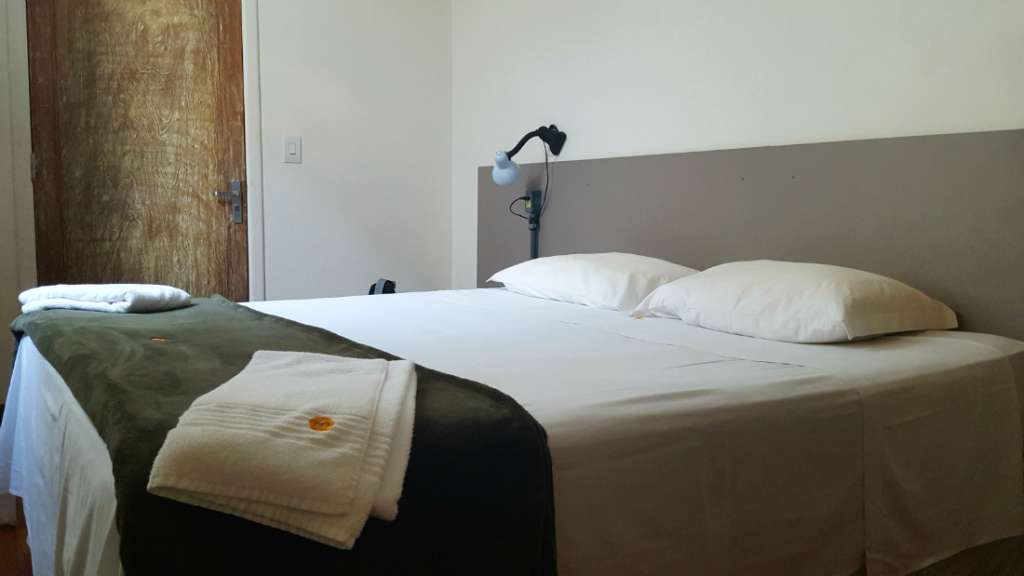 Having stayed in other hostels before, I was happy that the room was in such a good condition: it was extremely clean and our en suite bathroom had amenities such as soup, towels and even a hairdryer. Plus, our room was facing the courtyard, so it was quiet during the night. The hostel also has a social room with a TV and a cool oversized map painted on the wall. After a good night sleep, we had breakfast in the courtyard which consisted of toast, cakes and fruits – pretty normal in Brazil. On our last day, we still had the whole day ahead of us before we could board our night bus to Montevideo. Luckily, we could leave our luggage at the hostel free of charge. I seriously enjoyed our stay and thought it had a very high standard for a hostel. I would definitely come back!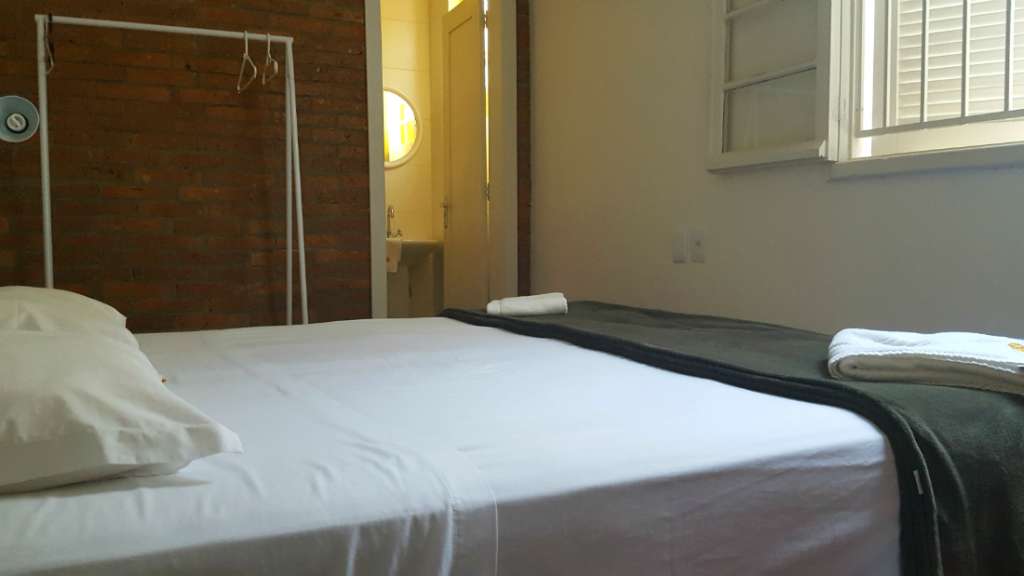 What did we eat?
On our first night in Porto Alegre, we were walking around the area to look for a restaurant without realising that we could get amazing food right next to the hostel. The place is called Miau da Cabral and they do tasty meat, garlic bread and cheese skewers. It's nothing fancy but we literally came every night because we enjoyed sitting among local people eating the delicious skewers. Apart from Miau, we had Brazilian specialities and a Greek dish along the way. Porto Alegre is home to a lot of international restaurants which makes it a great place to try food from around the world, or eat the dishes you miss from home.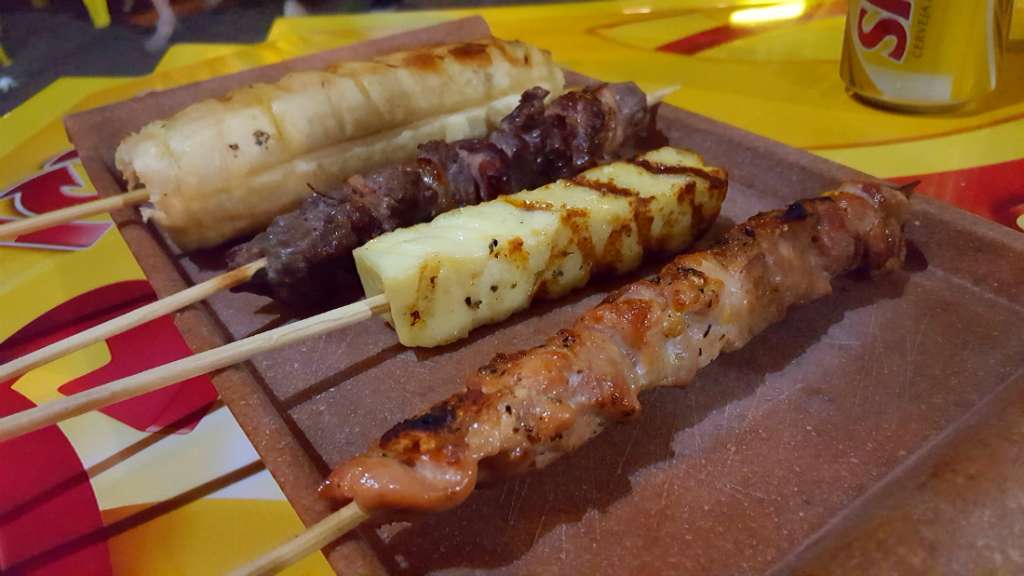 What did we do?
First, we had a look around the centre, and admired the historic square Praça da Matriz. The square dates back to the 1700's and is dominated by a beautiful catholic cathedral Catedral Metropolitana. We wandered through the streets and got to the public market where we found an amazing choice of fresh food. That's also where we met a local who was eager to tell us more about the city and where to catch the best sunset over the main river (Guaíba) which is at the Gasômetro (a short walk away from the market). The centre was beautifully decorated for Christmas and we kept noticing the cool street art across the city. Porto Alegre also has a great high street which felt very European with its department stores.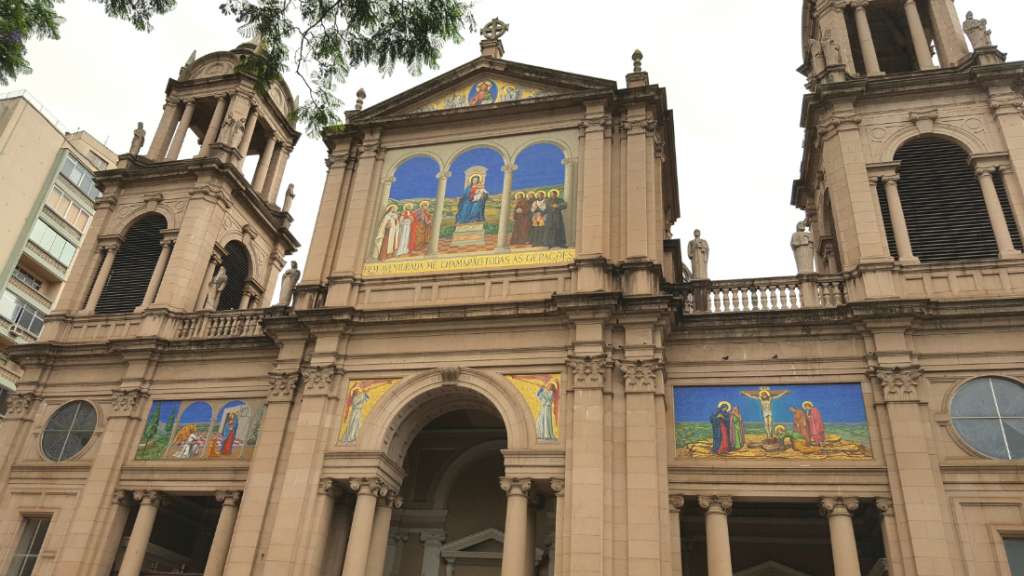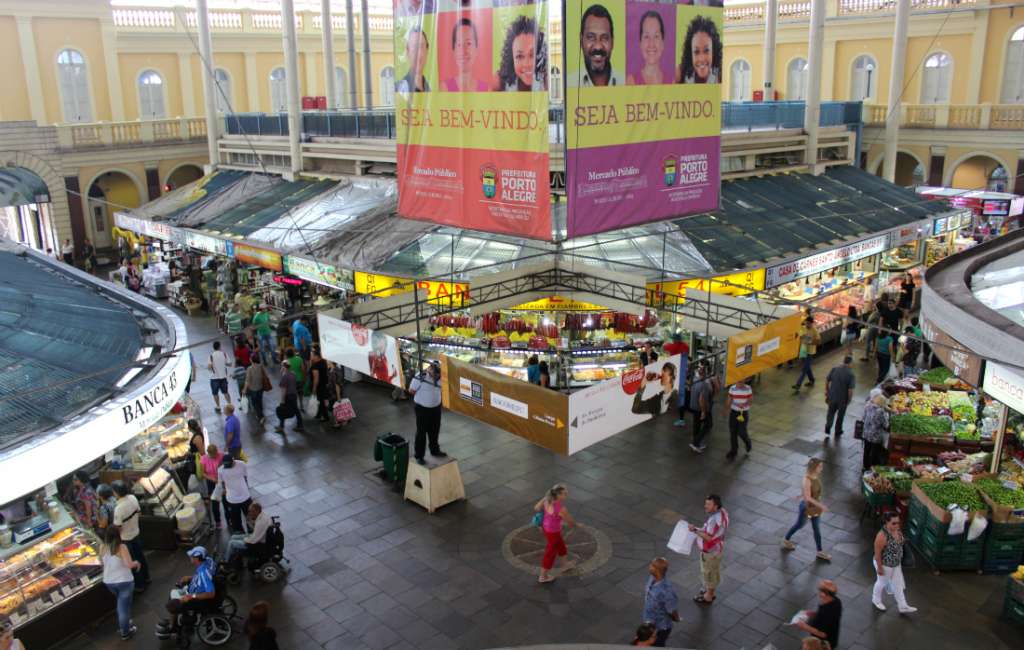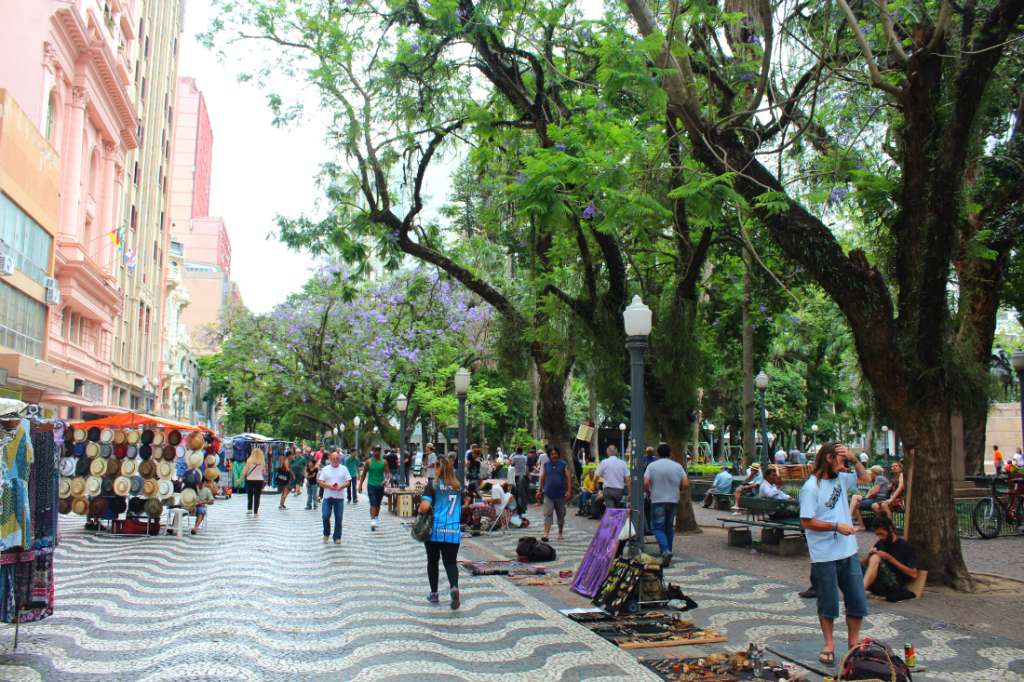 On Saturday, we walked past Parque Farroupilha and popped into a farmers market. Apparently, it happens every Saturday and hosts fresh fruits and vegetable as well as handicrafts. After we indulged ourselves to a freshly squeezed juice, we decided to take Linha Turismo, an 1.5h hop-on hop-off bus tour, to save energy and make the most of our last day. The bus first drives past Parque Farroupilha towards Parque Moinhos de Vento before it returns to the centre past Mercado Público and continues South towards Usina do Gasômetro. The fun bit of the bus ride is the steep drive down a hill. If you're sitting on the top deck it feels like being on a roller coaster. We got off the bus at one of the last stops Barra Shopping Sul. It's one of the largest shopping malls in South America, so we decided to have a quick look and grab some food. This was the first mall we've seen in Brazil, and it felt a bit like walking through an American shopping mall with its international brands and a huge food court.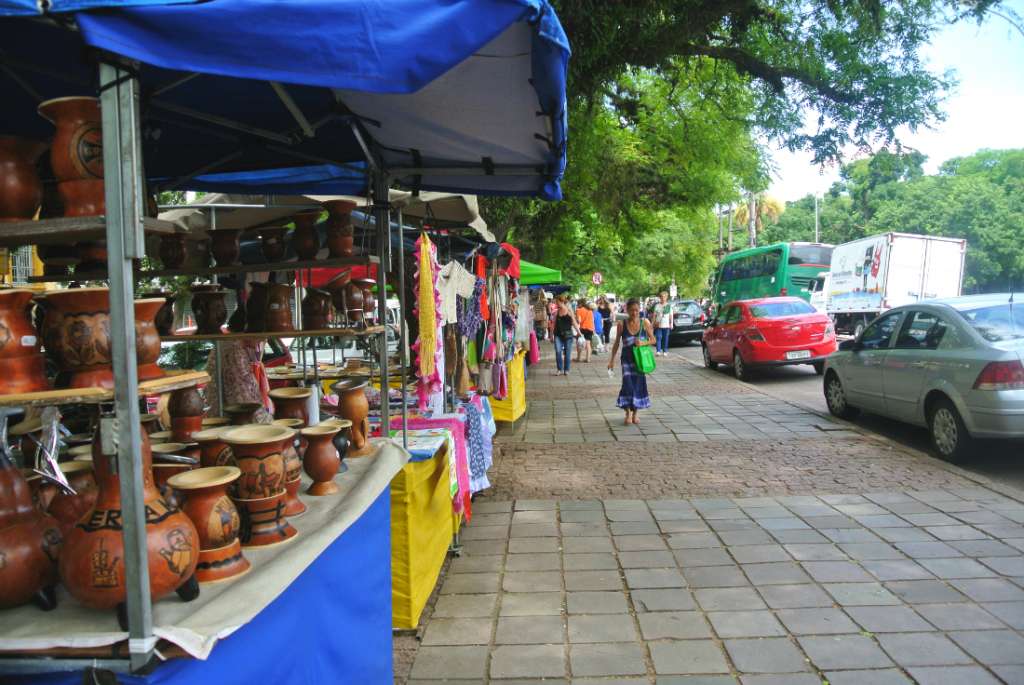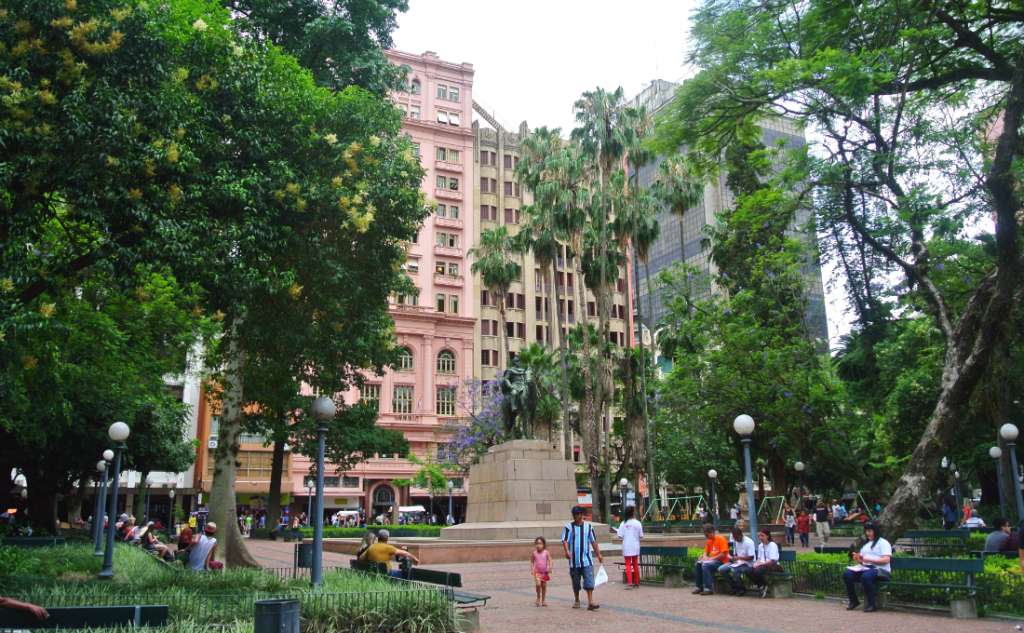 We spent the last few hours in Parque Farroupilha watching the locals pass by. It's a huge urban park with ponds, lakes, and a Japanese garden which makes it the perfect place to relax outside. As it was Saturday, the park was filled with locals enjoying a day out in the sun.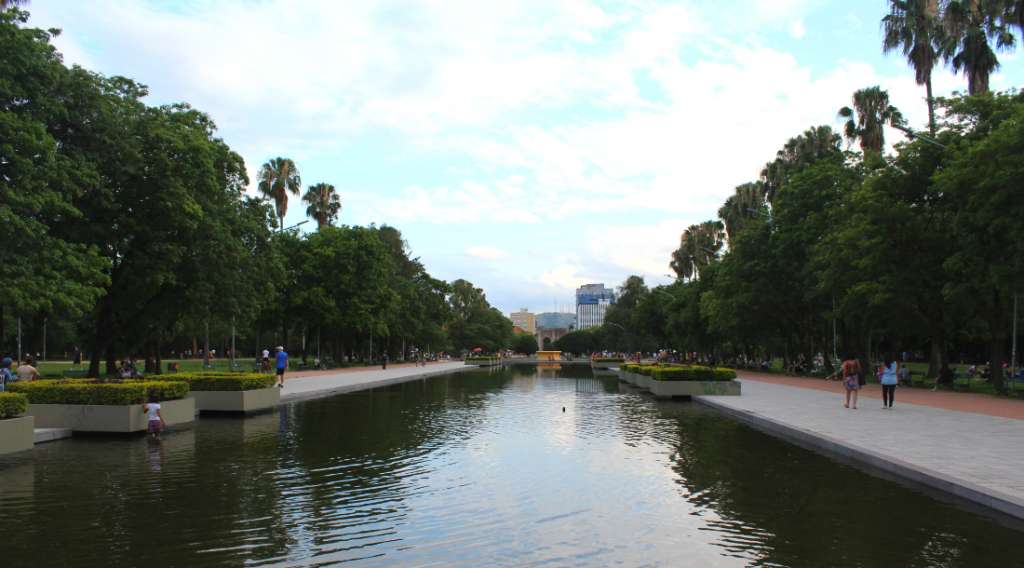 Things we've missed
The city has a lot more to offer such as various Museums, a Botanic Garden and the Guaíba Lake. Plus, if there's a football game on while you're in Porto Alegre, make sure to go.
Did we enjoy our 48 hours in Porto Alegre? Definitely yes! The centre of Porto Alegre is relatively small which means that we could explore a lot on foot. I really liked the vibe of the city and I found Porto Alegre a very chilled out place with lots of green parks to relax in the sun, beautiful historic buildings and churches, great shopping, friendly people and yummy food.
Pin it for later!