Uruguay hasn't been on top of my list when I first started planning our trip around South America. But the more I spend reading about this country, the more I wanted to go and I was eager to add it to our itinerary. Since we're planning to travel in Brazil for 5 weeks and wanted to spend Christmas in Buenos Aires, Uruguay perfectly fitted in our schedule.
Mid December, plans became reality and we jumped on the 11-hour overnight bus ride from Porto Alegre, crossed the border and found ourselves in Montevideo at 9am in the morning: Another exciting week was ahead of us and I couldn't wait to see the city with my own eyes.
With 1.3 million inhabitants, Montevideo is the capital of Uruguay and has been rated as the city with the highest quality of life in Latin America. And not just that, Montevideo is also the tenth most gay-friendly city in the world, and number 1 in Latin America. Are you ready to learn more about Uruguay's capital?
Below are my top 7 favourite things to do in Montevideo!
1. Explore Ciudad Vieja (Old City)
The Old Town of Montevideo can easily be seen by foot. We started exploring the city at Plaza Independencia – Montevideo's largest plaza that is home to important buildings and sites including the Artigas statue and mausoleum, Palacio Salvo, and the Ciudadela. Montevideo was founded in 1726 and as the name suggests, Ciudad Vieja is the oldest part of Montevideo and contains many historic buildings, churches, as well as Teatro Solis – Uruguay's most important theatre. Like in any city, we also looked out for street art, and came across some cool murals.
Costs? FREE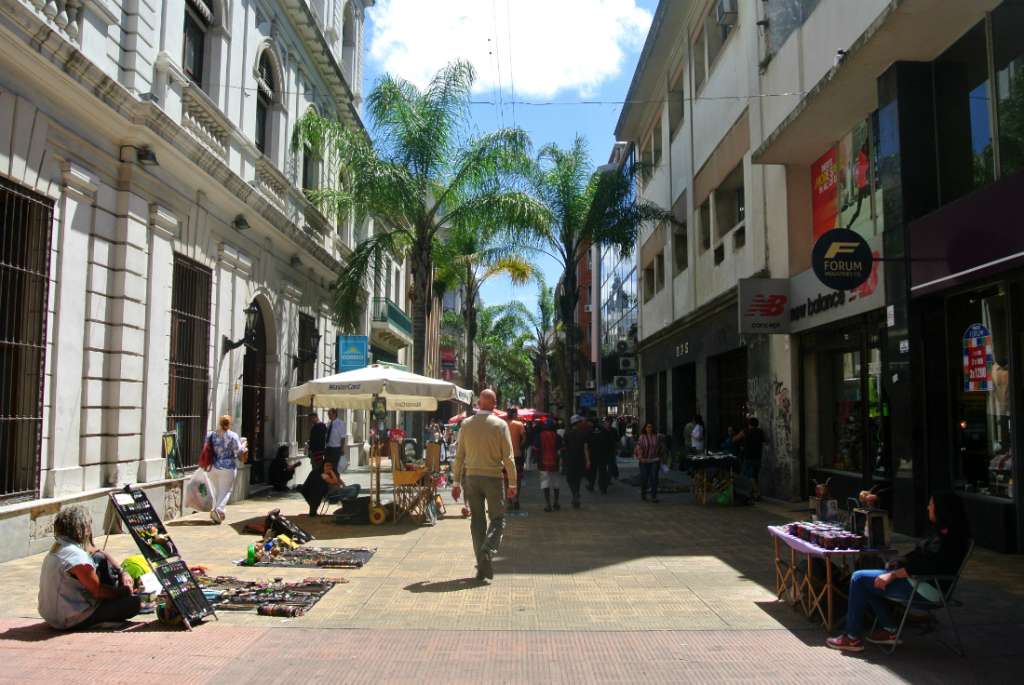 2. Grab some food at Mercado del Puerto
Mercado del Puerto is Montevideo's old port market and offers amazing steak and seafood options, as well as other types of fresh delicacies. With the ocean on its doorstep, everything at the market is extremely fresh. Inside the market are a number of restaurants to choose from, and they'll prepare the meat right in front of you on large grills. I decided to have fish whereas Charlie had a steak, and we were both really happy with our choice.
Costs? FREE to visit. Food is more pricey than at restaurants in downtown Montevideo but worth it!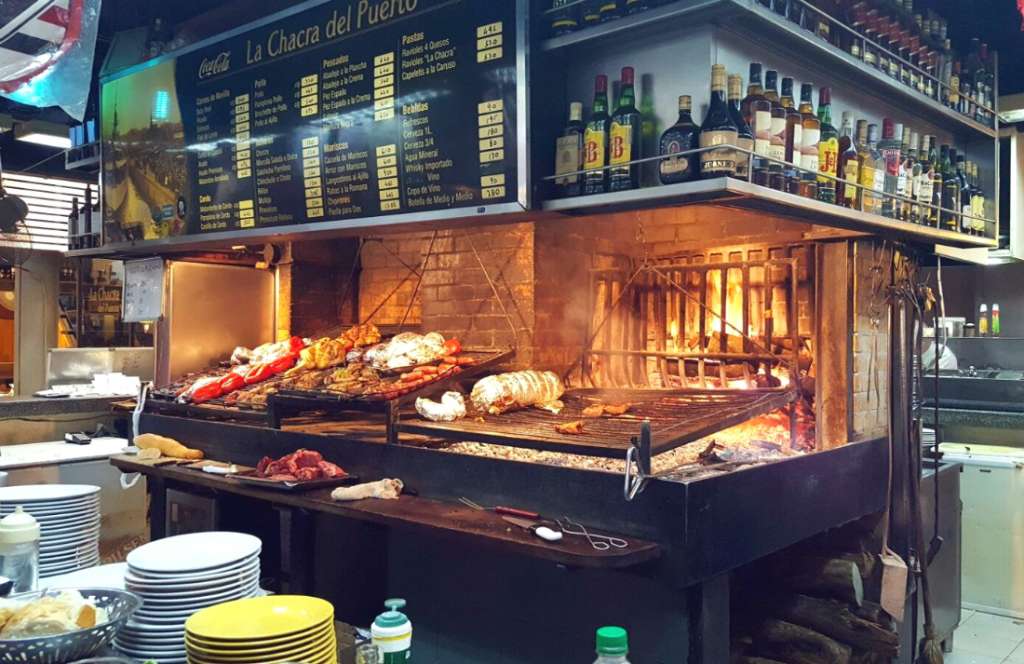 3. Visit the famous street market
Not to be missed is the famous La Feria de Tristán Narvaja. The market is open every Sunday from early morning until the afternoon and the stalls are spread all over the Cordón neighborhood along Tristán Narvaja Street.
This must be the biggest market I've ever seen: You can literally get everything from fruits and vegetables, garden plants and flowers, to rabbits, and kittens. But not just that, you can also buy antiquities, books, clothing, electronics and much more. Whilst we're exploring the market, we suddenly heard music and joined the crowds who already danced to the tunes – visiting this market is truly an experience!
Costs? FREE to visit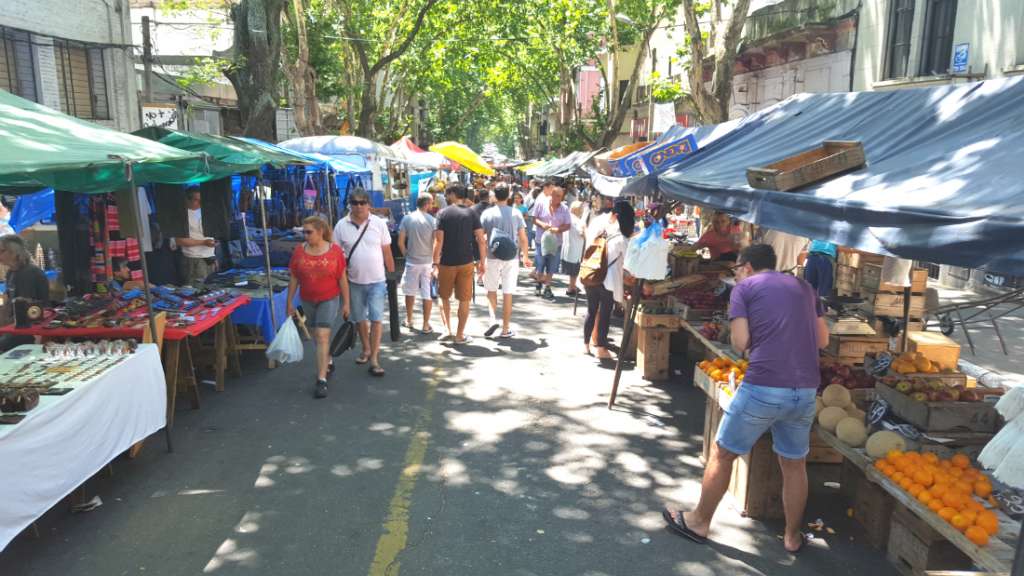 4. Relax at La Rambla
The promenade (also called La Rambla) is located along the northern shoreline of the Rio de la Plata, and is the perfect spot to go for a walk, or a bike ride. Our Airbnb hosts provided us with 2 bicycles, so we grabbed the opportunity and cycled along the 22 km long promenade, that it is solely for walkers and cyclists. We first cycled past Playa Ramirez, and Faro de Punta Carretas, and took a break at Playa de los Pocitos to have a rest and enjoy the view.  Not to be missed is the iconic Montevideo sign which is only a short walk away from Pocitos beach. 
Costs? FREE to explore. Bicycle rental from 350 pesos per person for 4 hours (11 EUR | £9.50 | $12.50). Or stay at this apartment in Palermo, and you get 2 bicycles free to use 🙂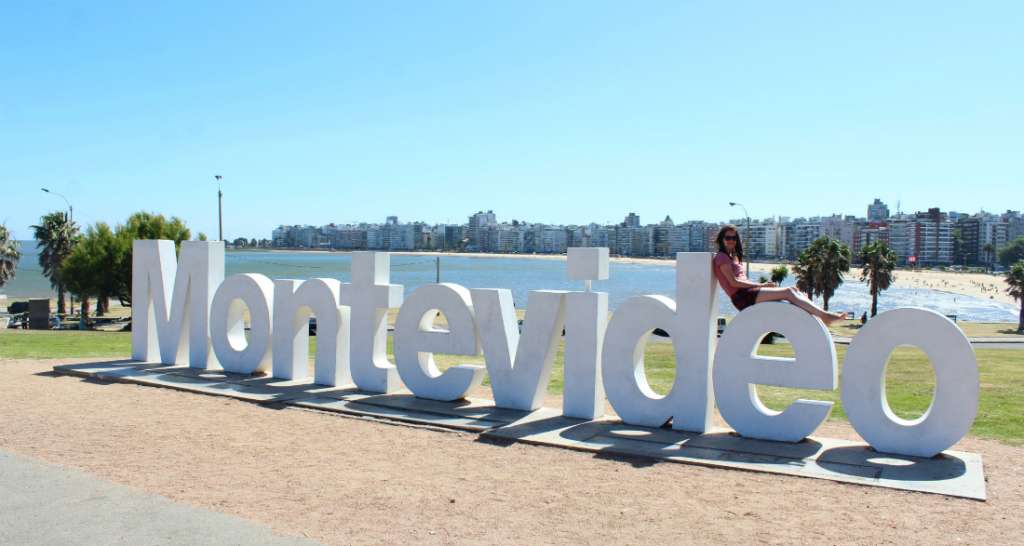 6. Watch the sunset at La Rambla
La Rambla is not just a great place to hang out during the day, but also in the evening to watch the sunset over the ocean. Many Uruguayans come here to socialise, cycle, run or just go for a walk and it seemed much busier than during the day. We went most evenings because it was a great way to unwind and enjoy the sunset.

6. Do a day trip to Punta del Este
Uruguay is a relatively small country, so surrounding towns are an easy, quick journey away. A popular escape is Punta del Este – the South American Miami Beach 132 km (82 miles) away from the capital. We jumped on a bus at Tres Cruces terminal and 2 hours later we arrived in Punta del Este. We first walked along Brava beach which was just across the street of the bus terminal, and soaked in the views. A popular shot is La Mano (the hand) – a sculpture at Parada 1 of Brava beach from the Chilean artist Mario Irrazábal. 'The Hand' emerges from the sand represents the presence of human beings in nature.
We continued walking through the town past many restaurants, bars, and tourist shops. At that time of the day, it seemed empty, but I can imagine how the beach town becomes alive in the evening. Another great part to explore is the harbour where we watched sea lions getting fed. This part was a lot busier as this is where tourists take boat tours or return to their cruise ship.
Costs? Bus return ticket from 560 pesos per person (17.50 EUR | £15.50 | $20). Buses leave hourly from Tres Cruces terminal and tickets can be purchased directly at the station.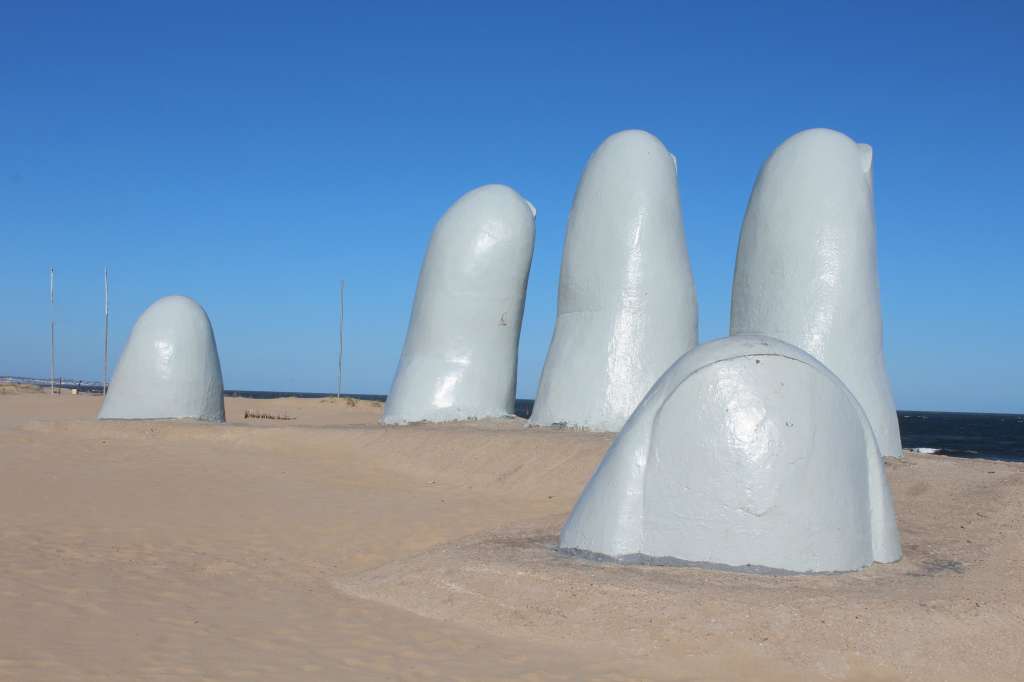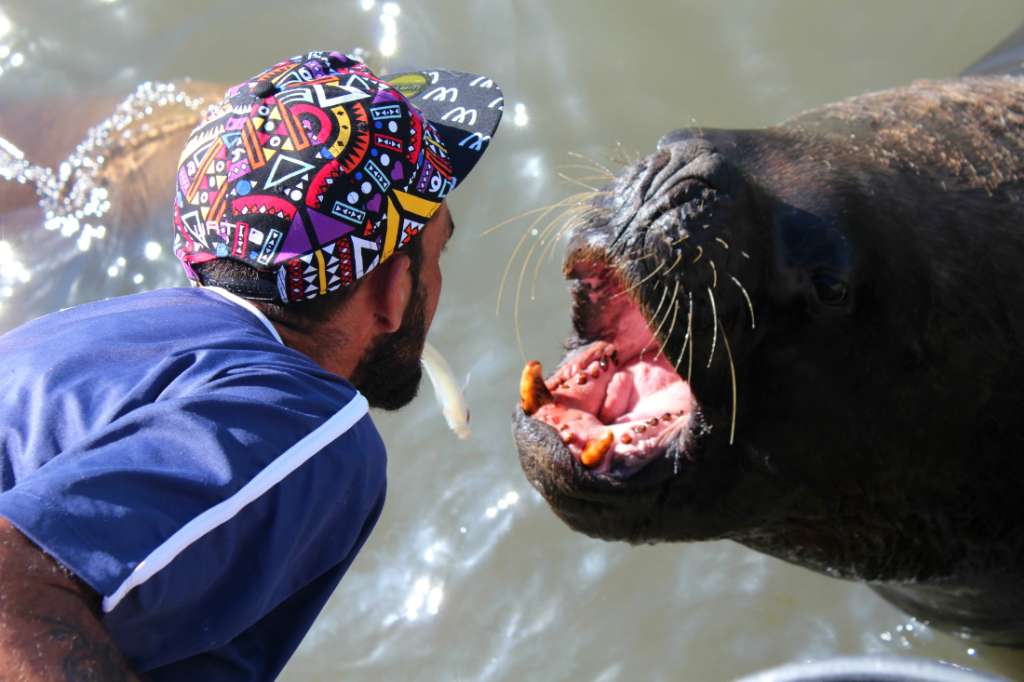 7. Drink Mate tea
If you want to feel like a true Uruguayan, you have to drink mate tea. It's a herbal drink consumed in a specially made hard cup filled with bitter herbs and hot water and drunk through a metallic straw. Literally, everyone is walking around with a mate cup and a bottle of hot water in their hands.
We spent 5 days in Montevideo and I wish we could have stayed longer. I loved the proximity to the ocean, the laid back atmosphere, the food and the friendly people. I also found that the climate was more enjoyable than in other South American cities, so I totally understand why it got chosen as the city with the highest quality of life. In short: It's a beautiful city you shouldn't miss out on when visiting South America.
Have you ever considered visiting Montevideo? Let me know in the comments below.
Travelling to South America? Pin me for later!