I've always wanted to visit Hamburg but never got the chance when I used to live in Germany. This changed last weekend when Charlie and I got the opportunity to visit a friend in Germany's second largest city. I was really excited to see her again but was also looking forward to exploring the pearl of the north (yes, that's how they call Hamburg) for the first time.
Day 1: A weekend in Hamburg…
We didn't really have an agenda and completely trusted our friend as our tour guide. Our first day was pact with sightseeing. We first took the metro to the HafenCity which is currently Europe's largest inner-city development project where old warehouses are being replaced with offices, apartments, hotels, museums and shops – the old vs. new look is pretty cool!
Then we've made our way to St. Michael's Church which belongs to one of Hamburg's five main churches. We didn't really fancy climbing up the steps to the top but I can imagine that you get amazing views over the city, plus it looks pretty from the outside too.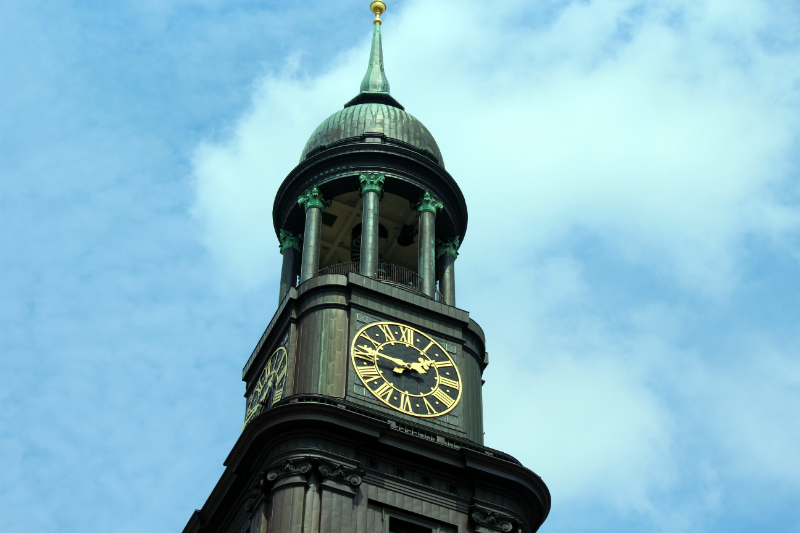 A short walk away is St. Pauli which is known for their football team but also for the world-famous red light district Reeperbahn. We came back in the evening to see what it's all about and it definitely has that wow factor. It's a mix of bars, restaurants, clubs, sex shops and brothels. There's also a street called Herbertstraße with a sign saying 'No entrance for juveniles under 18 years of age and women', so I had to wait outside… Another interesting fact: The Beatles had their first performance in the 60's at the Reeperbahn, followed by another 280 concerts until they had their first hit single in 1962.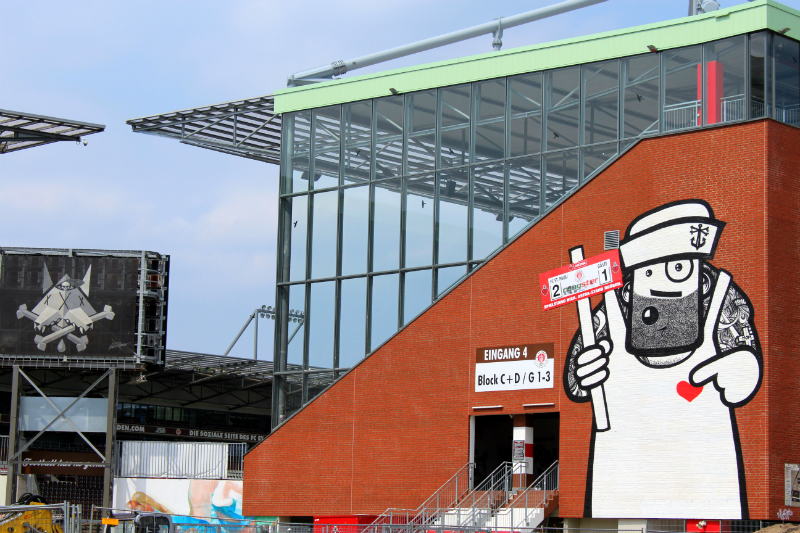 Anyway, we started to feel hungry, so we walked passed the St. Pauli Stadium to the Schanzenviertel. It's the trendy area in Hamburg with lots of restaurants, bars and outside dining options. Although it doesn't seem as clean as other areas in the city, it has a very trendy feel and it's also cheaper. We found a nice place outside that served all kind of food including pasta, wraps, pancakes and pizza. I had a chicken-pesto wrap with a side salad and it was really delicious.
Once we're all filled up, we were ready to walk to the Alster which is Hamburg's second most important river. It's right in the centre and divided in Outer and Inner Alster.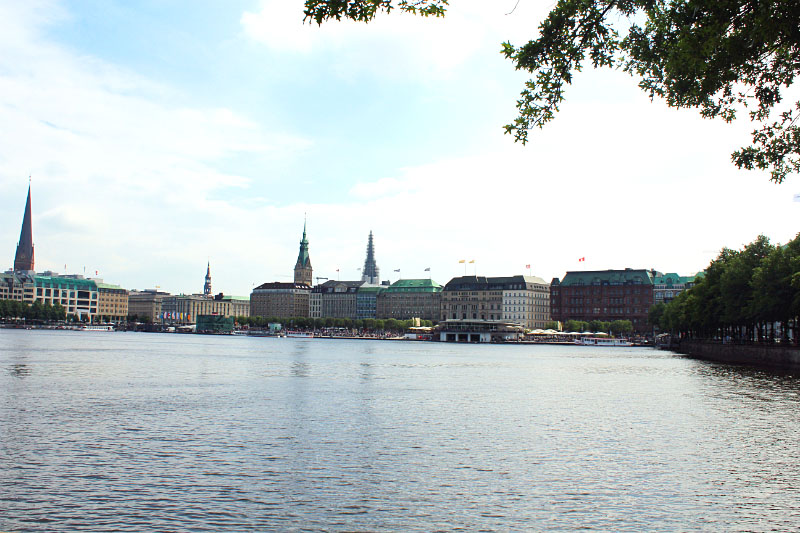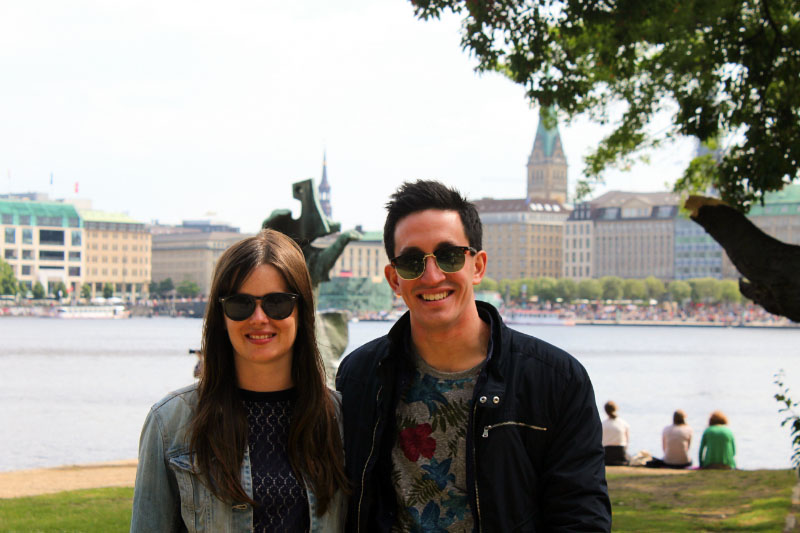 We strolled along the Inner Alster to Jungfernstieg where you can sit down at the river or grab an ice-cream. That's what we did anyway 🙂 Just off Jungfernstieg is the City Hall – the square in front is often used for festivals and events and we were lucky: The 'Schwäbische Fest' was in full swing with lots of stalls offering some delicious German food and wine.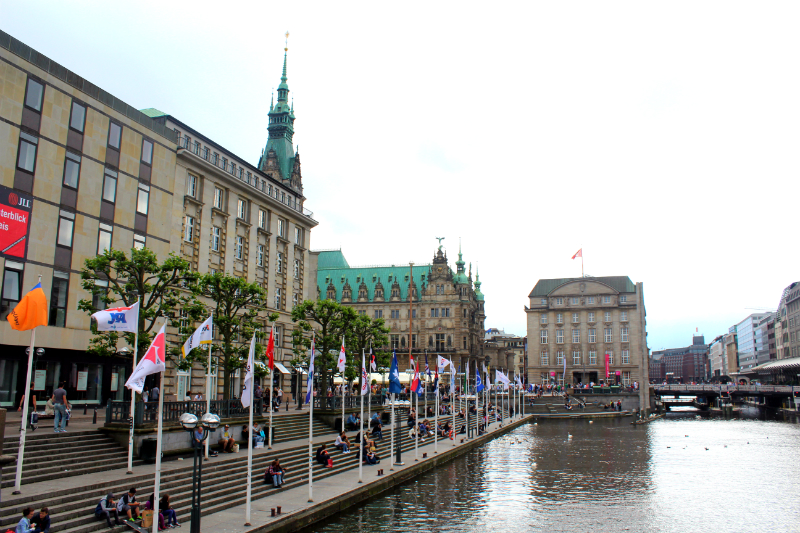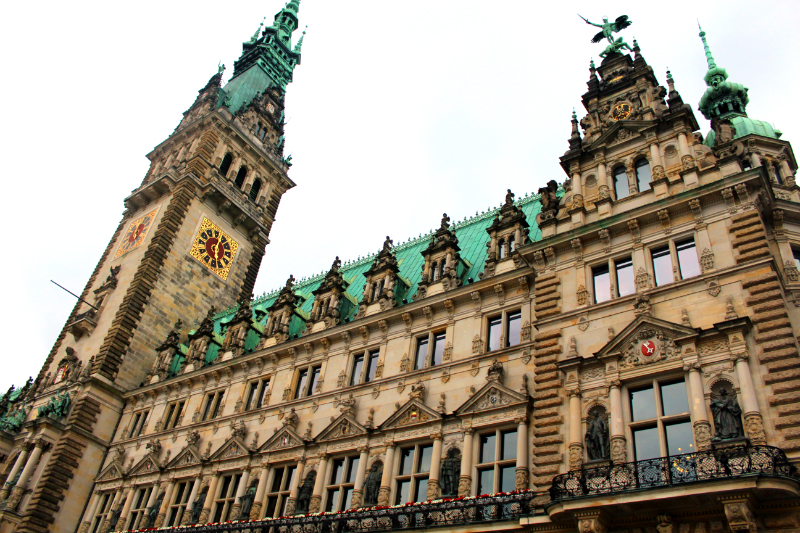 From the City Hall it's only a short walk to St. Nikolai Memorial. Once the tallest building in Hamburg, now only the spire and the basic structure is remaining after it got bombed in the second world war. Again, it's possible to walk to the top of the spire but we missed out on that too.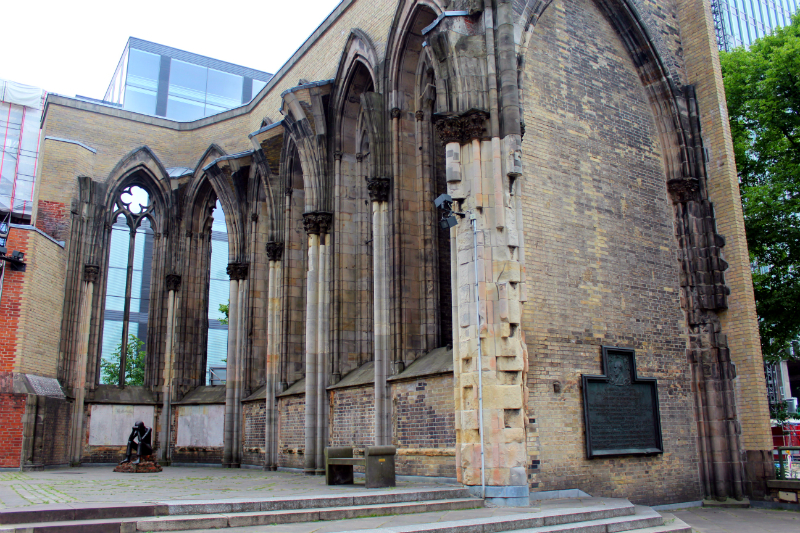 Last on the agenda was the Deichstraße –  it's the oldest remaining street in Hamburg. Back in 1842 there was a huge fire that destroyed many of the buildings. Luckily, some of the houses have been saved and restored including the oldest warehouse which was built in 1780. It's impressive how people could build such beautiful buildings with so little help back in the 18th century.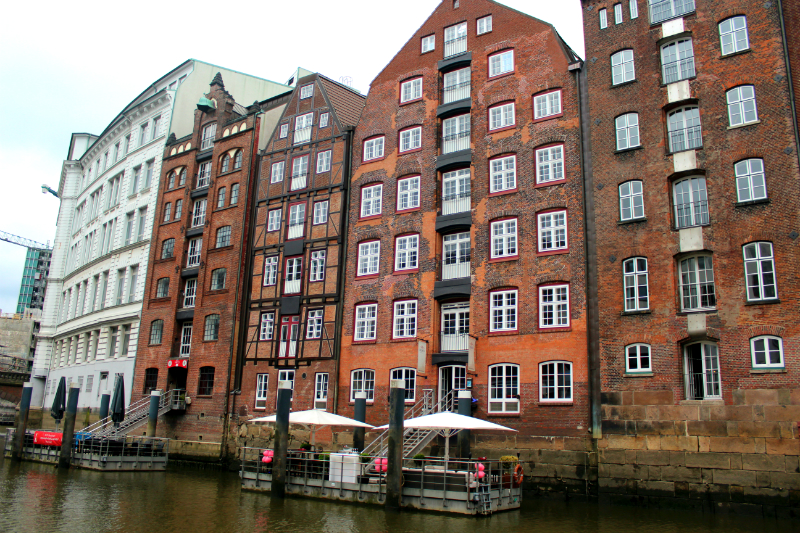 Public Transport
It's very easy to get around in Hamburg and it's cheap too. A day ticket costs 6 EUR per person and for a group ticket you only pay 11,20 EUR. You can use all public transport including the tram, bus, metro and even ferries.
What else to do?
Hamburg has so much to offer, so we unfortunately weren't able to do everything. We would have loved to go to the Fish Market to grab a Fischbrötchen, do a boat trip in the harbour, visit the Miniatur Wunderland in the Warehouse District and see the water-light concert at Planten un Blomen.
So we will definitely be back, the question is when! Check out, what we did on our second day here.
Have you been to Hamburg? What are your favourite things to do?