Throughout our 5 month trip in South America, we've crossed all borders by land. We found that the standard of the buses can be very high and ticket prices are extremely cheap compared to flights, so it was an easy decision to cross the border from Peru to Ecuador by bus again.
How to cross the border from Peru to Ecuador by bus?
You've got a few options when it comes to crossing the border from Peru to Ecuador by bus. While there are a couple of different routes, the most convenient way is the direct bus service from Lima to Guayaquil, or Chiclayo to Cuenca.
Lima – Trujillo – Máncora – Tumbes – Guayaquil: The bus company Cruz del Sur departs every day except Tuesday at 2:45pm | Duration: 27,5h+ | Cost: From 327 soles/$100/£77
Chiclayo – Piura – Máncora  – Cuenca: The bus company Azuay and Super Semeria departs every day at 6pm and 5.30pm respectively | Duration: 13h+ | Cost: From 65 soles/$20/£15.50
You can either go the whole way from Lima or split up the bus journey like we did. The most scenic stops in North Peru are Huarez for trekking, and the beach towns Huanchaco and  Máncora. This post will explain, how to get from Lima to Guayaquil via Trujillo with a German/British passport. 
#1 Lima to Trujillo
We spent a week in Lima, before we continued our trip to North Peru. We decided to split up our journey to avoid 27 hours on the bus, so we first took an 9 hour overnight bus from Lima to Trujillo with Oltursa – easily one of my favourite bus companies in South America. We splashed out and got the cama seat (almost fully reclining seat) for £25. The journey was very comfortable and calm, so I was actually able to catch some sleep. We arrived at 9:30am in Trujillo where we had 2 full days to spend.
Although it's possible to stay in Trujillo, we spent most of our time in Huanchaco – a beach town 20-30 minutes away from the centre. To get there, you first have to figure out where the mini-vans to Huanchaco leave. This isn't straightforward but if you ask anybody for 'los collectivos para Huanchaco', they will point you in the right direction. There won't be any bus stops, but if you look out for the yellow mini-vans with Huanchaco written on it, wave and they'll stop for you.
#2 Trujillo to the border
From Trujillo, we took Cruz del Sur – the international bus operator that runs between Lima and Guayaquil. The ride takes at least 19 hours and is scheduled to leave at 11:50pm from Trujillo. We boarded just after midnight and we were super happy as the bus looked new and clean, and we even had individual TV screens, plus food got served by an attendant – well worth the £34. After a short yet calm night, I woke up to a completely different vegetation and it was nice to see the ocean in the distance.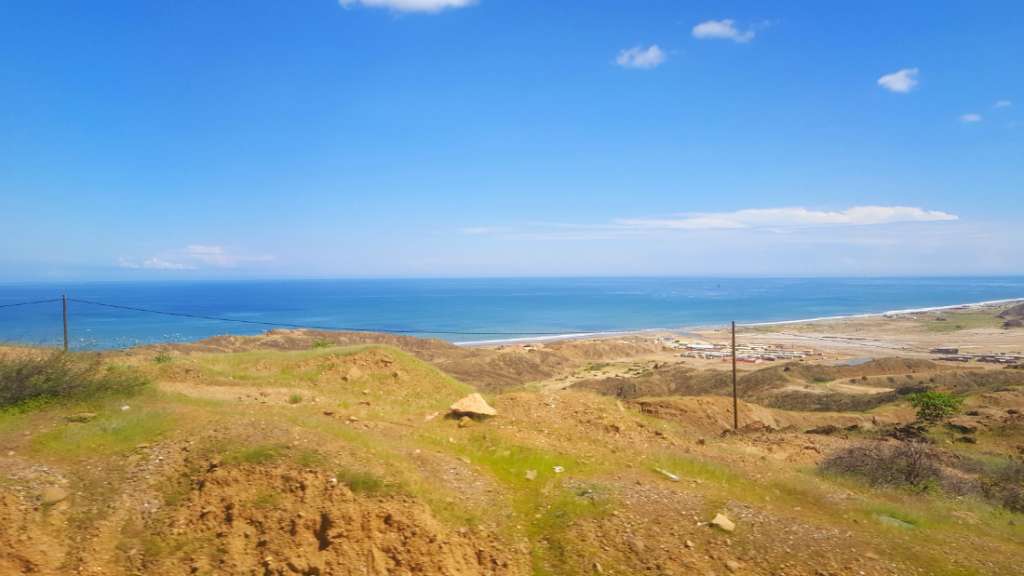 Breakfast got served at 9am and consisted of a sandwich, sweet cake and a coffee or a tea – nothing fancy but I was glad that we got something to eat as we only had some biscuits left.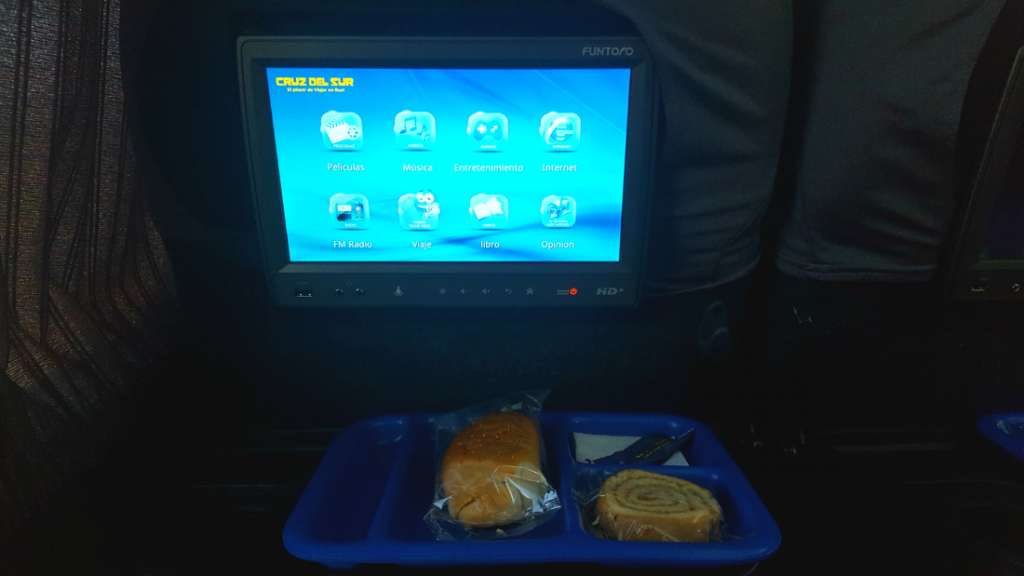 Later that morning, we stopped in Máncora – a classic resort town – where lots of people seem to spend their holiday. At 1pm, we had a short break in Tumbes where lunch also got served. Not far from the border, the bus stopped again and everyone had to get off to show their passports, plus the luggage got checked, too. This was also the last opportunity to get rid off our Peruvian soles, so we stocked up on snacks. 
#3 Crossing the border
We finally arrived at the border at 2pm. At the first glimpse it looked like a large terminal with parking lots for the buses. Our bus attendant guided us to the immigration office. Getting our exit stamp from the Peruvian immigration only took a few minutes but that's when the fun started. Around the corner of the same building, we had to join a very long and slowly moving queue in the bright sun and it turned out that we had to wait over 2.5 hours until we finally got our entry stamp for Ecuador. It was an easy process; we only had to show our passport and I got asked whether this is my first visit to Ecuador. We automatically got visas for 90 days, but they might also ask you how long you're planning to stay.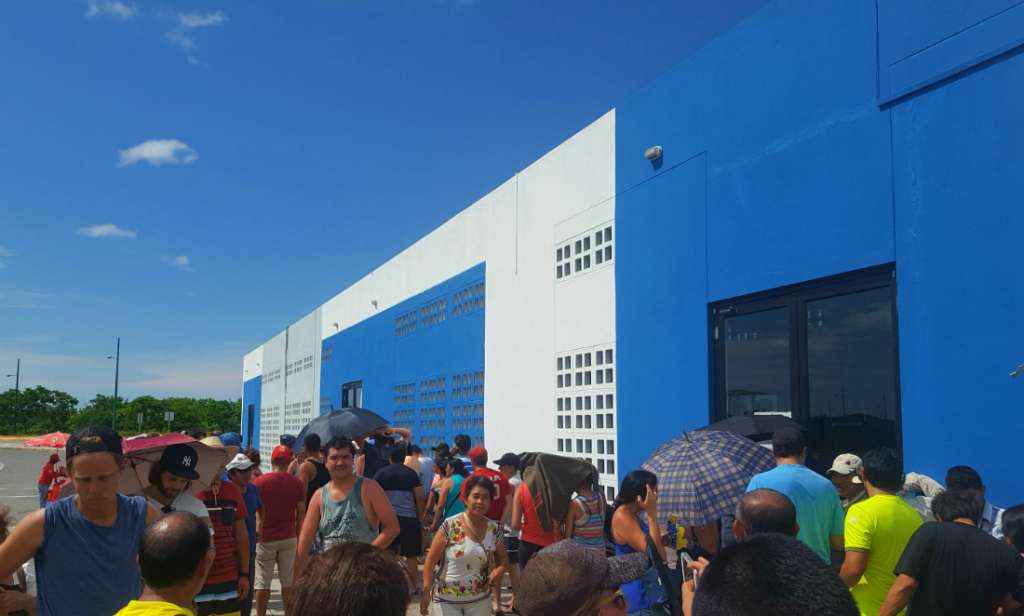 4# Onward travel to Guayaquil
Phew, we were glad when we could finally head back to our bus. 15 minutes later, everyone had stocked up on food and drinks, and we resumed our bus ride at 5pm. Just about when we left the border, it started pouring down – thanks god we were in the bus by now. The last bit of the journey was uneventful. The bus was due to arrive at 6:15pm in Guayaquil but because of the delay at the border, we arrived just after 9pm.
The bus terminal in Guayaquil is huge and has all sorts of shops as well as cash machines, a taxi stand and a bus station with buses to the centre. As we wanted to get to our accommodation quickly, we took a taxi to the centre for $5.
How to buy a bus ticket in Peru?
For long distant journeys, I would suggest to buy the bus ticket at least 1 day in advance. If you want to treat yourself to a VIP/Cama seat, make sure to book earlier as these seats are gone quickly. Buying bus tickets in Peru can be a bit of a hustle as the bus terminals are scattered across the city (sometimes not even very central). Luckily, large Peruvian bus companies such as Oltursa and Cruz del Sur have a website where you can purchase tickets, too. We bought our tickets for Trujillo to Guayaquil through the Cruz del Sur website without any problems, whereas Lima to Trujillo through a booking portal called redBus as we had issues on the Oltursa website (this might have been a temporary problem though).
Summary
The border crossing from Peru to Ecuador by bus was easy and safe but took a while due to the long queues at the Ecuadorian immigration. We only needed our passport and Peruvian entry papers, so make sure to have them handy when you exit Peru. In total, we paid £60 to get from Lima to Guayaquil via Trujillo, which I find a fair price but if you're on a tight budget there are cheaper options, too.
Also planning to cross the border from Ecuador to Colombia by bus? Check out my latest post to find out how on a budget.
Have you crossed the border from Peru to Ecuador or vice versa? What was your experience? Please let me know in the comments below.
Travelling to South America? Pin me for later!