After staying in Quito for a few days we continued our trip from the Ecuadorian capital to Colombia. Since all flights were very expensive, we decided to take the bus to our last border crossing. Having already crossed the border from Peru to Ecuador by bus, we knew that the queues can be long but that it would be much more affordable and scenic. Here is how we crossed the border from Ecuador to Colombia by bus:
1# Quito to Tulcán
Buses leave from Carcelen and Quitumbe terminal. We stayed in a nice Boutique Hotel in La Mariscal (the new town of Quito) on our last night and took a taxi for $5 to Carcelen terminal – located in the Northern part of Quito. Alternatively, you can also take public buses to the station, which are extremely cheap but bear in mind that it will take a lot longer to the station.
At the station, we walked straight to the ticket booth to get our tickets. A couple of companies run the route to Tulcán – the last town in the Ecuadorian side of the border, so buses run regularly. We're were lucky, the bus was about to depart, so we jumped on the bus at 10:30am and set off. As this is a local bus route, we stopped fairly often but the ride was comfortable.
Cost: $2.5 (Taxi) + $6.10 per person / Duration: 5 hours
2# Tulcán to border
When we arrived in Tulcán, we had the option to take a minibus or a taxi to the border. We opted for the taxi as it was very cheap and we wanted to move on quickly.
Cost: $3.50 (£2.50/2.80 €) / Duration: 10 minutes
3# Border crossing
Our taxi driver dropped us off right next to the Ecuadorian immigration offices. Unfortunately, the queue was long and we ended up waiting for 2 hours until we got our exit stamps which literally took seconds.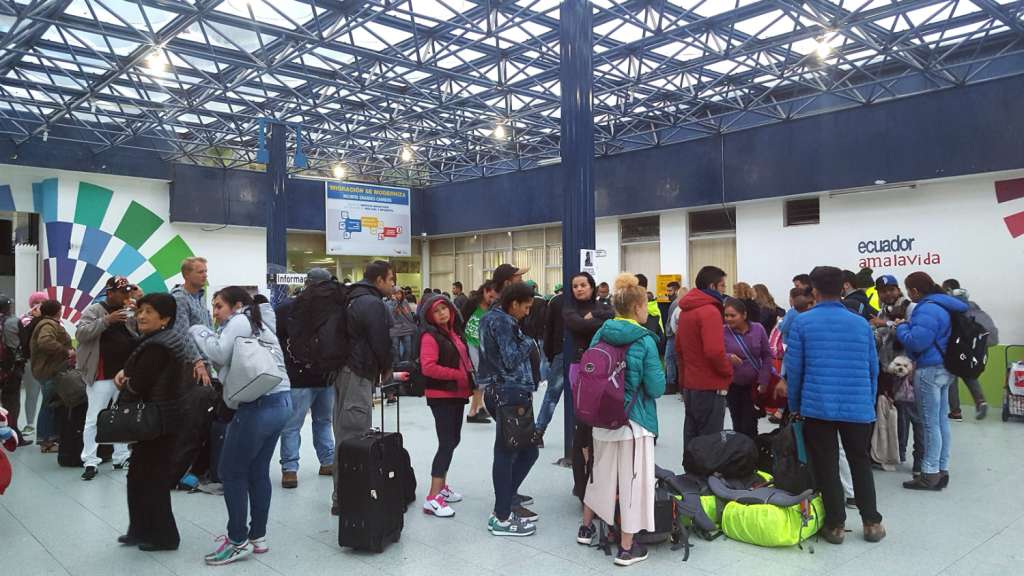 We crossed the bridge to get to the Colombian Immigration offices. It was almost 6pm by now and it looked like the Colombian border was closed but luckily a guy opened the door and let us in. This time there were absolutely no queues and getting the 90-day entry visa was a formality.
Cost: FREE / Duration: 2.5 hours

3# Border to Ipiales
When we left the Colombian immigration office, it started to get dark and the only vehicle available was a taxi, so we didn't think twice and jumped into the car to get to Ipiales. We were able to pay the taxi driver with USD, but on the way to the bus station, we quickly stopped at a bank in the centre of Ipiales to exchange money before we got dropped of at the bus terminal.
Cost: $5 (£3.50/4 €) / Duration: 15 minutes
4# Onward travel to your destination
If you have time, make sure to visit Las Lajas Sanctuary – a Roman Catholic basilica build inside a canyon and only a 15 minute drive away from Ipiales. Unfortunately, it was already late and we've booked accommodation in Pasto, so we had to move on but you could also stay overnight in Ipiales and continue your travel the following day to Popayan or even Cali.
Cost: $15 000 ($5.50/£3.80/4.30 €)  per person / Duration: 2 hours
How to buy a bus ticket in Ecuador?
We got all bus tickets at the bus terminal before boarding a bus and didn't have any issues at all. Popular bus routes are offered by various companies, so you wouldn't be stuck anywhere for a long time.
Summary
Although you have to change transport a few times, it's an easy and save border crossing. Make sure to leave Quito early, otherwise you might end up in Colombia fairly late. The entire journey from Quito to Pasto took 11 hours and cost $22. Not bad, right?!
Are you planning to cross the border from Ecuador to Colombia by bus? What was your experience? Please let me know in the comments below.
Travelling to South America? Pin me for later.