I find January one of the dullest months of the year: The festive season and the New Years' celebrations are over, it's dark, wet and cold and on top I got the worst cold just after Christmas this year. The only thing that cheers me up is my birthday and we have used this as an excuse to go abroad in the past years. Last year we spent 4 days in Lisbon and in 2014 we had an amazing weekend break in Rome.
Somehow I didn't expect anything special this year, but I was proofed wrong: Charlie surprised me with a weekend trip to Milan. Amazing, right?
Less than 12 hours later, I found myself in the taxi on the way to Stansted. Full of excitement, I couldn't wait to board the plane and jet off to Milano.  Soon, this feeling was replaced with anxiety as the taxi driver missed the exit to the airport which added an extra 30 minutes to our trip (on top of the 20 minutes he was late). We arrived  in front of the departure hall at 7:30am (30 minutes prior to the flight) which is more than tight. We rushed through the security check and ran as fast as we could to the gates. When we got there 15 minutes later (which is an achievement itself), the queue just started moving, so we made the flight just in time.
We're so relieved that we made the flight and finally could relax. 1,5h later, we arrived in Bergamo airport. We boarded the bus for 5EUR and 1 hour later we arrived at the Central station in Milan.
48h in Milan: Day 1…
We stayed in a nice apartment only a 10 minute ride from the centre. Shortly after we checked in, we headed out to explore the city. First stop was the Milan cathedral – it's the second largest church in Italy and it looks very impressive from the outside. The piazza was still beautifully lit up and the area looked amazing when it got dark.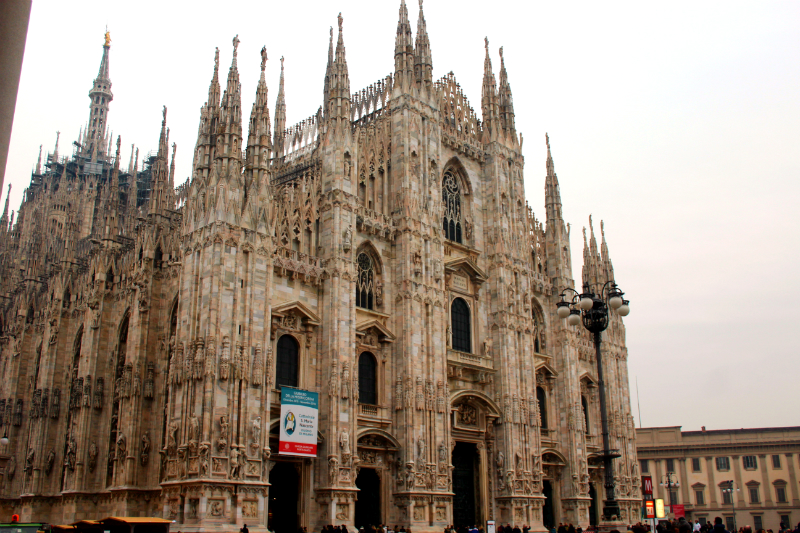 Just next to the Cathedral is the Galleria Vittorio Emanuele II. It's an impressive building and one of the oldest shopping malls. The galleria mainly hosts designer brands including Prada and is famous for being home to some of the oldest shops and restaurants in Milan. Not somewhere I would shop, but still a must-go when visiting Milan.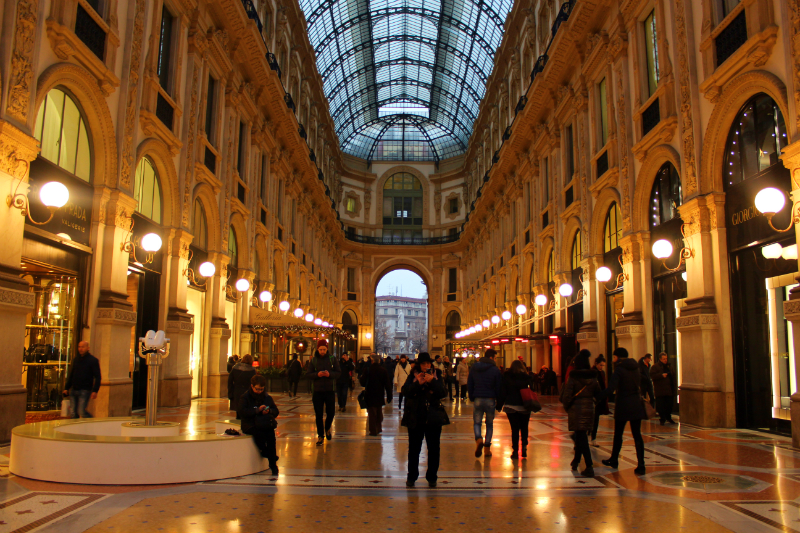 For the rest of the evening we couldn't resist to do some shopping at some of the high-street brands  and we finished the day with a delicious Italian pizza.
Exploring Milan on Day 2…
We started the day early, as Charlie has organised tickets for "The Last Supper" – Milan's most famous painting from Leonardo da Vinci. At 9 am, we entered the room and we had 15 minutes to admire the painting. It was nice to get the chance to be there and see the painting right in front of you. It's a really popular attraction, so make sure to book it in advance online.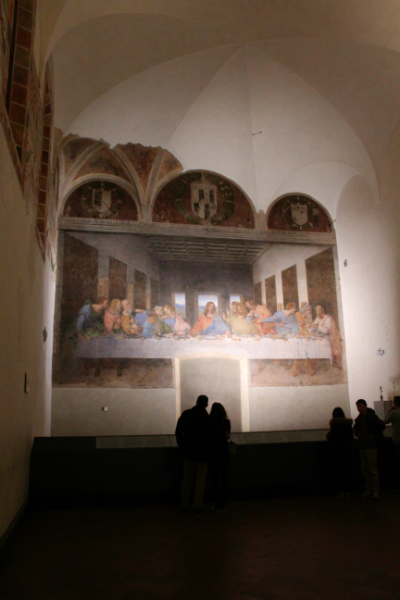 A short walk away is Sforza Castle. It was first built in the 15th century and got renovated and enlarged over time. Today it also hosts several museums including The Museum of Ancient Art, the Egyptian Museum, and an exhibition with Michelangelo's last sculpture. We only spent half an hour there as we started to feel hungry. Note: In front of the castle, we came across people that tried to give us friendship bands. Ignore them, because once it's around your wristband they will make you pay for it. This happened to us in Paris and this experience can be quite frustrating.
After a nice Italian breakfast at a cafe in the centre, we headed to the Navigli District in Milan – it's known for its picturesque canal and wide selection of pubs, bars and restaurants, plus live music and other evening attractions. I really liked the flair of the area and can imagine that it must be very lively here during the summer.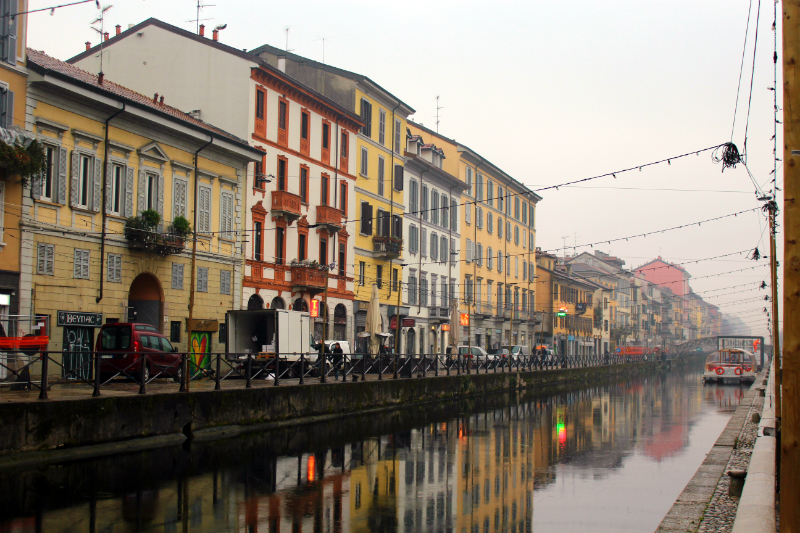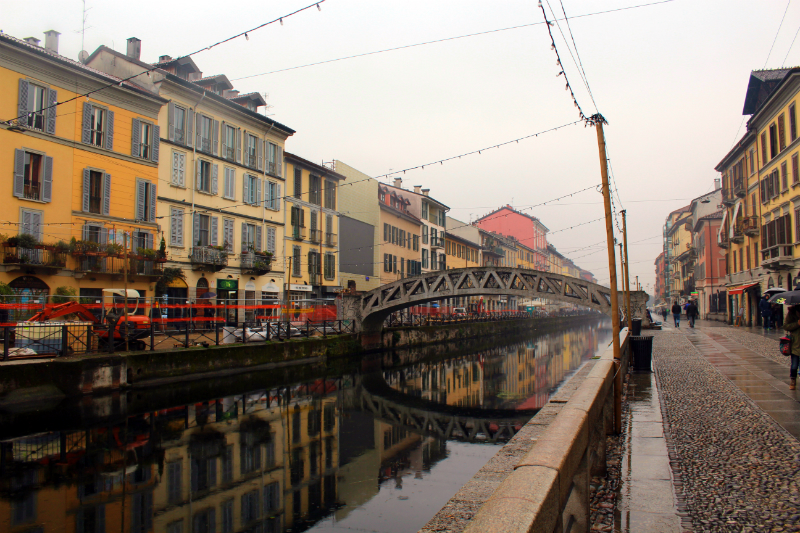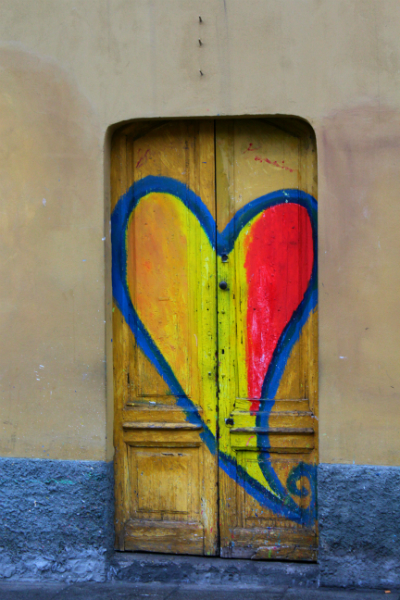 In the afternoon, we decided to go inside the cathedral. It only costs 2 EUR and I was blown away how beautiful it looks from the inside. You can also go on top of the cathedral and enjoy beautiful views over the city. We didn't go because it was a rather drizzly day and it started to get a bit foggy too. I'm sure it's worth a trip though.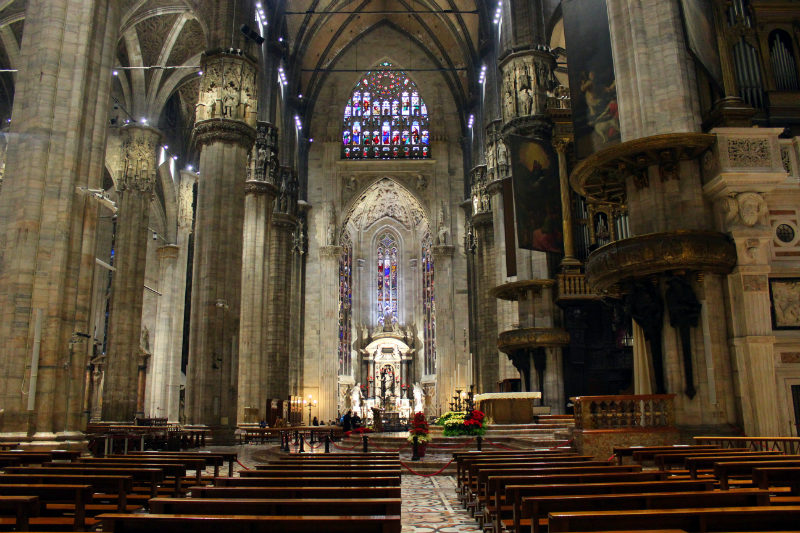 The day ended with another pizza – this time with a slightly exotic topic: potatoes and sausage. Delicious! On Sunday it was time to pack and head back to London.
Although the weather was very British, we had an amazing time and I enjoyed exploring a new city. When I got back to London, I felt very refreshed and my cold was completely gone. I love the Italian culture and food, so it was amazing to spend my birthday in Italy again.
Have you been to Milan before? What are your favourite sights?