Amsterdam is one of the most popular destinations in Europe and I've been longing to return to the capital of the Netherlands since my first visit over 10 years ago. With over 40 museums, many theatres, picturesque bridges, and great food options, Amsterdam has a lot to offer, so I couldn't wait to make the most of my 24 hours in Amsterdam.
Since Amsterdam is only 400 km away from my German hometown, there was no better time to embark on a road trip with my mum. We stayed in Amstelveen, 30 minutes South of the centre of Amsterdam. After we had a delicious breakfast at the hotel, we hopped onto the metro and arrived at Centraal station 30 minutes later. Below is my personal guide how to spend 24 hours in Amsterdam!
11:30 – Cruising along the canals with Lovers
There's no better way to start exploring Amsterdam than by a canal cruise. Most cruise operators leave conveniently opposite Centraal station. The most popular tour is the 1h cruise that allows you to experience the beautiful canals of the city from a different perspective, but there are lots of other options including the Burger or Pizza cruise, or the candlelight cruise in the evening. We got discounted tickets (13 EUR) for the Lovers 1h Canal Cruise that departs opposite the main station, and shortly after we were en route to explore and learn more about Amsterdam.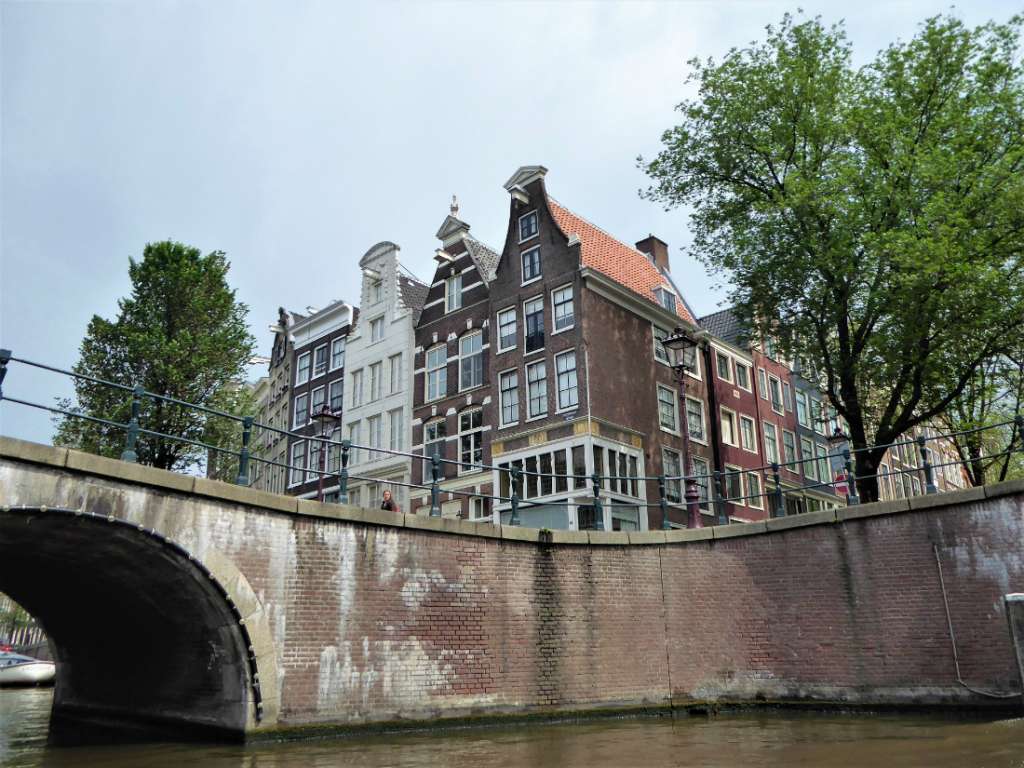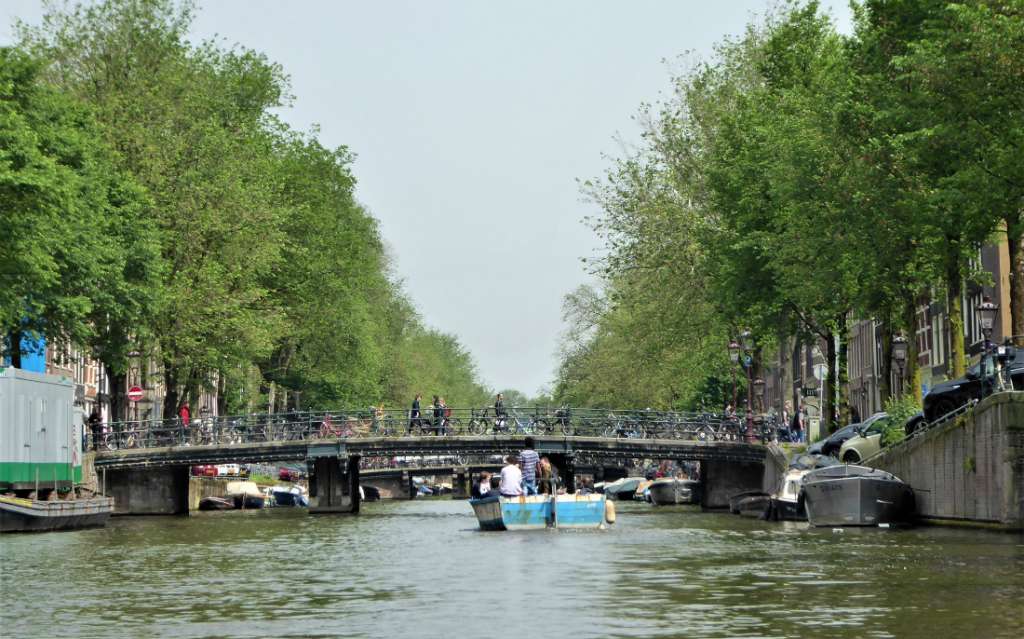 13:00 – Lunchin' at Manneken Pis
Back at Centraal Station, we walked along Damrak street and couldn't resist getting a portion of french fries at Manneken Pis. We got the medium portion which was absolutely massive. Plus, Dutch people must like sauces on fries as we could choose from over 20 delicious versions including the classics ketchup and mayonnaise, but they also had more exotic ones like curry sauce, cheddar cheese sauce, pesto mayo, and the special that comes with ketchup, mayonnaise and onions.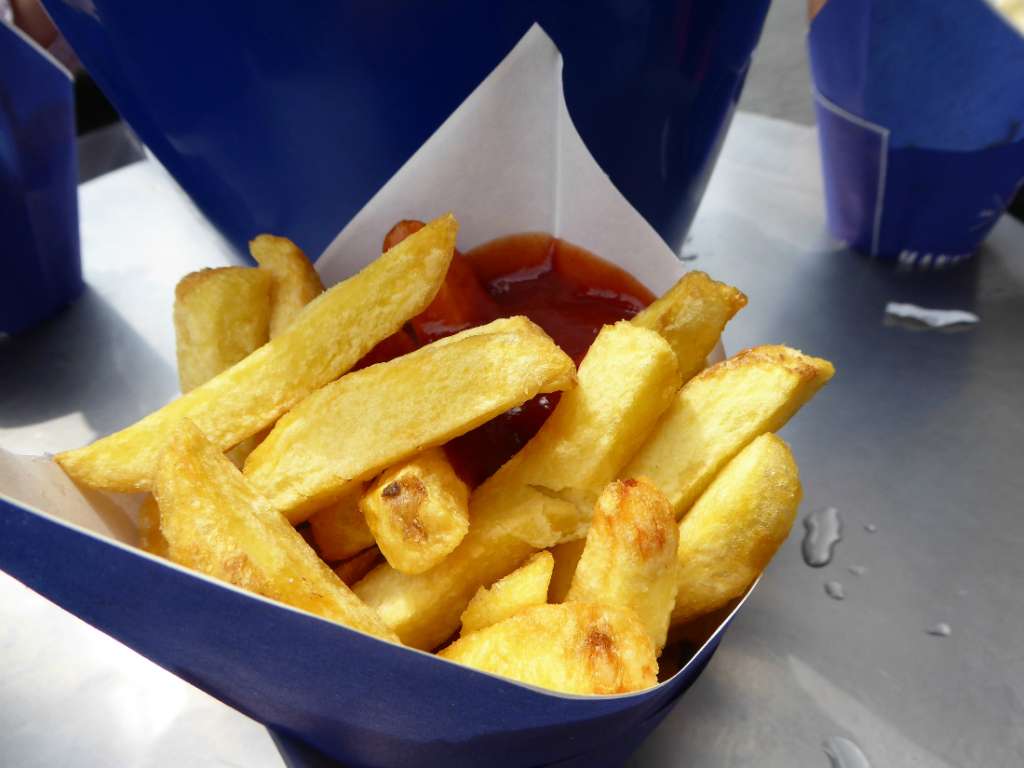 13:30 – Strolling through the centre and Jordaan
We continued walking to Dam square – the main square of the city. That's also where you can find the wax museum Madame Tussauds, and lots of street artists. After a small break, we walked towards the canal district. Did you know that Amsterdam has more than one hundred kilometers of canals, around 90 islands and 1,500 bridges? One of the most beautiful canals is Herengracht due to the beautiful houses surrounding it. We walked past Anne Frank House, crossed the canal, and strolled along Prinsengracht in the trendy neighbourhood Jordaan. It's a lively area full of charm and perfect for a lunch or coffee break.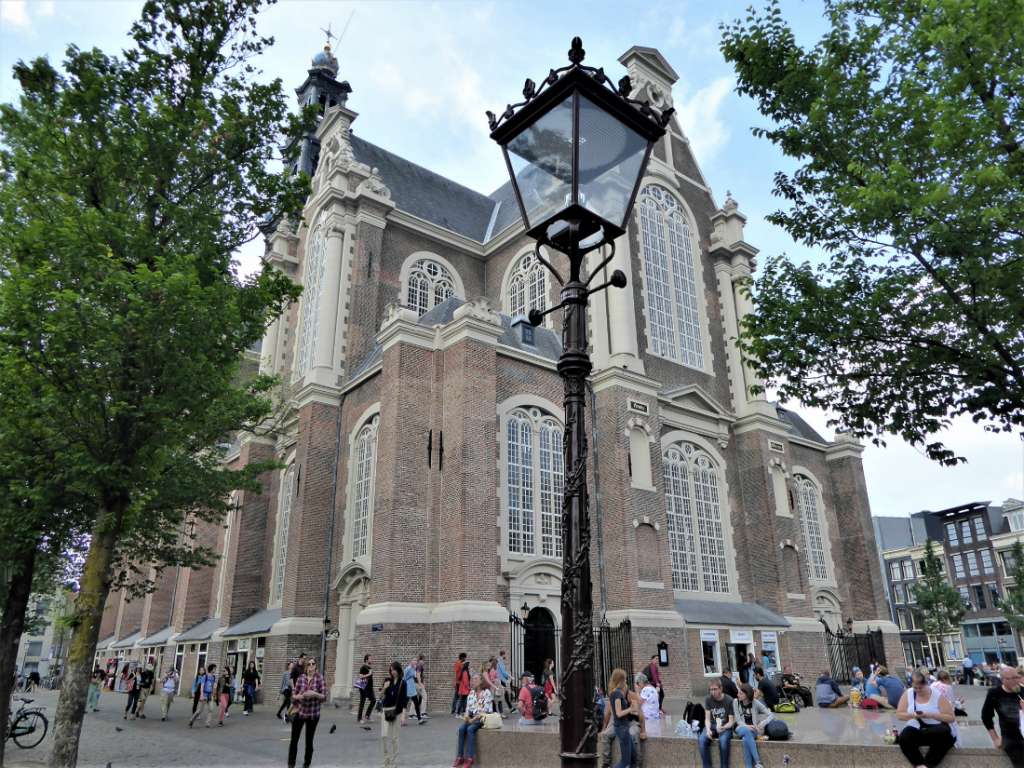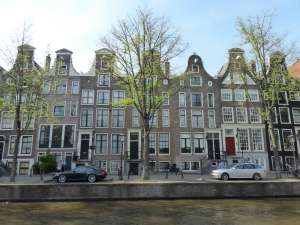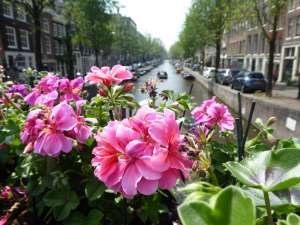 15:00 – Admiring art at Museumplein
Only a 20-30 minutes walk away is the museum quarter (or Museumplein) which is home to the popular Rijksmuseum (rare art and antiquities), Stedelijk Museum (modern art), Moca Museum (currently hosting a Banksy exhibition), and the Van Gogh Museum. Another highlight is the large iAmsterdam sign in front of the Rijksmuseum. Taking a picture can get a bit tricky though during the day, as a few hundred people are trying to do the same.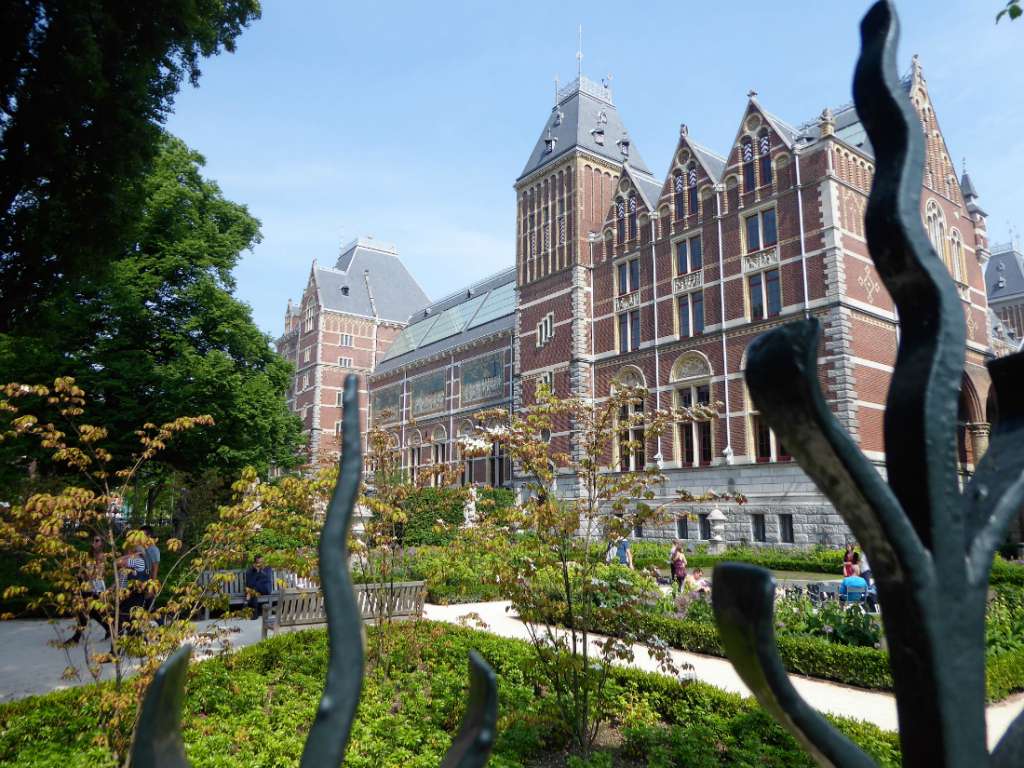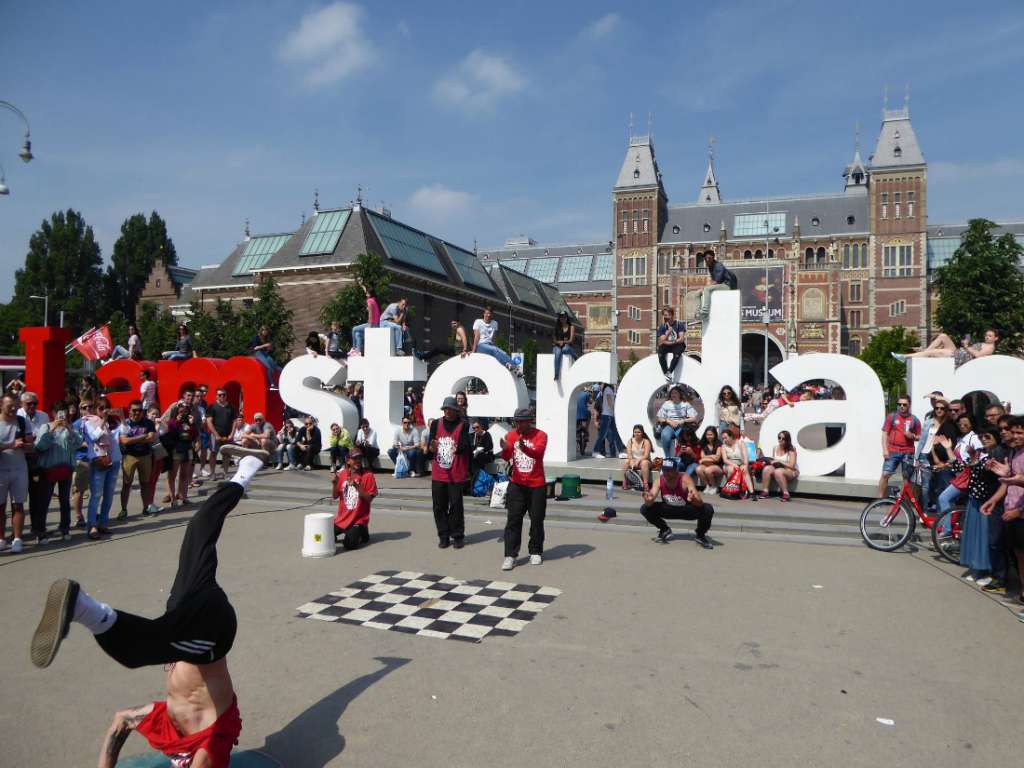 16:00 – Relaxing at Vondelpark
After all the walking, we decided to head to the nearby Vondelpark – located west from the Leidseplein and the Museumplein. The park has over 47 hectares and is an amazing oasis to relax and wind down. As it was a sunny Saturday, lots of the locals flocked outside, had a picnic, or just enjoyed the sunny weather with friends or family.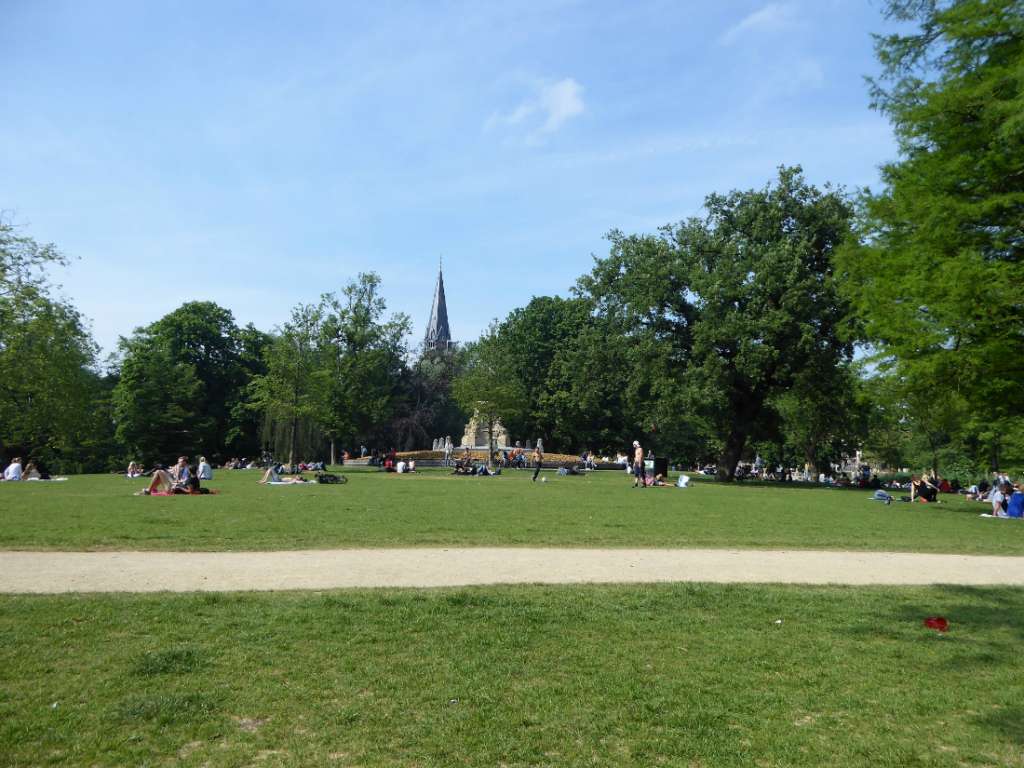 17:00 – Shopping at 'The Nine Streets'
On our way back to Dam Square, we walked through 'De 9 Straatjes' which is popular for its unique shops and boutiques. The lively neighbourhood is also home to restaurants, cafés, galleries, so it's a great place to hang out, or have dinner, too.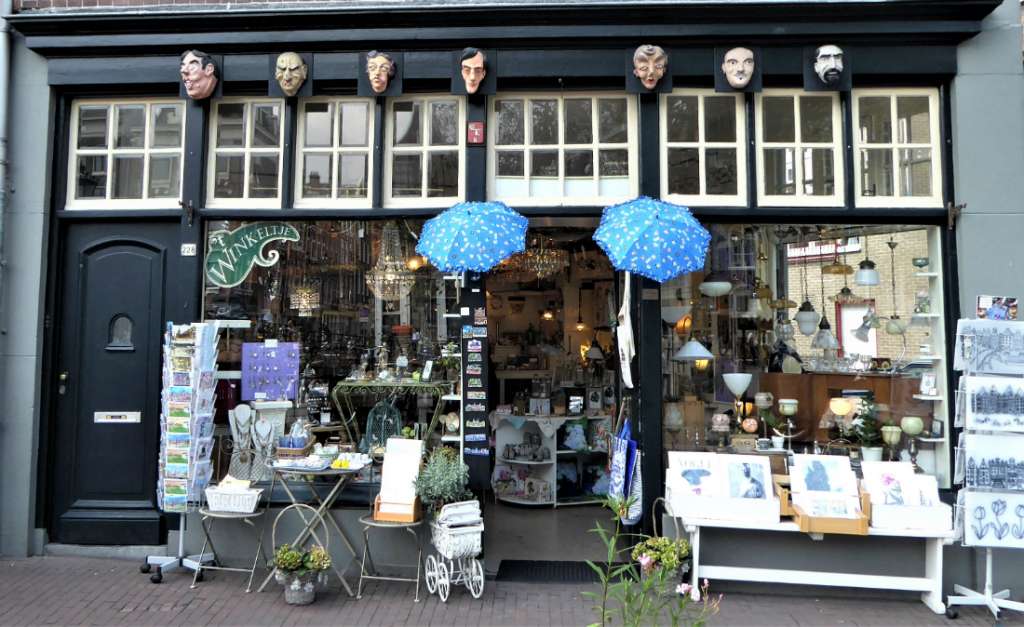 18:30 – Exploring the wonders of the human anatomy at 'Body Worlds'
Back at Damrak, we headed to 'Body Worlds – The Happiness Project' – an interactive exhibition with more than 200 real human bodies. The entrance costs 18 Euro (with a discount) and we still had until 10pm to explore. The focus of this exhibition is how happiness affects the body and our health. Spread across 6 floors, we learned more about the body and what factors influence happiness. I found the exhibition super interesting and it showed how little changes in life can make you happier.
21:00 – Winding down at Amsterdam's harbour
It's been a long day, so it was time for dinner! Amsterdam has lots of great restaurants in Jordaan and De Pijp, but we decided to head towards the harbour and ended up at Vapiano – an Italian restaurant that offers some great views over the harbour. It slowly started to get dark, and the sky turned purple. The perfect end of an action-packed day.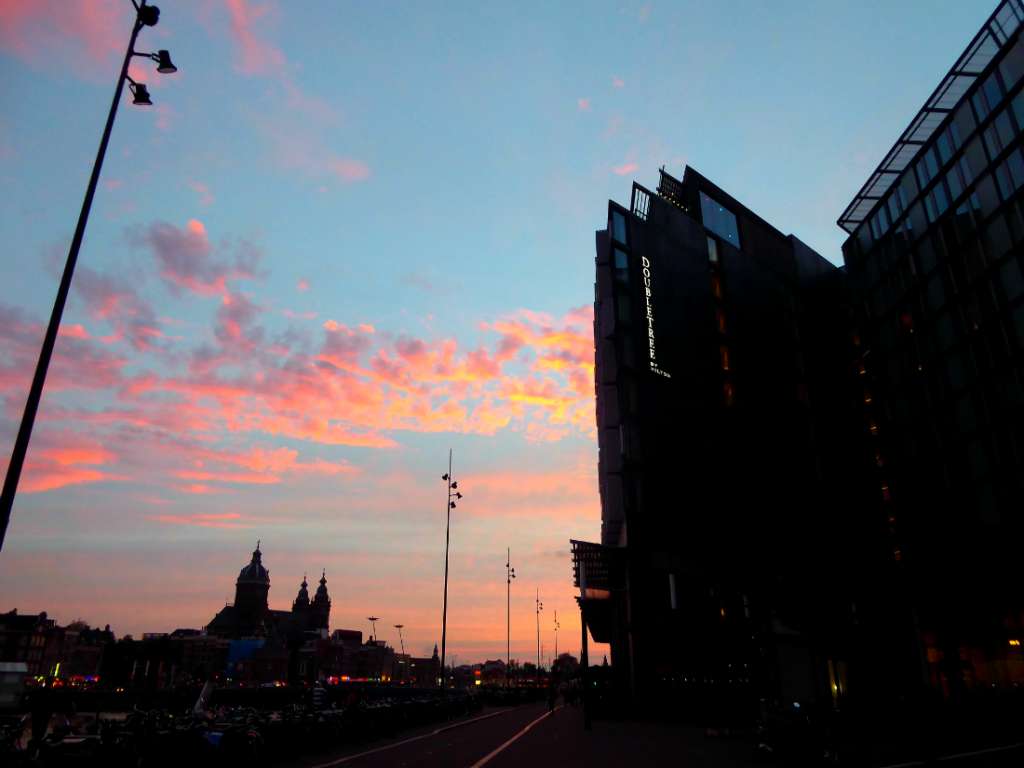 24 hours in Amsterdam is certainly not enough to explore this beautiful city, but it gives you a first impression. Are you staying in Amsterdam longer, or planning to return? Here are a few more options what else you could see and do in the city.
What else to see and do in Amsterdam?
Foodhallen:

Are you a foodie like me? Then you should go to Foodhallen. Located in the hip Oud-West neighbourhood, Foodhallen is a great place to grab some food and drinks. Around 20 vendors offer everything from wood-fired pizza to Vietnamese summer rolls and Dutch pancakes to delicious burgers. Another reason for me to come back!

Red Light District:

Amsterdam is known for its red light district and this is certainly something you should check out if you're around in the evening.

Bloemenmarkt:

The famous flower market has everything from cut flowers, house plants to seeds and gardening essentials. Of course, you'll find tulips in every colour here, too. Besides flowers, you'll also find souvenirs such as local cheese.

Icebar Amsterdam:

If you need to cool down and like to sip on a few cocktails or a beer, this is the place to go. Having heard of the Icebar in London, I was excited to see it in Amsterdam, too. Everything in the bar is made of natural ice. Don't worry if you haven't brought your thermal coat and gloves – all will be provided and is included in the price. If you book online in advance, you get a ticket for 19 Euro (3 drinks + warm clothes included).

Rent a bike:

Amsterdam has 400km (250 miles) of amazing bike lanes and it allows you to explore the city much faster. Be careful though, there are set rules you should follow otherwise you might get into trouble.

Stay on a houseboat: 

If you like to treat yourself, stay like a local in Amsterdam and rent a houseboat for a few nights. There's no better way to experience the city!

Anne Frank House:

Whether you've heard of Anne Frank or not, this is a great place to learn more about the dark past of Jewish people in Europe. Visit Anne's hiding place and learn more about her story. Make sure to book tickets in advance, or it's likely you have to queue for hours.

Rijksmuseum:

This museum is a classic when visiting Amsterdam and if you're interested in art, it's an absolute must. It's a huge building, so allow a few hours for it. Reservations can be made ahead but are not necessary.

Van Gogh Museum:

If you're an Van Gogh lover, this is the right museum for you. Plus, the museum is beautifully designed!
There a plenty more museums in Amsterdam such as the Erotic Museum, the Houseboat Museum, and the Heineken experience for beer lovers. It's your choice!
Have you been to Amsterdam? What was your highlight of the city? Please let me know in the comments below.
Heading to Amsterdam? Pin me for later!